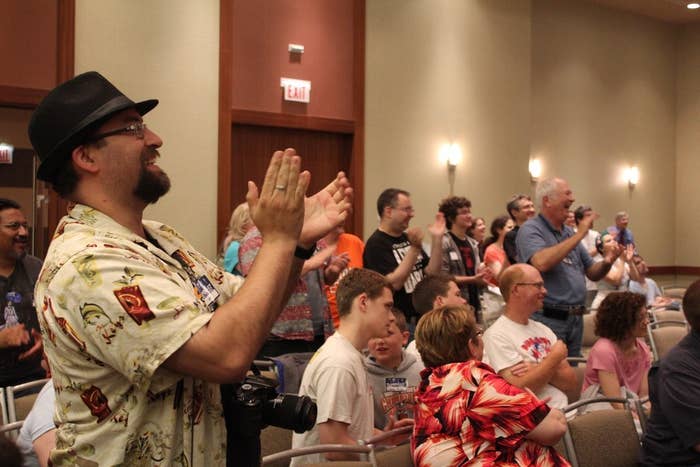 I freaking loved Weird Al as a kid. My friend Laryssa's older brother introduced us to him in elementary school, and at the time I was certain that "Eat It" (Al's legendary parody of Michael Jackson's "Beat It") was the pinnacle of wit and humor. Laryssa and I watched the Weird Al feature film UHF probably 20 times on VHS. Like a lot of kids, I was the perfect target for his brand of oversize silliness. He looked ridiculous and his humor was easy to get. He was subversive yet PG-rated.
Though most people in my generation think of Weird Al as a phenomenon of the '80s and '90s, his biggest hit actually came in 2006, with "White and Nerdy" (a play on Chamillionaire's ubiquitous "Ridin'"). At the time it came out, I was on a long car trip with friends. I had seen the video for the song, and tried to tell them how good it was. Though they loved him as kids, they were skeptical that Weird Al could still be funny to adults. We pulled off the highway to buy the CD, and I slid it anxiously into the dashboard. I was delighted that Al and I were vindicated: Everyone agreed it was hilarious.
While Al's relevance has faded some, his cultural footprint is weirdly huge. One common thread I've noticed among adults I've met who are creative or funny is that, as kids, they were obsessed with Weird Al. Like me though, most Weird Al devotees tend to grow up, get busy, and forget all about funny music.
But there is another group of people who aren't just nostalgic for Weird Al; they live his gospel. These are people who never set aside the wackiness, the zaniness, the never-ending slide-whistle call of funny music. And I want to find out what makes them tick. That's why I've decided to go to the first ever FuMPFest (Funny Music Project): to meet the acts and the fans who are still out there making and loving funny music.
I'm not sure what to expect, except that I will be laughing very hard.
It's about 11:30 p.m. on Saturday night in the smaller ballroom of the Westin Hotel in Wheeling, Ill., about an hour outside of Chicago. On stage, a man who goes by the name Seamonkey strips down to his boxer briefs and a tie-dyed shirt. He begins to gyrate. His iPod is playing a karaoke track of the song "Like a G6" by Far East Movement, but as Seamonkey sings, he has changed the chorus: "For the gay sex / for the gay sex / now I'm hitting on guys for the gay sex." He finishes to great applause.
"I'm following these guys to the bathroom," he says, pointing at a group of men in the audience who have only recently wandered in. Among them is the actor Anthony Anderson, star of Law & Order. Anderson and his friends explode in laughter. They have been loudly cheering and guffawing through Seamonkey's set, seemingly enjoying it more than anyone else in the crowd.
In his next song, which is about using his wife's dildo while she's out of town and is sung to the tune of "Love in an Elevator" by Aerosmith, Seamonkey brings out an inflatable penis with two cans of silly string taped to the testicles, and starts to spray the crowd. Anderson and his friends howl with delight.
Anderson happened to be staying in the hotel while filming a Food Network show; his two friends work on the show with him. They had seen signs for FuMPFest in the hotel lobby and came to see what was going on. It's both profoundly bizarre and delightful that Anderson is here, but then again, pretty much everything about FuMPFest is profoundly bizarre and delightful.
This first ever FuMPFest is the brainchild of Tom Rockwell (stage name: Devo Spice), who wanted to have a convention for artists and fans of the website TheFuMP.com. The FuMP is a hub for music comedy, a nebulous genre that includes original songs as well as parodies, like the ones Seamonkey performs and the ones that made Weird Al famous. Performers and fans came in from all over the country for the three-day festival of concerts and panels.
A core group of comedy musicians from The FuMP have been performing at geeky conventions for a while, eventually getting their own section at MARSCon, a Minnesota sci-fi convention at which the legendary radio host and funny music curator Dr. Demento was a guest of honor in 2004. Demento himself, sort of the Dick Clark of the funny music scene, is the headliner at FuMPFest, which at times feels more like a comic convention than a music festival. Several of the artists, including Devo Spice, have written songs specifically about geeky topics (video games, Star Trek, etc.), and there is a dealer's room with comic books and collectibles for sale. There are name tags for the guests.
The crowd is overwhelmingly nerdy, a term that seems to be embraced, at least judging from the eruption of cheers when Demento plays Weird Al's "White and Nerdy." Yankovic is still by far the most popular and influential comedy musician of the genre. When I asked various artists and attendees who their favorite all-time funny musician was, more than half of them named Weird Al.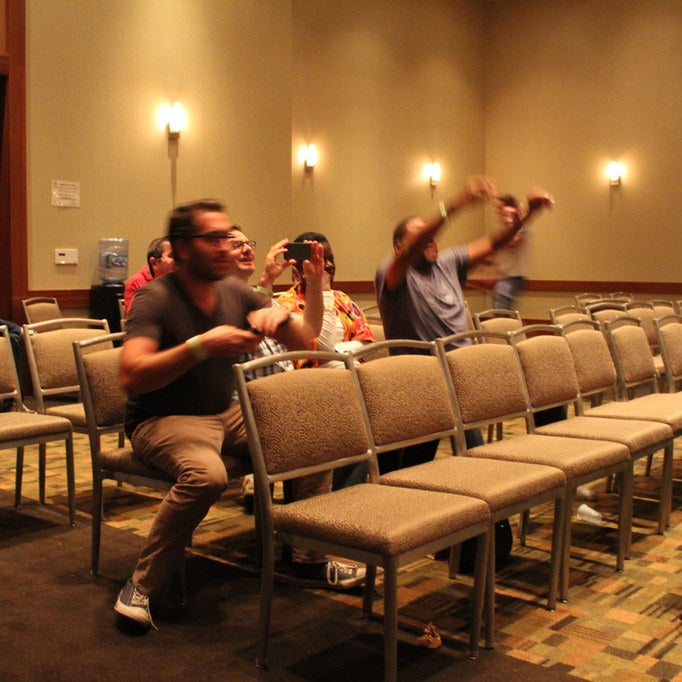 Law & Order actor Anthony Anderson and friends enjoying Seamonkey's performance.
"The Great" Luke Ski is probably the most popular performer at FuMPFest. Not only did he help Devo Spice organize the event, he had convention building experience — he held a Luke Ski Con last summer for his fans. Ski wears jeans shorts and a different bowling shirt every day. He wears his blond hair in a hockey shag. He's got a kinetic stage presence and easily tosses off one-liners, serving as the jack of all trades for the event: When a song requires a second voice, he steps in, often learning the lyrics just minutes before. He's a constant presence alongside Insane Ian, the emcee for the weekend, entertaining the crowd between sets.
"I grew up in rural Wisconsin and I wasn't in a position to find the Dr. Demento show," Luke tells me. "I heard other people talk about it and I wished I could hear it. It wasn't until it I was in college that I heard it for the first time." Soon after, Luke says, he became obsessed with getting a song on the show. And so began a 20-year-long career in making funny music, which has included such hits as "Spam (Let the Pork Be Pork)" (to the tune of "Slam" by Onyx) and "Star Wars Trilogy Homesick Blues." These songs are part of the genre "filk," which is, loosely, folk music about sci-fi stuff.
The whole crowd knows Luke, and as it cracks up at his in-jokes, it's clear that he plays the same role as a quarterback at a high school pep rally. Luke's songs are mostly about geeky pop culture references, since that's what he's interested in. Luke's easy stage presence and natural charisma belie the deeply nerdy subject matter of his musical comedy (his first song on Dr. Demento's show was about Star Trek), and the social awkwardness you might expect of his devotees.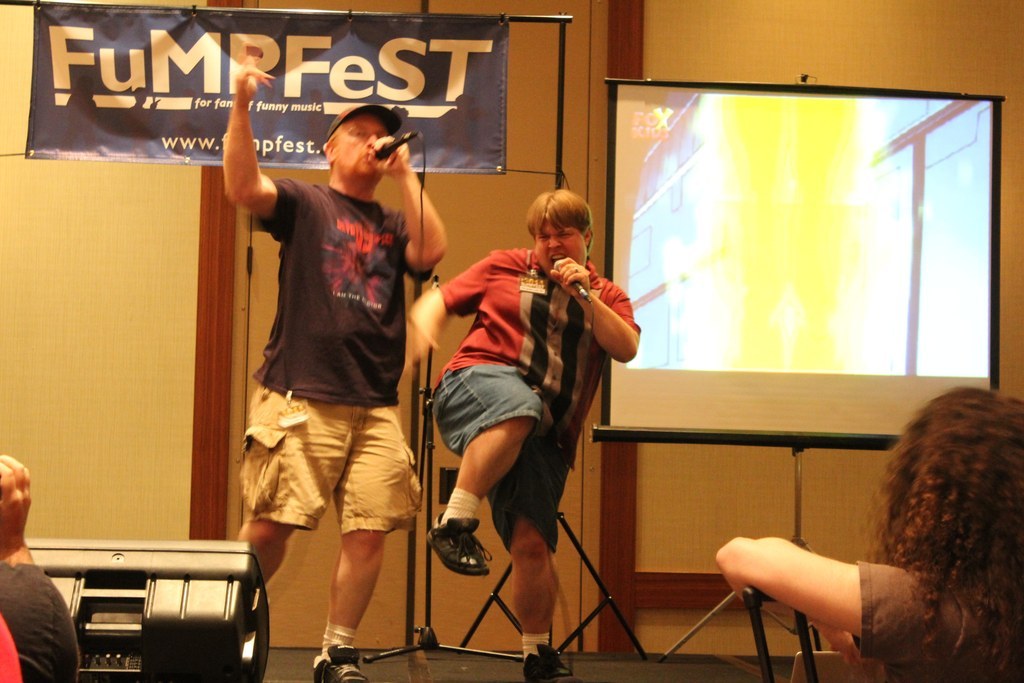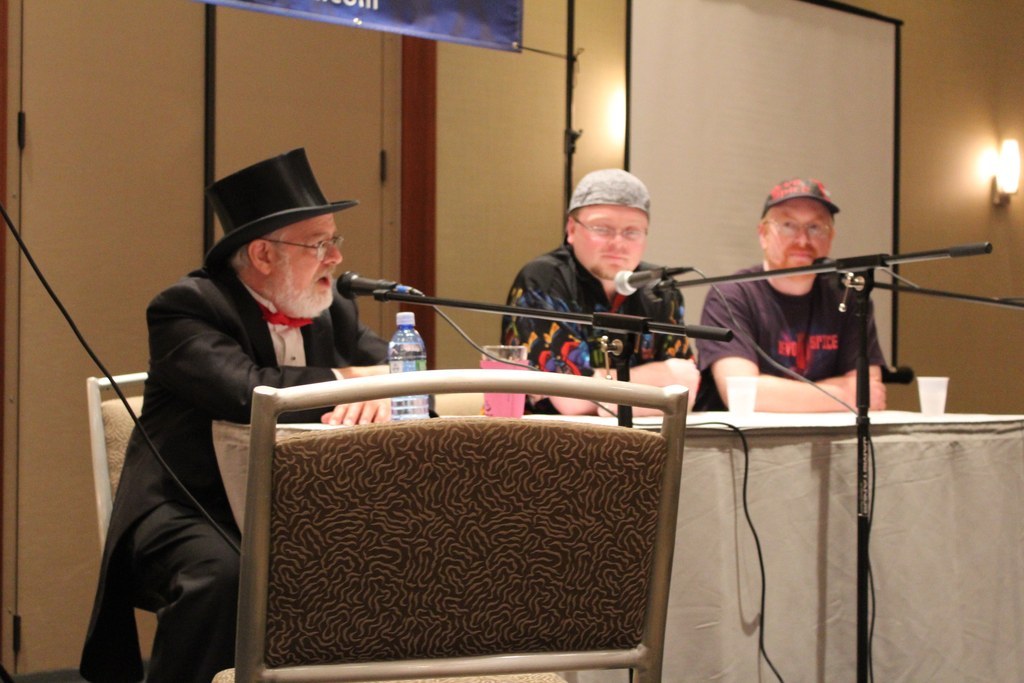 But for all of Luke's brio, there is no doubt that the headliner here is Dr. Demento, who looms benevolently over the festival. A highlight: the two-hour lecture on the history of music comedy given by the doctor (real name: Barry Hansen). The crowd sings along while he plays videos of hits from the days of comedy yore, such as Tom Lehrer's 1959 ditty, "Poisoning Pigeons in the Park" and Barnes & Barnes' surreal "Fish Heads" (Weird trivia: The video was directed by Bill Paxton and has a cameo by a young Dr. Demento). Though his show went off the radio in 2010, Dr. Demento now has a weekly podcast in which he plays classic funny music hits as well as new submissions. The FuMP community acts as a sort of farm team for Dr. Demento, who hears all the new songs released on the site and will play the best ones on his own show.
For fans of comedy music, Dr. Demento holds a singular position as a tastemaker and flag bearer for an otherwise diffuse genre. "I just want to tell you, probably the most emotionally significant experiences of my life was when I got a text message saying you were going to play our song," a young woman tells Dr. Demento during an audience Q&A. "I had to sit down and cry."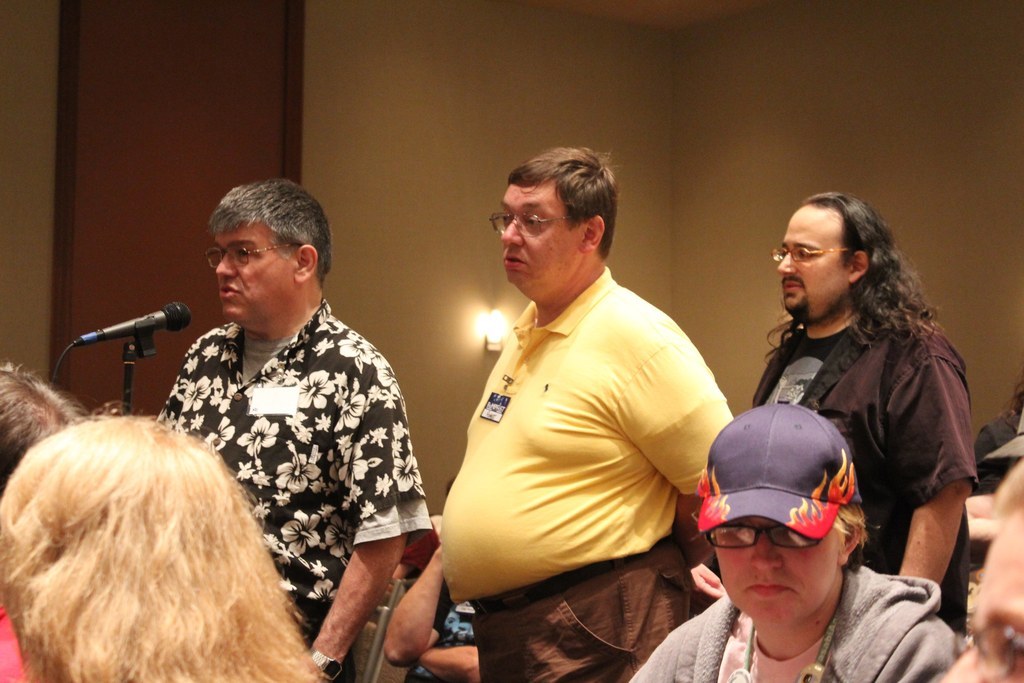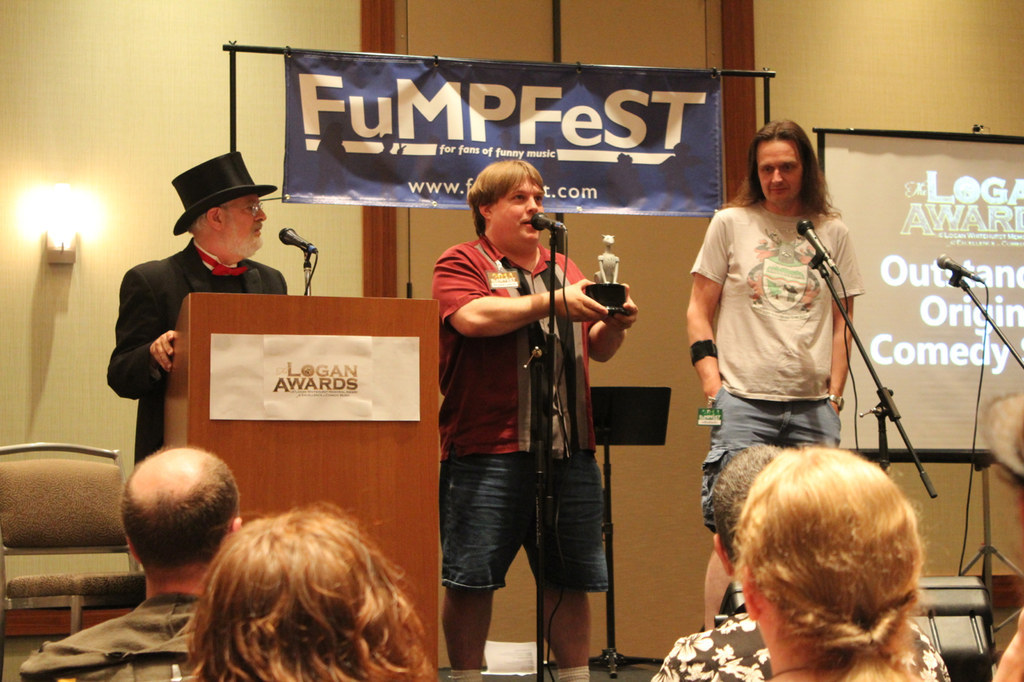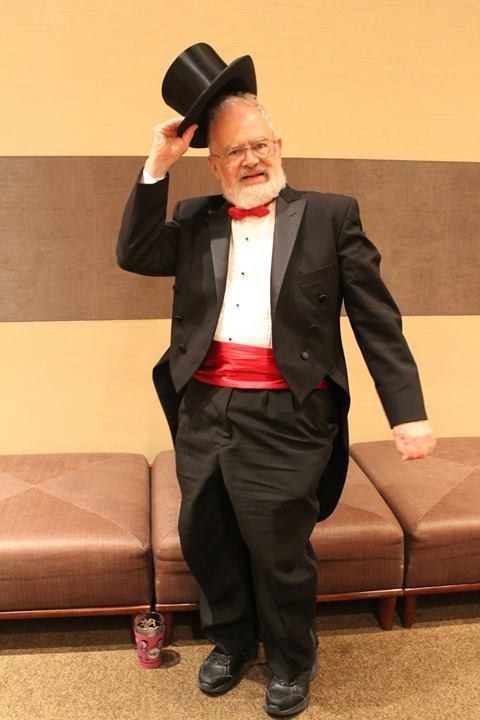 Most FuMP songs are PG-13. Seamonkey's oeuvre stands apart not only because it is almost exclusively sexual or drug-related, but because he seems to have a slightly different level of commitment to the genre. Unlike most of the other performers, he does not write original songs. He only does straight parodies, Weird Al style. Most of his songs seem to be sung over a karaoke track (on "Poo Poo Stains," my personal favorite, you can hear the backing vocals saying "purple rain").
Working in land title insurance, Seamonkey got his start entertaining his friends by making up his words to songs at their local Fort Worth, Texas, karaoke bar. He eventually recorded a few tracks and submitted "Sheep" (about having sex with sheep to the tune of "Creep" by Radiohead) to the Dr. Demento show.
If Luke Ski is the popular quarterback of the comedy music scene, Seamonkey is the affable and cool stoner. He brought two kegs of home brewed beer to the event, wears socks and sandals, and has bleached hair and an earring. He also plays in a Beatles parody cover band called The Boobles that performs to raise money for breast cancer research. "One time, I did 'Double Ds' to 'Let It Be,'" he says. "This guy made a beeline to the stage afterward, gets in my ear and says, 'Don't you ever fuck up another Beatles song again.' The bartender threw him out."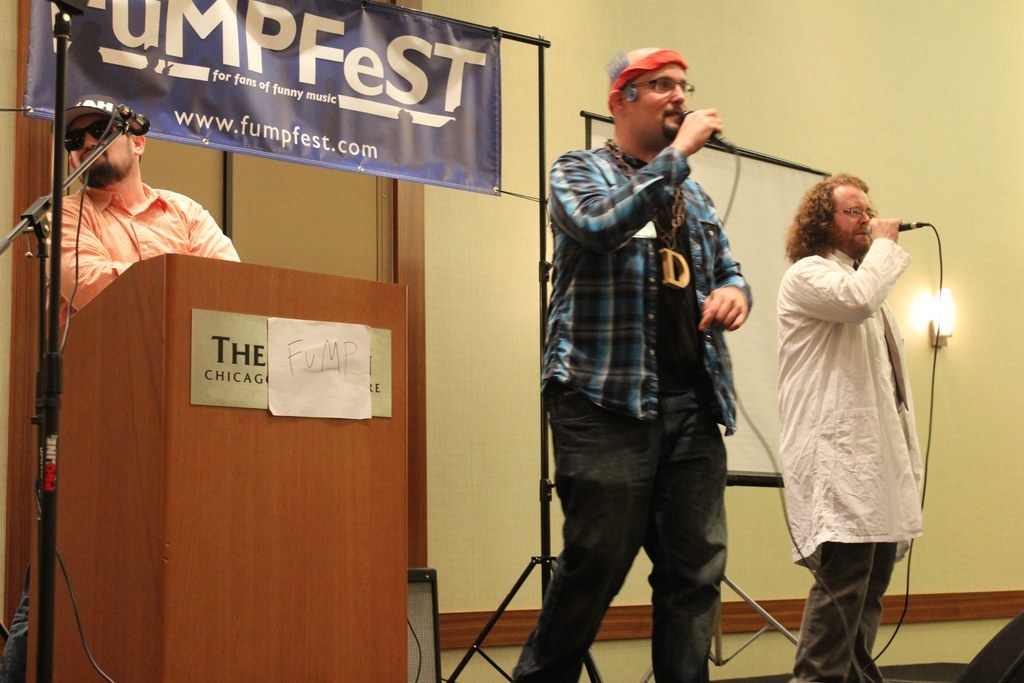 Over my three days at FuMPFest, maybe the weirdest thing I start to notice is the almost total disconnect between the audience, a motley group of middled aged men in jorts and fedoras, and the fact that funny music writ large has experienced a sort of renaissance in recent years. It's actually hugely popular, with a wide audience on the internet, especially on YouTube, where song parodies can get millions of views. At BuzzFeed, we get song parody video submissions all the time. Acts like Andy Samberg's Lonely Island and Garfunkle & Oates, who just got their own show on the IFC Channel, have seen significant mainstream success.
However, those popular comedians and viral videos have very little to do with the die-hard fan scene at FuMPFest. This is not a minor league or farm system for young, up-and-coming talent; these fans are the ones keeping the flame alive for the history of funny music that Dr. Demento plays on his show, not just the latest viral parody. But I think of it like this: Everyone likes Star Wars, but only a certain kind of fan goes to a convention. Comedy music is still popular to a mass audience, but only a certain fan attends a three-day-long concert for it. Still, I loved it. I cracked up constantly. I felt a connection to these superfans who love this nerdy, outsidery thing. For anyone who's ever felt a little ~weird~ themselves, FuMPFest felt familiar.
For the rest of us, Weird Al has a new album coming out July 15. It's called Mandatory Fun.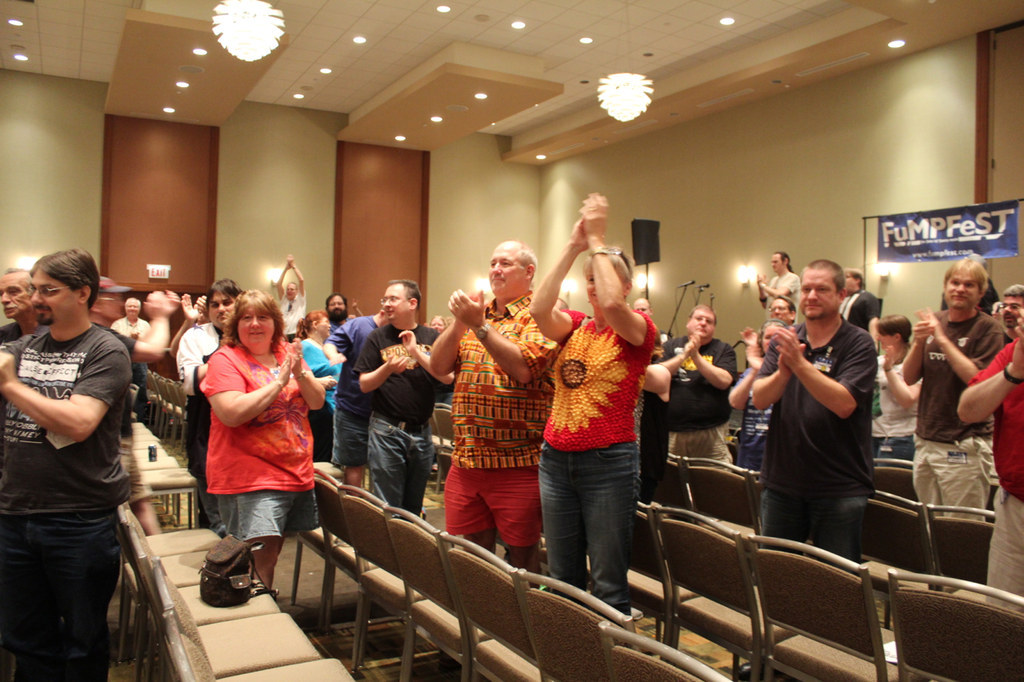 All photos by Katie Notopoulos for BuzzFeed.