Quiz: Are Your Internet Manners Up To Snuff?
Test your netiquette know-how! That's internet+etiquette. Netiquette.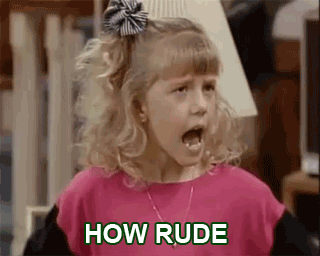 1.

When reblogging someone on Tumblr:

Delete the "reblog" text and add in your own comments

Reblog with your comments BELOW the existing text/link

Reblog with your comments ABOVE the existing text/link

Add your comments below the existing text

Never delete the link to where it was reblogged from - that's considered very rude, and people on Tumblr get very annoyed by this.

2.

How many selfies per month are acceptable on Instagram?

As many as you dang feel like

If you are over the age of 17, you get one selfie every other week. That's it. Under 17, you're still subject to Teen Rules, which basically means you're insufferable to the rest of the internet world and therefore exempt. Go nuts, teens. But if you're an adult, you get 2 a month.

3.

Your ex announces his or her engagement on Facebook. You:

"Like" the status, but don't comment

Do not Like or comment and change your settings to hide all future activity from that person

Do nothing but hide all activity

You don't want to have to deal with the 8 months of their wedding planning and wedding photos. Do yourself a big favor and save your own sanity. You can remove all future updates from that person without actually unfriending.

4.

When is it appropriate to flag an email as "Important" or "Urgent" when sending?

liv.ac.uk

Only to coworkers, but never to your boss

To people you work with, if there's an urgent matter

To friends when you need to confirm dinner plans

Only to coworkers but never your boss

Ok, maybe MAYBE if it's super duper urgent, but really in that case you should just walk into your boss's office and use your mouth-speaking-hole. There's a weird power dynamic with the "Important" flag in Outlook that you cannot mess with.

5.

When is it appropriate to "Poke" someone on Facebook?

Ironically annoying your friends

It is never acceptable to Poke

Ironically with your friends!

What's creepier than a Facebook Poke? Nothing! Your buddies will be weirded out and vaguely amused. Poking your crush will definitely come off as crazed and stalker-ish.

6.

When is it NOT ok to tag someone in a Facebook post?

When you want them to notice something funny you're posting

When you want them to see your band's flyer you just posted

When you are thanking them for coming to your birthday party

Tagging someone in a flyer or promotion

Ugh! That's the worst. If you want to invite someone to your event or have them notice someone, just use the normal channels. Don't be annoying.

7.

Is it ok to RT notifications from Favstar bots?

Yes, if it was a really good tweet

8.

You accidentally hit "reply" instead of "reply all"...

Email that person separately explaining your mistake, then resend email to the whole group

Resend the message to the whole group without mentioning your mistake

Resend the message to the whole group and add in a line about "oops I didn't reply-all this first time"

This one is a real doozy. We're used to being petrified of the accidentally reply-all, but doing the opposite can be just as weird. Any of these methods work. Namaste.

9.

Is it acceptable to Gchat people you've never Gchatted before without warning them you're going to chat?

Sometimes, only if it's a good friend

Yes, if it's someone who works at your company

Only surprise gchat your good pals

Otherwise it's weird! And don't chat for work stuff (except with people who work IN your office)

10.

How long should you wait to hear back on a non-urgent email (personal or work related) before emailing them again?

The next business day, morning

The next business day, end of day

Next business day, end of day

Give 'em some time, and if you have to nudge again, nudge gently. Gentle nudges.

11.

Can you show up to a place where you saw your friend check in on Foursquare?

Definitely not. That's insane.

Yes, they are publicly announcing their location, thereby implying an open invite

Yes, but only if it's a good friend AND it's at a bar (not a party) and you should text them first

This might be controversial, but I think it's reasonable that in some cases, you should feel free to meet up with your friend. It's gotta be case by case. Don't be a creep.

12.

You're having customer service issues with an airline. You:

Tweet directy to the airline asking for help

Tweet with a period before the airline's username so that all your friends can see your complaint

Subtweet the airline by complaining without using their username

Call their customer service phone number first, and then, and ONLY THEN may you tweet directly to them

No one wants to see you tweet about your customer service problems. If you can't get help any other way, you may tweet directly to the company, but only in a polite way.

Do nothing, a response is not needed

Email the sender back to say thank you

She's the only one who could possibly be sending you this, so give her a call.

14.

What do you do about that one friend who's always arguing about religion or politics on Facebook?

tinyfrog.wordpress.com

Read his posts, but don't ever engage

Pwn the heck out of him with your awesome debating skills

Read his posts, but don't engage

Pop that popcorn and watch his buddies go nuts arguing with him. This Facebook's best free entertainment.

Yes, but only if the account has been inactive for 6 months

No, it's rude to unfollow real life people. Just suck it up

Go ahead and unfollow. Life's too short.

Only if their account is inactive

Sorry. You can't unfollow people you know in real life just because they're annoying. You CAN unfollow if their account is inactive and you're trying to prune off some dead accounts.

16.

Do you need to reply to every Snapchat?

For some reason, the imperative to reply promptly to all Snapchats is an undisputed rule of the internet. I know, it's a little annoying, but the Teens have spoken. This is the rule for this service.
Katie Notopoulos is a senior reporter for BuzzFeed News and is based in New York. Notopoulos writes about tech and internet culture and is cohost of the Internet Explorer podcast.

Contact Katie Notopoulos at katie@buzzfeed.com.

Got a confidential tip? Submit it here.