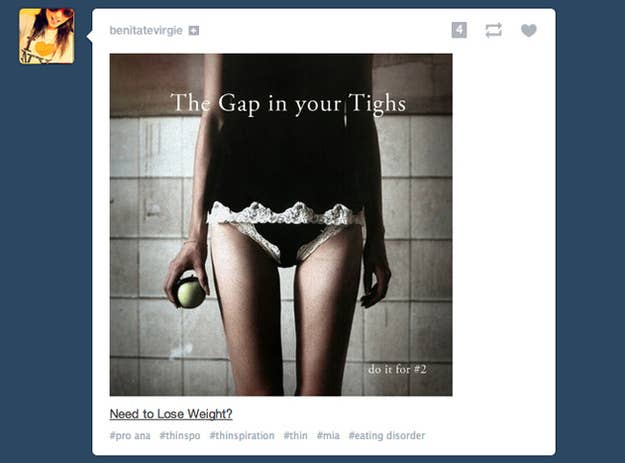 A company selling weight-loss products on the internet has begun to directly target teenagers with eating disorders using Tumblr, pushing its "system" on girls participating in the online "pro-ana" subculture that encourages anorexia and bulimia.
Tumblr (and Pinterest) have grappled with how to handle its pro-ana community, and both ban the content, deleting it when it's brought to their attention.
But ads for FatLossFactor.com, a site that sells a weight loss program, continue to be posted by stock accounts against targeted keywords (tags) associated with pro-ana content, like "thinspo" and "starve," so they appear beside images of extremely thin young women.
The ads are targeted by someone with an intimate knowledge of how the pro-ana Tumblr community works, exploiting the types of tags popular among young women encouraging one another in eating disorders, and targeting the ultra-thin images they find most appealing. In many instances, the ads are reblogged by others in the community, amplifying the ad's message further. Some of the ads are also tagged with keywords like "scars," targeting at self-harming teens as well.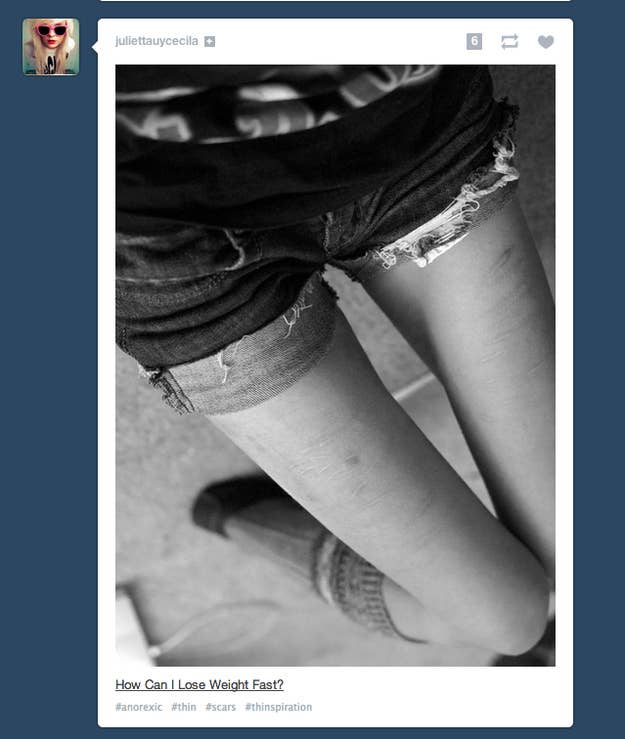 FatLossFactor.com otherwise doesn't appear especially notable among the flood of online weight loss schemes. The site has the standard before-and-after images and a happy cartoon version of its creator, Charles Livingston, a chiropractor and internet marketing expert who refers to himself as "Dr. Charles." As with most online diet programs, you have to pay to find out what the details of the system are. One online review of it from a dissatisfied customer mentioned the method involves fasting. More detailed information on the specifics of the weight loss system are scant, as is typical with these programs.
FatLossFactor appears to have employed other internet marketing tricks, like flooding Google results for related searches like "Fat Loss Factor scam" with positive reviews. One of its tricks for doing so involves posting glowing reviews through PRWeb, which gets picked up by reputable newspapers automatically, giving it high Google rankings. (Danny Sullivan at SearchEngineLand has written extensively about PRWeb's role in distributing "crap.")
In an interview with BuzzFeed, Livingston said FatLossFactor is not involved in placing the pro-ana ads for its products, and said he had instructed his vendor to "blacklist the affiliate" when he learned of the campaign.
"That is so wrong and we do our best to control this," he said.
Similar ads from different Tumblr accounts, however, continue to run days after Livingston said he blacklisted the affiliate, suggesting that either multiple affiliates are running these type of ads; that one person is using multiple affiliate IDs; or FatLossFactor didn't actually blacklist them.
Livingston also said it was not possible for him to determine the identity of the affiliate based on the information he had.
The ads were placed by third parties using the ClickBank affiliate network, which gets a cut of sales it sends to the site. The retailers involved, such as FatLossFactor, are not necessarily aware of the habits of their affiliates who are sending them traffic and sales.
The way affiliate networks like ClickBank work is a team of affiliates place links to retailers around the internet, and get a cut of the sales that come in from their unique links. ClickBank specializes in sites that sell download content only — e-books, PDFs, video downloads, such as the materials for FatLossFactor. Clickbank did not respond to request for comment.
While affiliate marketing is a significant part of many legitimate e-commerce businesses, ClickBank has much closer ties to questionable offers to, for instance, "make money from home on the internet," because it's dealing only with digital download products.
ClickBank says there are legitimate uses for its service. It offers an example of a woman who has written a dog training guide — she uploads it as an ebook through ClickBank, and sits back while an army of affiliates goes out there and markets her dog training ebook. Many of ClickBank products, though, are guides teaching people how to make money through ClickBank.
Tumblr suspended the account of one of the ads after an inquiry from BuzzFeed.
"We take issues of both spam and self-harm very seriously, as is reflected in our content policy," a Tumblr spokeswoman, Katherine Barna, said. "We are suspending blogs based on reports we receive, and the blogs in question have been removed in accordance with our policies."