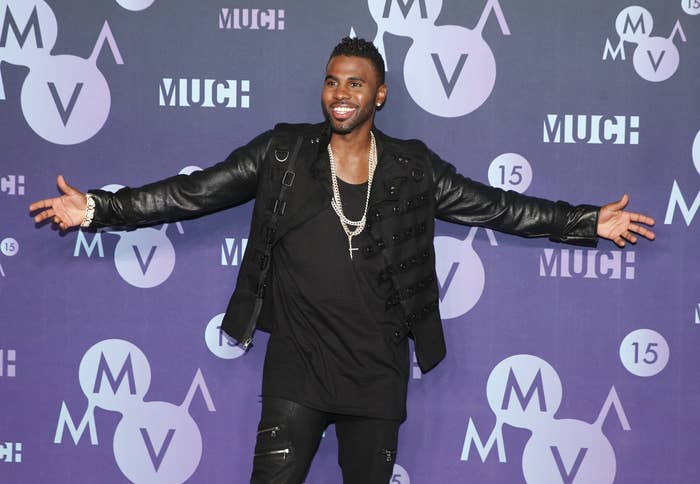 "It's always great doing intimate venues like this because I can look into your eyes," said Jason Derulo. The venue was the the iHeartRadio Theater, a weird tiny stage inside an office building in Tribeca that I assume is mostly used for promotional radio contest winner performances, like this one. If I were Jason (which I'm not, because I am far less talented), I'd be more excited about doing performances to larger crowds, rather than looking into the eyes of about 100 radio contest winners and various ad agency people who were there for the event, which was sponsored by Degree deodorant. But I trust Jason. He's genuine. He wouldn't lie about liking to look into my eyes. My eyes.
The occasion for the small venue is for Jason Derulo — the pop star of hits like "Talk Dirty" and "Want to Want Me" — to sing his hits while hooked up to a wearable motion-sensing wristband for an immersive concert experience that is also somehow about deodorant.
The wristbands, which are a custom-made by the company Lightwave, measure Jason's motion and energy expended. Jason's backup dancers also wear the wristbands, as well as some members of the audience (not me, I got there too late), who were provided with the bands by event staff. Next to the stage, two flatscreen TVs show the wristbands' feed – a moving graph for the dancers' movement, Jason's movement, the crowd's movement. Jason Derulo is known for his dancing, so the monitors are getting a lot of action. This also produces some unexpected results. Crowd motion hits a high note with one of Jason's upbeat numbers, but during a mellow ballad, due to some synchronized "Free Bird"-esque arm waving with glowsticks provided by the event staff.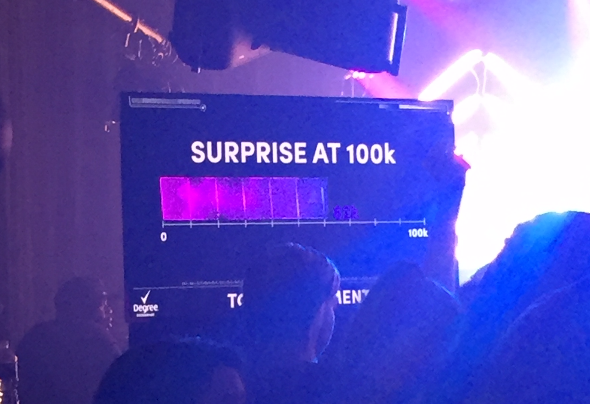 The wearables also track some sort of crowd energy, and a dial meter appears that promises to unlock a surprise if the crowd gets to a certain level. (Although at several points we do hit that threshold, it never becomes clear what the surprise is.) A DJ from iHeartRadio comes out between songs — at one point he hypes that a surprise is unlocked, but he doesn't mention what it is. I suspect he has no idea. He says hello to the people watching a stream of this on a billboard in Times Square.
Seemingly in defiance of the Degree sponsorship, Jason is very sweaty. During "In My Head," he rips off his shirt, to the squealing delight of of the crowd, which seems to be a mix of young female fans and thirtysomething business folks. Everyone is enjoying the show equally. Everyone loves Jason Derulo. At one point, two bro-ish men in nice suits who have been bouncing up and down clink glowsticks with each other.
After the concert, I spoke with Lightwave's founder, Rana June, who explains that the wristband wearables were designed originally for big EDM DJs, who can often only see into the first few rows at a concert and need more feedback about the crowd's vibe to time the sick beat drops. I worry that I'm being an old fogey thinking that the whole point of a professional DJ is their ability to "read the room" and respond to the crowd's mood. I like to imagine Skrillex alone at home after a concert, combing through spreadsheets of data, saying, "Dammit, the numbers just don't add up!" and realizing one of his songs is a total dud, then cutting it out of the set. I guess I just want Skrillex to suffer the anxiety of data-driven performance feedback.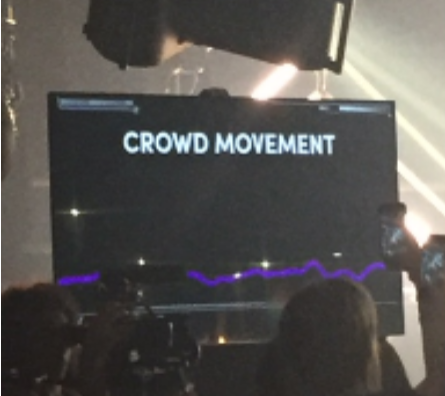 And yet there's no way to measure the emotional impact of watching two suit bros clink glowsticks. Live music touches us in ways that can't be quantified. We want to clink glowsticks; Degree wants us to smell better; Jason wants you to want him. This is the human experience.
About two years ago, I created a Facebook group for Jason Derulo fans as a joke. I immediately added all my co-workers (fun trolling tip: you can add people to Facebook groups without their consent!). The first part of the joke was that Jason Derulo is a rather milquetoast pop star. He's got hits, but he's not the type you'd devote your identity to being a fan of, like Beliebers or Chris Brown's Team Breezy fans. There's something specifically bland about Jason — he's very handsome, sure, with a chiseled body, yet somehow exudes no sex appeal. His music is chart-topping (you'd be surprised at how many of his songs you'd recognize!) yet sounds sort of anonymous. You don't hear a song and immediately think, Ah yes, this HAS to be Jason Derulo! It's more like, I keep hearing this song on the radio but have I no idea who sings it... He's like the perfect empty vessel for capitalism, which makes him perfect for a wearables performance to sell deodorant.
The second part of the joke was running the group like a very strict old-school message board: I'd threaten to ban and kick out anyone posting off-topic threads or not being a serious fan. Facebook's algorithm weights group activities, so my co-workers quickly found their feeds dominated by chatter about Jason Derulo. I am aware this doesn't really sound like a fun "joke," but trust me, you had to be there.
And then something changed. Actual Jason Derulo fans started joining the group. At first just a few, then a whole lot. A lot of fans came from various countries in Africa. Their English wasn't good enough to catch the subtle irony of a bunch of Americans pretending to be Jason fans in order to make fun of message board culture. Making fun of the concept of being a Jason Derulo fan wasn't really fun anymore when a bunch of well-meaning, earnest fans showed up and were just happy to use the space to talk about how much they liked Jason.
Inevitably, trolls showed up too, typically college kids at Southern schools, who sort of understood there was some irony to it, but didn't really understand the tone and would be rude to the genuine Jason fans. Some posted racist or homophobic things (the most common racist joke would be to post a photo of a different black pop star claiming they thought it was Jason). So I had to be vigilant about actually tending to my duties as moderator, banning trolls and deleting offensive content. Eventually, I became something unexpected: the moderator of a 6,500-member, very active Facebook group dedicated to Jason Derulo.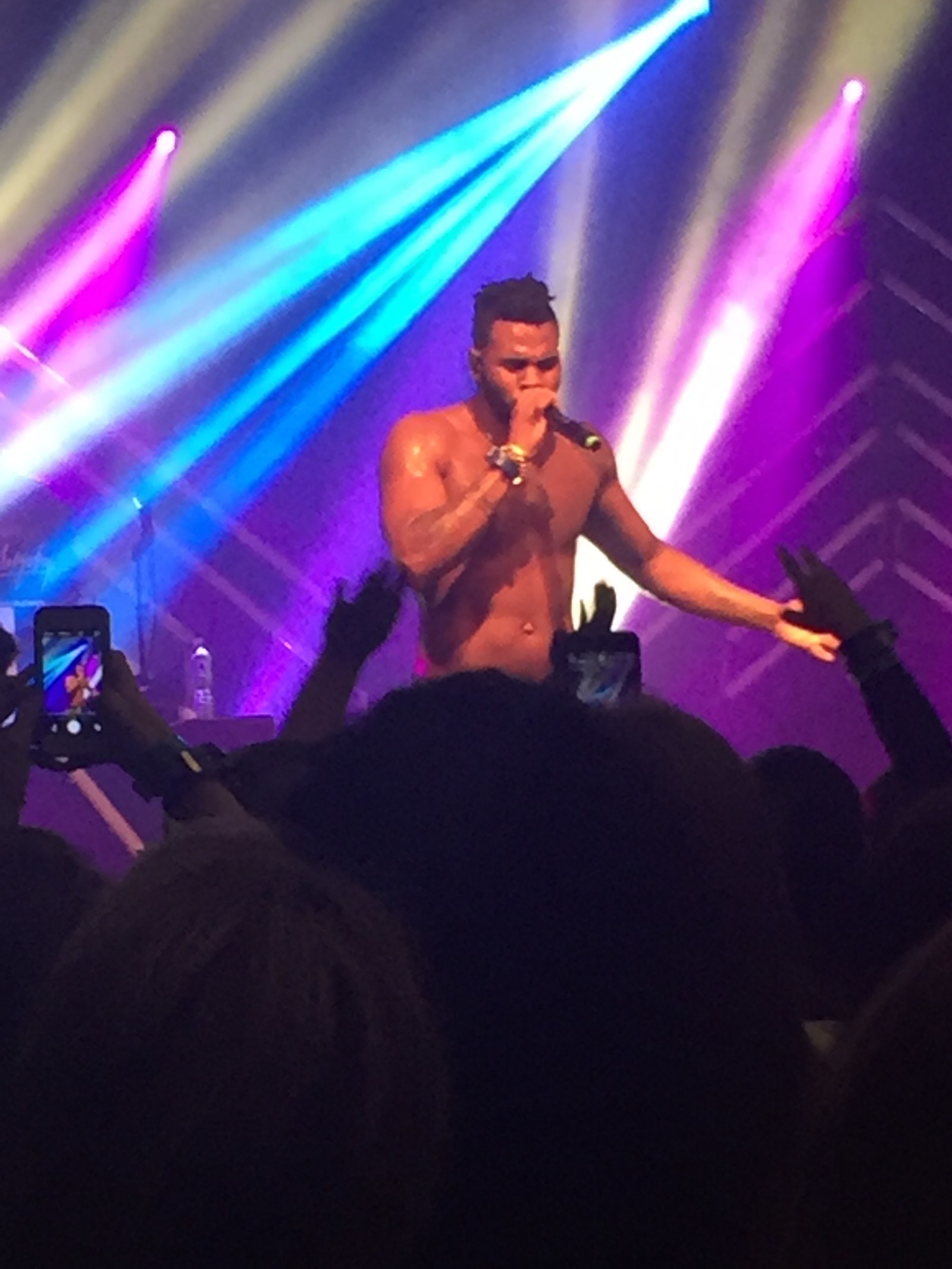 For the last two years, my fate has been tied to Jason. When his most recent album came out, I can assure you no one was more excited than me and my army of his most loyal fans. My dreams came true this fall when Jason came to the BuzzFeed offices for a short interview with our celebrity coverage team, but to my dismay, his very strict PR team stopped us from asking him to do a shout-out to the fan club.
Outside the venue, a small crowd formed at a side entrance where black SUVs waited to pick Jason up. I asked some girls who were clearly passionate enough about Jason to wait in line to see him leave why they liked Jason. "Because every song is a hit," Stephanie, 23, from New York, explained. She had seen him before at Z100 Jingle Ball and another radio festival. This time she won the tickets in an online raffle. I asked her what she thought of the data wristbands. "I think it was just weird. I think it was there; I don't think it was actually...working."
Indeed, it never fully seemed like the data visualizations we saw really reflected what took place on stage. The peaks and valleys of the dancers' movements weren't really what you looked for as they danced. Whether the data was accurate or not, I have no idea. But I feel 100% confident in saying that even without any hard data, everyone had a great time watching a Jason Derulo concert.