How Not To Do Customer Service Over Facebook
A customer complained about her meal on the Facebook page of a Boston restaurant. They replied by calling her "fat" and a "bitch."
A customer complained on the Facebook page of Boston restaurant Pigalle, and chef Marc Orfaly replied: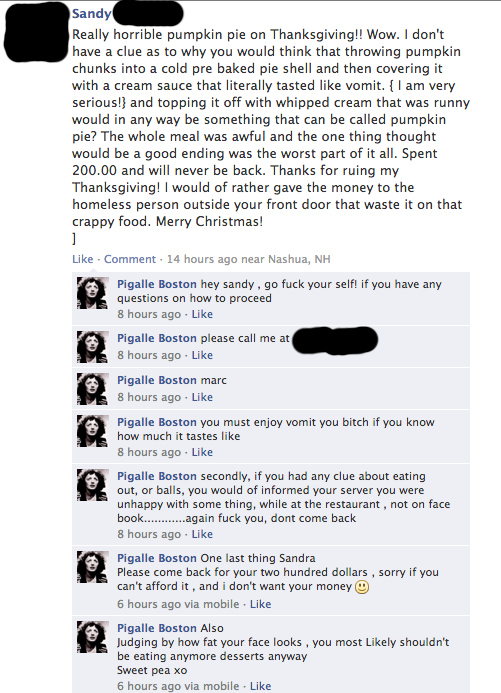 Then, the restaurant posted a message to its fans: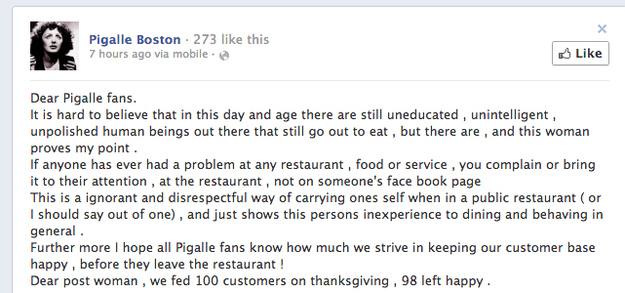 The customer's reply:

The restaurant replies, mocking her "fat face" from her photo: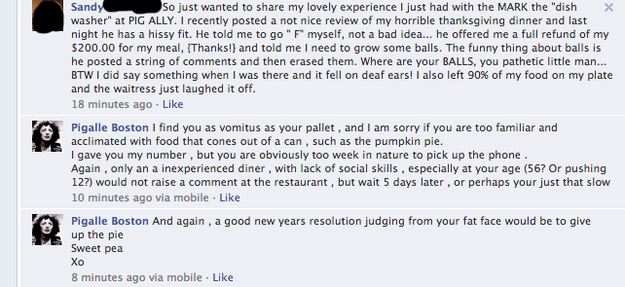 Finally, the owner wised up and issued an apology: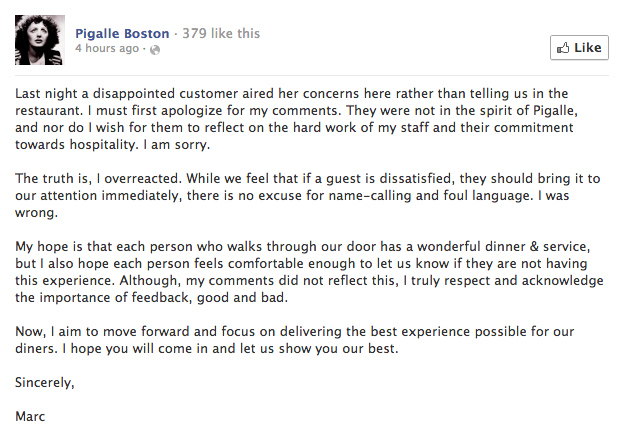 And a happy ending:
The customer wrote in a comment to Boston's Eater.com's story about this, telling them that she and the owner have made up and all is forgiven:
It's Me!! I am posting to let everyone know that Mark and I spoke at length about our recent Facebook smack down. He was right to say that if I was truly not happy with my meal I should of made a bigger fuss about it at the time it happened. He felt like there was nothing that could be fixed once we left Pigalles. He was very sincere and was the first to make amends. We both have apologized for our words and we are now FB friends! He offered me a make up meal and I will gladly take him up on his offer. He seems like a really nice guy and is very passionate about food! Ya got to love him for that. So all of you that have made comments good or bad I would strongly recommend checking out Pigalles . You might want to make reservation weeks in advance because as the saying goes, even bad publicity is good!
Katie Notopoulos is a senior reporter for BuzzFeed News and is based in New York. Notopoulos writes about tech and internet culture and is cohost of the Internet Explorer podcast.

Contact Katie Notopoulos at katie@buzzfeed.com.

Got a confidential tip? Submit it here.