Sheryl Sandberg Posts Moving Tribute To Her Late Husband On Facebook
"Even in these last few days of completely unexpected hell – the darkest and saddest moments of my life – I know how lucky I have been," the Facebook COO wrote Tuesday. Her husband, SurveyMonkey CEO Dave Goldberg, reportedly suffered severe head trauma Friday while using a resort's gym in Mexico.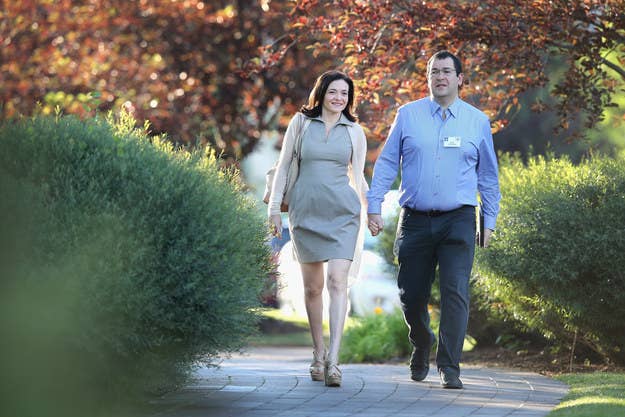 Sheryl Sandberg, Facebook's Chief Operating Officer, posted a tribute to her husband, Dave Goldberg, CEO of SurveyMonkey, who died Friday.
Goldberg died suddenly Friday night after suffering severe head trauma during an exercise accident in Mexico, multiple media outlets reported. He was 47 years old.
Citing a person close to the family, Reuters reported that the tech executive collapsed in the resort's gym, and that efforts to revive him were unsuccessful. He was declared dead at the hospital.
Goldberg was at a resort close to Puerto Vallarta in southwest Mexico, according to a Mexican government source, who spoke to the New York Times on condition of anonymity. The source also told the Times "he fell off the treadmill and cracked his head open."
In her Facebook post, Sandberg said of Goldberg, "We had 11 truly joyful years of the deepest love, happiest marriage, and truest partnership that I could imagine... He gave me the experience of being deeply understood, truly supported and completely and utterly loved – and I will carry that with me always. Most importantly, he gave me the two most amazing children in the world.
"Dave was my rock. When I got upset, he stayed calm. When I was worried, he said it would be ok. When I wasn't sure what to do, he figured it out. He was completely dedicated to his children in every way – and their strength these past few days is the best sign I could have that Dave is still here with us in spirit."
The Associated Press on Monday confirmed the cause of death with an official in Mexico.
News of Goldberg's death was announced Saturday by his brother in a message posted to Facebook.
"Dave's genius, courage and leadership were overshadowed only by his compassion, friendship and heart," SurveyMonkey said in a statement. "His greatest love was for his family. Our sympathy goes out to them and to all who were touched by this extraordinary man. We are all heartbroken."
Goldberg founded the music site Launch Media, which was acquired by Yahoo in 2001. In 2009 he was named CEO of survey questionnaire site SurveyMonkey.
Goldberg met Sandberg in 1996. The pair married in April 2004, and have two children together.
Below is the message posted by Goldberg's brother, Robert, and subsequently shared by Facebook CEO Mark Zuckerberg:
It's with incredible shock and sadness that I'm letting our friends and family know that my amazing brother, Dave Goldberg, beloved husband of Sheryl Sandberg, father of two wonderful children, and son of Paula Goldberg, passed away suddenly last night.

In this time of sorrow, we mourn his passing and remember what an amazing husband, father, brother, son and friend he was. No words can express the depth of loss we feel, but we want his children to learn how much he meant to all of you.

In lieu of donations, we want to celebrate his life in a manner that respects the family's privacy as they cope with this tragic, life changing event: Sheryl, their children, and our family would be grateful if people would post their memories and pictures of Dave to his Facebook profile.
Friends and colleagues reacted with shock on Twitter after the untimely death was announced:
President Obama posted his condolences on Facebook, saying "We're heartbroken by him leaving us far too soon - but we celebrate a remarkable legacy."
David Goldberg embodied the definition of a real leader - someone who was always looking for ways to empower others. He was generous and kind with everybody, and cared less about the limelight than making sure that the people he worked with and loved succeeded in whatever they did. His skills as an entrepreneur created opportunity for many; his love for his family was a joy to behold, and his example as a husband and father was something we could all learn from. We're heartbroken by him leaving us far too soon - but we celebrate a remarkable legacy. -bo
This post has been updated to reflect the cause of death and a statement from Sheryl Sandberg and Barack Obama.
Sheryl Sandberg is the COO of Facebook. A previous version of this post misstated her title.