New iPhone 14s and 14 Pros were announced today.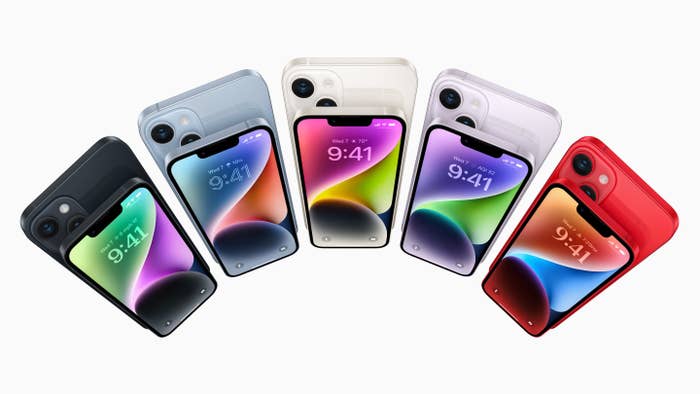 Apple just announced four new iPhones, and none of them have creative names. The iPhone 14, 14 Plus, 14 Pro, and 14 Pro Max were all on display at Apple's event today. Here's what they look like: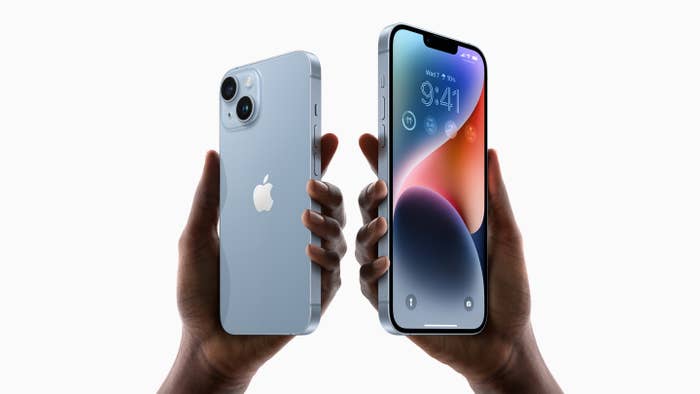 The iPhone 14 has a 6.1-inch screen, while the iPhone 14 Plus has a 6.7-inch screen. Let's be honest: They look pretty much the same as the iPhone 13 in terms of their design, but they have the requisite upgrades to cameras — better sensors, a new Action mode for smoother video, an ultrawide camera, and a 10% brighter flash. Of course, they also have a better battery life, and they will come in five different colors.
The Pro models also get Apple's brand-new chip, the A16 Bionic, which powers more sophisticated automatic photo processing for the new 48MP camera.
They also have a new "dynamic island" at the top where the front-facing camera is (now a pill shape, instead of a notch). This shows various notifications and controls for apps running in the background, like music-playing controls or a notification about how soon your Lyft is arriving. It's a cool design feature and a really useful way to multitask.
The "dynamic island" feature at the top of the screen shows controls and notifications.
The iPhone Pros also have a brand-new always-on display, which means that the phones can display the date and time, weather, Apple Watch fitness status, calendar appointments, and other information even when it is locked.

Apple also debuted a new satellite-based emergency service that it plans to run in-house, a weird move for the company, to say the least, but one that could prove to be very popular with its customers who do extreme sports, as it's likely to be useful for, say, locating a lost hiker. All of the new iPhones also come with crash detection, another tragedy-predicting feature that can tell if you've been in a car wreck and can call emergency services.
All of the new iPhones will be available Sept. 16.