White House To Make Campus Sexual Assault Announcement Next Week
The White House Task Force to Protect Students From Sexual Assault is ready to announce its recommendations, according to student activists and victim's rights advocates who will attend Tuesday's event.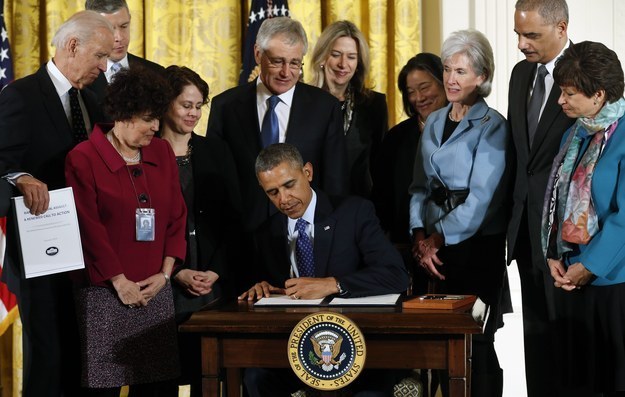 The White House Task Force to Protect Students From Sexual Assault is likely to release its recommendations on Tuesday, according to student activists and victim's rights advocates.
A senior administration official declined to speak on the record about the event, but current and former students across the country who've filed federal complaints against their universities for allegedly mishandling sexual assault received nontransferable email invitations this week to attend Tuesday's event hosted by the task force.
Others received personal calls from task force members who they'd met in the months since President Obama appointed the coalition in January, giving them 90 days to recommend improvements colleges should make. The recommendations were scheduled to be delivered this week.
Sexual assault survivor-activists who said they received invitations to attend Tuesday's event include Dana Bolger, Alexandra Brodsky, and Wagatwe Wanjuki, all organizers with activist coalition Know Your IX/ED Act Now; Andrea Pino and Annie Clark, co-founders of End Rape on Campus, a group that helps to help other students file complaints against their schools, and Julia Dixon, who filed a federal complaint against the University of Akron earlier this year.
Representatives from the non-profit 32 National Campus Safety Initiative and the Rape, Abuse & Incest National Network also confirmed that they would be attending.
While most said that they had only received "vague" information about what the event entailed, S. Daniel Carter, Director of 32 NCSI, confirmed that the Task Force's recommendations would be released during the event.
The task force is chaired by Vice President Joe Biden and includes representatives from the White House, Justice Department, Education Department, Health and Human Services and Attorney General Eric Holder. It was instructed develop proposals that insure institutions with their legal obligations under existing federal laws, facilitate coordination among federal agencies, broaden the public's awareness of individual institutions' compliance and increase transparency of the government's "enforcement activities concerning rape and sexual assault, consistent with applicable law and the interests of affected students."
One sexual assault survivor who attended a Task Force roundtable in February said she felt optimistic about the upcoming recommendations, given that the last meeting included a diverse mix of current and former complainants and had been kept secret from press. "It wasn't just a publicity stunt," she said, "Which I think means they might actually care."