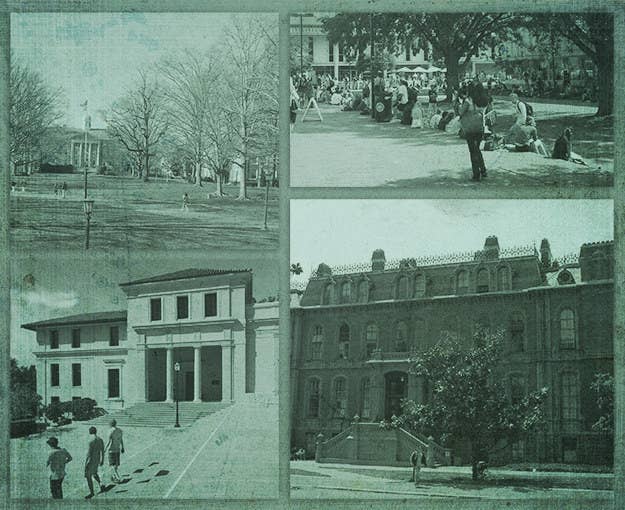 Former sex crime prosecutors Gina Smith and Leslie Gomez have made a name for themselves as the go-to team for colleges and universities accused of mishandling sexual assault.
The longtime friends and colleagues, now partners at Pepper Hamilton, a storied Philadelphia law firm led by a former FBI director, advertise themselves as victim advocates with big hearts in addition to legal know-how. Although none of the more than 50 colleges and universities they've worked with would freely admit it, they also offer schools struggling with PR crises a speedy way to send a message that they're on the case.
In a 2013 profile, The American Lawyer called Smith a "guru for colleges and universities looking to reform sexual assault culture on campus" who helped institutions "avoid the courtroom" by conducting investigations and advising administrators on how to comply with gender equity law Title IX and the Clery Act, which requires schools to accurately report campus violence. The article also called Smith "part of the scandal cleanup crew" for her most "high-profile engagements," including Occidental College, Amherst College, the University of North Carolina at Chapel Hill, and the University of California at Berkeley, all schools currently under investigation by the United States Department of Education for allegedly violating federal law regarding on-campus sexual assault.
But while college presidents love Smith and Gomez, many of the women who forced their universities to hire consultants in the first place loathe them. Complainants across the country told BuzzFeed that they believed their institutions were paying Smith and Gomez to clean up messes by paying lip service to federal compliance.
Although some students and faculty members praised their work, others said the retention of Smith and Gomez — who acknowledged that they've never read a student complaint — encourage their schools to crack down on activists instead of rapists and to adopt boilerplate policies instead of calling out inept administrators.
Since the schools pay the consultants' bills, their allegiance is a regular source of tension and complaints from students who see their lives, not the universities' brands, at the heart of the matter.
"It isn't my rape that's the problem now," said Andrea Pino, who clashed with the consultants at the University of North Carolina at Chapel Hill, where she is currently a senior. "The rape was nothing compared to the way my school has treated me."
Pino is one of five complainants who filed federal complaints against UNC last year alleging the administration dismissed the reports of sexual assault survivors, underreported rape statistics, and failed to train employees in offering support services. Soon after, the school denied the charges and hired Smith and Gomez.
Pino said she immediately resented Smith for insisting the university cared about her well-being when an academic advisor had called her "lazy" for seeking medical withdrawal from classes due to assault-related post-traumatic stress disorder. Still, she met with Smith for what she says was billed as a completely confidential meeting and told her that she had never received training on mandatory reporting, which is required by Title IX, while a resident adviser. Soon after, Smith reported her to the Department of Housing for underreporting alleged rapes.
"I'm so glad my complaint gave Smith a salary," Pino said.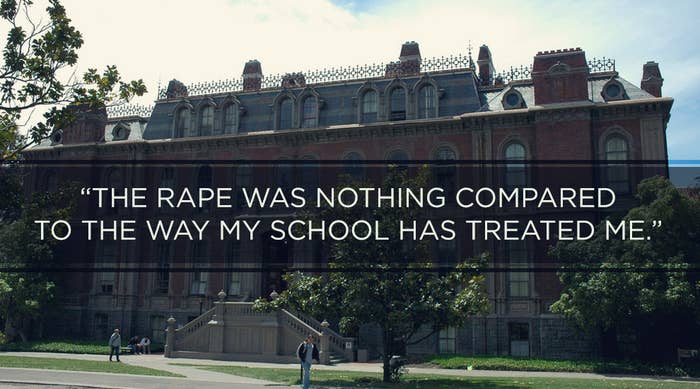 A lucrative cottage industry of college sexual misconduct consultants started booming in 2011, after the Department of Education sent a "Dear Colleague" letter warning educators that it was cracking down on Title IX, which prohibits sex-based discrimination, including sexual violence. Thanks to activist groups that help students file and publicize federal complaints, the industry has continued to grow. Last year, the Department of Education's Office for Civil Rights received 30 sexual violence-related complaints against colleges and universities, almost double the previous year's 17. The White House's decision earlier this year to launch a task force to help prevent and prosecute campus sexual assaults likely means the numbers will continue to rise.
Schools in crisis — or hoping to prevent one — can call Margolis Healy & Associates, a firm founded by two former police chiefs, or the NCHERM Group, which bills itself as one of the "largest higher education-specific law practices" in the country. But Smith and Gomez stand out because they have decades of experience as prosecutors on terrible crimes (child abuse, domestic violence), an understanding of complicated federal and local laws, and come highly recommended by preeminent schools.
Occidental spokesperson James Tranquada said the college interviewed two other firms but were most impressed by Smith and Gomez's extensive experience handling sex crimes and their work at peer institutions. "Their approach is not merely one of legal compliance — they passionately believe in what they are doing." he wrote.
Smith is a pioneer in the field; she coined the now widely used term "institutional response to sexual misconduct" when she left her job as a Philadelphia assistant district attorney in 2006 and launched her new career at Ballard Spahr LLC. The practice was "sleepy" then compared to today, Smith said in an interview, adding that she was "dedicated to changing the conversation" before "it was in vogue to do so in the legal field."
She and Gomez are both as warmly reassuring as teachers at a Quaker elementary school and so comfortable with each other that they finish each other's sentences.
They've known each other since Gomez was an intern in the DA's office; Smith, already an established prosecutor in the Family Violence Sexual Assault unit, soon became Gomez's "life mentor." Still, Gomez said, it took months for Smith to convince Gomez to join her at Ballard Spahr, which she finally did in 2011.
"I never set out to be a partner in a law firm — I'm really just a simple country girl with a strong core of common sense and responsibility," Gomez said. "Gina convinced me that we could be proactive and could share our knowledge nationally — that was intriguing. But in the end, I joined the practice because I believed in Gina and I trusted her vision of how we could make a difference. It's a choice I have never regretted."
Pepper Hamilton, which snapped up the pair in 2013, probably doesn't regret it, either. In a Feb. 14 press release announcing the previous year's record fee income of $373 million, up 5.4% over the prior year, CEO Scott Green noted that the White Collar and Investigations practice group had more than doubled its revenue from 2012, partially in thanks to Smith and Gomez's "thriving practice."
Students can't expect consultants who are brought in to review policy and procedure to fix larger cultural issues, said S. Daniel Carter, who runs the 32 National Campus Safety Initiative at the VTV Family Outreach Foundation, a nonprofit created by families and survivors of 2007's Virginia Tech shooting.
"Students have broader interests," he said. "They want allies. And they're owed that, but people coming in from the outside to provide an objective review aren't there to fill that role."
But Gomez and Smith are successful because they do promise more than compliance — both are adamant that institutional liability isn't their focus. "Our view starts with the students, and our goal is to listen with an earnest intent to understand their lens," Gomez said. Many experts who know their work agree: Alison Kiss, the executive director of The Clery Center for Security on Campus, said she understands why students and faculty might mistrust for-profit consultants but that Smith and Gomez, whom she knows from the national conference circuit, aren't just high-powered lawyers. "Beyond the knowledge of regulatory framework, you can see the care for victims shine through," she said.
Without Smith and Gomez's help, UNC couldn't have launched the Title IX Task Force that is currently reworking the school's approach to sexual misconduct, said Christi Hurt, UNC's Interim Title IX coordinator. "They gave us a bird's eye view of what the law required balanced with our needs as an individual university," she said, adding that it was absolutely worth the money — a flat fee of $160,000 for eight months paid for by state taxpayer funds. Critics "obviously haven't taken the time to get to know them," said Sarah-Kathryn Bryan, a student on the task force who says she considers the women "good feminists" and her friends.
But many of the most prominent survivor activists in the country said that while they were initially optimistic about Smith and Gomez, they now warn each other in advance when the pair shows up on a new campus.
"Everyone in our inner circle of national student activists knows not to trust them or waste your time working with them because they're just going to run you in circles anyway," said Sofie Karasek, lead complainant in the federal complaints against the University of California at Berkeley. A UC Berkeley spokesperson confirmed that the school hired Smith and Gomez last fall to review and strengthen campus policies, but Karasek says she has no idea what they're up to and that they've never tried to get in touch, a sentiment echoed by complainants across the country.
Although Smith and Gomez have publicly invited all interested members of the Occidental community to contact them via an anonymous suggestion box, Caroline Heldman and Danielle Dirks, two professors who are lead complainants in the federal complaints against their college, said that was an empty promise.
"We offered three times to set up individual and group meetings with survivors who were part of the federal complaint, and all three times they seemed interested but never took us up on the offer," said Heldman, who, along with Dirks, has long advocated for sexual assault reform on campus. "After repeated offers that were ignored, we stopped asking. It was as if they were trying hard to not speak to survivors."
Dirks and Heldman were dumbfounded by the price tag: They claim Smith and Gomez, who have been working with Occidental for more than a year, told them they were making $585 and $511 an hour, respectively. (Smith and Gomez declined to comment on their fees and would only say that they are consistent with the rates of other national law firms.) In exchange, Dirks said, the school has received a handful of ineffective "community forums" where the lawyers took few questions, some poorly planned training sessions, and a revised — and, in her view, "watered-down" — sexual assault policy.
Smith and Gomez "are great at making parents and students feel like something is being done because they are using big legal words, but words can't take the place of legal action," Dirks said. "They have had an absolute negative effect on our reform."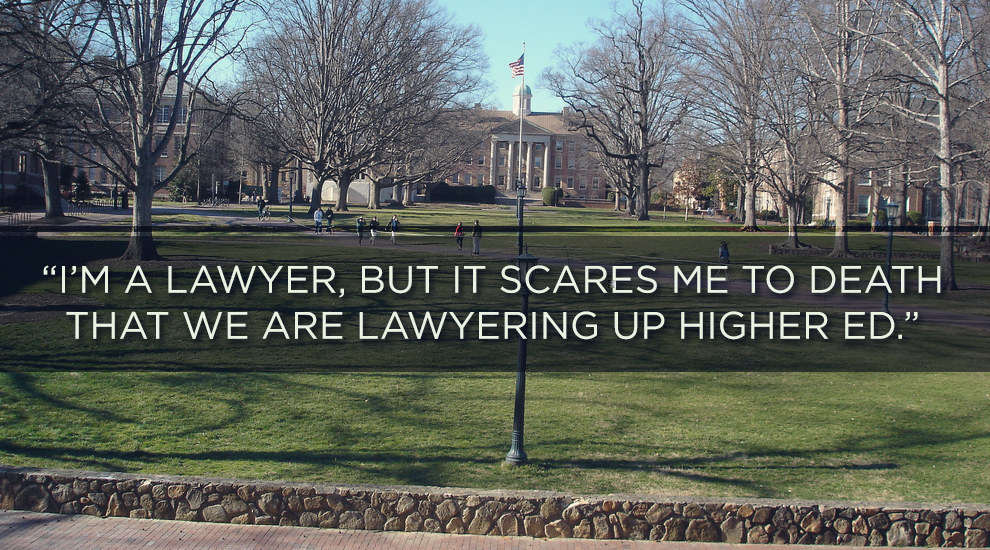 Students and professors at other schools described similar experiences. Smith "just talked at us while the administrators sat silently behind her, sort of quivering, at this so-called public meeting," said Altha Cravey, an assistant professor at UNC who attended a forum billed on Facebook as an open dialogue with the Chancellor. "It was supposed to be this ongoing public conversation, but instead we heard from a lawyer who reduced everything to technicalities. It was really offensive and awful."
Other complaints about Smith's and Gomez's work concerned their external reviews. The University of Colorado at Boulder, which cheerily announced earlier this year that an external review by Smith and Gomez had found the school in compliance with Title IX, angered some students who were quick to note that the official federal complaint that spurred the review was still ongoing. The Amherst report Smith and Gomez helped conduct failed to identify "the underlying causes of sexual violence," student survivor Dana Bolger wrote: The report found "no need to name specific student groups" that intimidate victims into staying silent about sexual assault, but went into detail about a "large and seasonally permanent" tent with a sound system that could host "large-scale poetry slams, small concerts, outdoor movies, recitals, dance lessons, and the like," in hopes that students will "evolve and sustain new and more creative modes of play" and "escape the Amherst Awkward feeling" instead of assaulting their peers.
Pino isn't the only complainant frustrated by Smith's insistence on hardline mandatory reporting compliance. At Swarthmore, which employs Pepper Hamilton as its general counsel, Mia Ferguson was denied a job as a dormitory resident advisor after she filed a Title IX complaint because she wouldn't provide authorities with details concerning an alleged rape. Under Title IX, resident advisors are "mandatory reporters," meaning they are obligated to report all aware sexual misconduct to higher-ups.
But, as Ferguson pointed out in her complaint, Swarthmore was hardly fully compliant — she said she hadn't even been properly trained on the duties of a mandatory reporter — and the information in question pertained to an incident that took place before Ferguson signed her RA contract. Was it really necessary to fire her as an example? In a New York Times article about the controversy, Smith said yes and defended the college's decision.
"We love our schools, and we want them to succeed," Ferguson said. "But [Smith] isn't interested in helping schools push back against an antiquated law. She's interested in helping schools comply so they stay out of court."
Smith and Gomez told BuzzFeed they understand why survivors would be skeptical; institutional betrayal cuts deep, and sometimes there is "such a breakdown in trust that it can be difficult to transcend the past." But although the pair stresses their experience working with victims of sex crimes, they're also aggressive former prosecutors. Smith, in particular, drew criticism from public defenders in Philadelphia whom she went up against in sex crimes cases, and in at least one case, her office settled charges that she had crossed the line.
In 2005, Smith was sued by Nicole Schneyder, a reluctant witness in one of Smith's first murder trials, for allegedly jailing Schneyder to force her to testify and then leaving her there for 48 days after the case was postponed against a judge's order. While Schneyder was in jail, the man she called her father died. It was only when her sister appealed to the Public Defender's Office to see if Schneyder could attend the funeral that an official realized she was being held for a trial that was still months away.
The Philadelphia District Attorney's Office settled with Schneyder for $255,000 in 2011. "Whether to keep Schneyder in jail should have been the court's decision, and Smith knew it," the three-judge panel wrote, calling her alleged conduct "outrageous" and unconstitutional.
Daniel Silverman, Schneyder's attorney, accused her of "acting as though she could disregard her professional and ethical obligations all in the service of winning her case."
"That she had actual notice that my client was languishing in jail and ignored the pleas of her family to release her so she could say her final goodbyes to the dying man who raised her speak to her seeming belief that she did not need to play within the rules," he said.
Smith said in response that she was dealing with a brutal case of rape and murder, and stressed that the case was "a settlement before any fact-finding and thus there was no admission or finding of fault."
"As a prosecutor, my obligation was to seek justice with integrity — in this case, I followed a lawful process, supported by witnesses and documentary evidence, to advocate on behalf of a victim who had been raped and murdered," she said.
It's a long way from the courtroom to the campus, but sex crimes prosecutors have always needed to show more than one side. They're expected to be both compassionate advocates for victims and hard-edged instruments of vengeance on perpetrators.
Smith's and Gomez's success is rooted in that balance, but as their legion of critics makes clear, it's a tough one to maintain.
The two are "highly tuned weapons of legal warfare," said Peter Lake, a higher education consultant and law professor who questions whether the prosecutorial approach is best for schools, given victims' mistrust of the legal system and the confusion surrounding Title IX, which he believes "pits students against their institutions."
"I'm a lawyer, but it scares me to death that we are lawyering up higher ed," he said. "We're legalizing this field very quickly with little attention being paid to how it will affect victims."