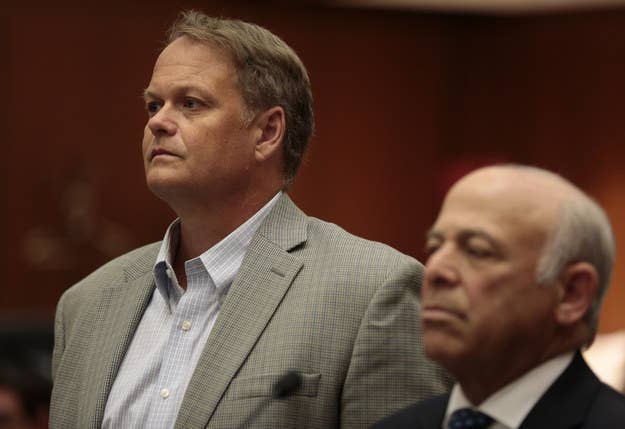 The elite all-girls Marlborough School in Los Angeles claims that a woman suing the school over sexual abuse by a former English teacher is responsible for the emotional and psychological suffering she's experienced because she did not speak up sooner. For the same reason, the school argues, she is to blame for having "exposed" other students to potential sexual abuse by the teacher.
Marlborough has tried its best to tactfully manage the high-profile scandal involving former teacher Joseph Koetters, now in jail for sexually abusing two 16-year-old students in the early 2000s.
The head of school resigned. Marlborough launched an internal investigation and vowed to change its policies. The school publicly apologized to Koetters' victims and acknowledged its failure to respond to some of their allegations.
But Marlborough has been far less contrite to the victim who is currently suing the school. The woman, now in her early thirties, says Koetters first manipulated her into engaging in "unlawful sexual acts" when she was in his 11th-grade English class. Eventually she became pregnant with his child and had a miscarriage. In court papers filed in March, Marlborough's lawyers argued that she is at fault for the extensive mental and emotional damage she's suffered since.
The woman was "negligent and careless and said negligence and carelessness contributed to and proximately caused the injuries and damages" she is claiming, the filing states. Also, by not reporting her abuse to the school or police until 2014, she "consciously exposed other girls to the risk of abuse at Koetters' hands."
California recently barred defendants accused of sexually abusing children from using a "consent" defense in civil cases. Yet Marlborough is still arguing the victim should be held accountable for being molested, said the woman's lawyer, David M. Ring.
"Marlborough says all the right things publicly, but behind the scenes this is what is really taking place: blame the teenage victim," he said.
The lawsuit, filed in April 2015, claims that Marlborough officials knew Koetters had been accused of previous misconduct both at Marlborough and while employed at two other private schools, but failed to thoroughly investigate him.
The school has consistently argued that the victim waited too long to file the case. The woman has said that she only realized the psychological damage Koetters caused her in 2014, after reading an anonymous essay by another former student who was sexually harassed by Koetters on the website xoJane.
A judge ruled in February that the woman could move forward with her lawsuit against the school and teacher, and discovery is now underway in litigation.