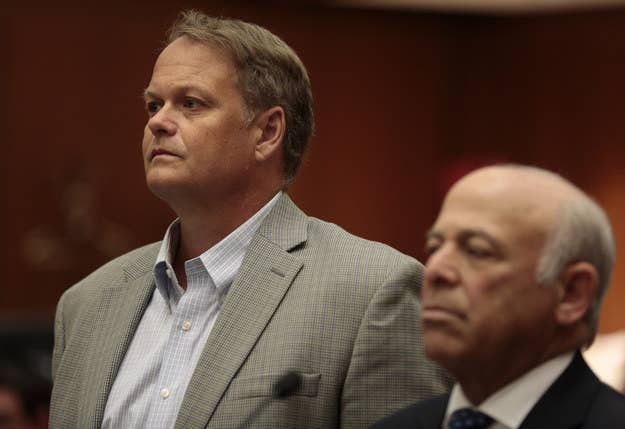 A former student is suing the Marlborough School, a prestigious all-girls private school in Los Angeles, for failing to protect her from being sexually abused by her teacher. She is also suing the teacher, Joseph Koetters, who was arrested and charged with four felonies related to her claims in February. The plaintiff, who filed her civil lawsuit this week in Los Angeles Superior Court, is seeking a jury trial along with unspecified personal injuries and damages.
The lawsuit alleges that Marlborough hired Koetters even though it knew he had been accused of misconduct while employed at two other private schools, failed to investigate at least two student complaints against him during his 14 years at Marlborough, and helped him secure a job at another private school instead of firing him. This version, which was filed on Wednesday but has not yet been posted online, does not name Marlborough or Koetters because of procedural code — eventually, the lawsuit states, both defendants will be named in an amended complaint — but they are easily identifiable through references to BuzzFeed News coverage in the text.
Marlborough has "repeatedly concealed or withheld the full extent of its knowledge" regarding Koetters "with the desire that the matter would ultimately be brushed aside and forgotten," the lawsuit alleges. Instead, the lawsuit argues, Marlborough chose to support "its star teacher" and "attack and denigrate the girls who tried to make complaints" instead of investigating them.
The plaintiff, now 30, has already told her shocking story to BuzzFeed News and other media outlets: She says that Koetters, now 47, manipulated her into engaging in what the lawsuit calls "unlawful sexual acts" when she was in his 11th-grade English class at Marlborough. Eventually, she says, she became pregnant with his child and had a miscarriage. The lawsuit refers to other former Marlborough students who, in interviews with BuzzFeed News, said Koetters pursued "unlawful sexual activities" with them, including one woman who said Koetters sexually abused her in 2004, and Mikaela Gilbert-Lurie, a 2013 Marlborough alumni who reported Koetters' inappropriate behavior toward her to the school in 2012.
The lawsuit, which lists five causes of action — sexual abuse of a minor; intentional infliction of emotional distress; negligent hiring, supervision, and retention of an unfit employee; breach of mandatory duty; failure to report suspected child abuse, and negligence — was filed by high-profile sex abuse lawyer David M. Ring, who was recently named California Lawyer's 2015 "Personal Injury Attorney of the Year" for winning a record-breaking $14 million for two women who were sexually abused by their science teacher.
A Marlborough spokesperson declined to comment "because the matter is the subject of a criminal investigation and now in litigation," but the school has said it is cooperating with the Los Angeles Police Department. (Koetters pleaded not guilty and is currently free on $140,000 bail.) Its board issued a blanket apology to Koetters' victims and their families in a November letter announcing the findings of its own investigation, which also established new protocols and announced that Marlborough's longtime head of school would resign. But the lawsuit argues that Marlborough was negligent in waiting to launch its investigation until after BuzzFeed News covered the scandal last July — and that its belated investigation also attempted to cover up the extent to which the school mishandled the situation.
The lawsuit mentions two other prestigious Los Angeles private schools, Polytechnic and Viewpoint, the former of which forced Koetters to resign instead of firing him after he was accused of misconduct by students, although the schools are not listed as defendants.
"In the field of education, this is commonly referred to as 'passing the trash,'" the lawsuit states. "The teacher avoids being terminated from his employment, and instead lands a new job at a new school where he can find new victims. The teacher's former school has rid itself of a problem teacher in a confidential manner, without a fight, and can tell everyone that the teacher left 'for personal reasons.'"
Koetters was first hired by Polytechnic School, his alma mater, when he was 24, according to the lawsuit, which says he left his position as an upper-school English teacher and basketball coach after "the school learned that he had engaged in serious sexual misconduct with at least one female student while he was employed at the school during that first year."
But Polytechnic did not report the matter to law enforcement until allegations against Koetters surfaced in the media last summer, the lawsuit says.
After Koetters earned his doctorate at the University of California at Santa Barbara — where, according to the lawsuit, an 18-year-old student reported that he made sexual comments and advances that made her uncomfortable — he worked for Viewpoint School, but was dismissed after a year for physically shoving a male student. There were also complaints about his interactions with female students. Still, Marlborough hired him in 1999 as an English teacher.
An administrator from Polytechnic told Marlborough that Koetters had left the school because of an inappropriate relationship with a female student, according to the lawsuit, which states that when Marlborough confronted him, Koetters confirmed that was true but said it wasn't a big deal because he had been only seven years older than the student and nothing sexual had occurred.
Marlborough also contacted Viewpoint for a reference check and was told that Koetters had been terminated for shoving a student and also that there were rumors of inappropriate relationships with girls, according to the lawsuit. Again, Koetters downplayed the incident, the lawsuit claims.
Nevertheless, the lawsuit alleges, Marlborough knew or had reason to know about Koetters' past behavior with female students.
The plaintiff never reported her allegations to Marlborough, which she says took place from 2000–2002. But the school admitted in its November report that at least two students did report Koetters' conduct, one in 2005 and another in 2012. Marlborough acknowledged that it failed to investigate their allegations thoroughly in its November report.
Koetters remained at Marlborough until 2013, but was under pressure to find a job elsewhere, according to the complaint. Marlborough promised to help Koetters find a job by "downplaying the recent complaint by Mikaela and giving him an excellent reference to any new prospective employer," the complaint alleges. No one at Polytechnic bothered to review the reasons Koetters had been forced to resign or, if they did, downplayed it, the complaint says.
A Polytechnic spokesperson said in a statement that "an independent, outside investigation conducted last year did not find any evidence that Poly administrators were aware of any misconduct by Koetters during his one year at the school in the early 1990s. As the Board already reported to the Poly community, information about the 1991-92 school year came to the Board's attention last year after it was provided to our investigators, and appropriate actions were taken in response to this information."
Before he started working for Polytechnic, Gilbert-Lurie's mother notified the school of Mikaela's allegations. When Polytechnic's head of school called Marlborough, the school "downplayed the incident, portrayed Mikaela as a trouble-maker, and, as promised, gave [Koetters] an excellent review," according to the complaint. Polytechnic said in its own investigative report that Marlborough had said it would have hired Koetters again if Polytechnic had not hired him itself.
Although Marlborough has already admitted to some of these failings in its own report, the lawsuit alleges that the school did not and would not have taken action if Gilbert-Lurie hadn't spoken out and BuzzFeed News hadn't inquired further. It also alleges that the report is misleading and inadequate because it does not detail what Marlborough knew about Koetters' track record and only briefly describes the plaintiff's allegations as "inappropriate physical conduct toward her over a decade ago."
By that time, Marlborough was well aware that it was "in reality multiple acts of unlawful sex that resulted in a pregnancy and miscarriage,'" the lawsuit states.
The lawsuit argues that the plaintiff's complaint is timely because she didn't realize that Koetters had manipulated and abused her until she learned of his repeated predatory behavior through the media. "She gradually realized the many significant emotional and psychological issues she experienced as an adult could be traced back to her interactions with [Koetters] during her junior and senior year," the lawsuit states. "She had never dealt with those issues. They had caused much turmoil in her adult life."
If Marlborough had acted in the manner required of it over the years, including fulfillment of its responsibility as a "mandated reporter" of suspected child abuse, then the plaintiff would have "avoided all or most of the harm she ultimately suffered," the lawsuit states.
The story has been updated to include statements from Marlborough and Polytechnic.