Claire McCaskill To Quiz Colleges On How They Handle Sexual Assault Cases
The Missouri senator says the survey will provide "an unprecedented look into exactly how our colleges and universities act — or sometimes, fail to act — to protect students, and bring perpetrators to justice."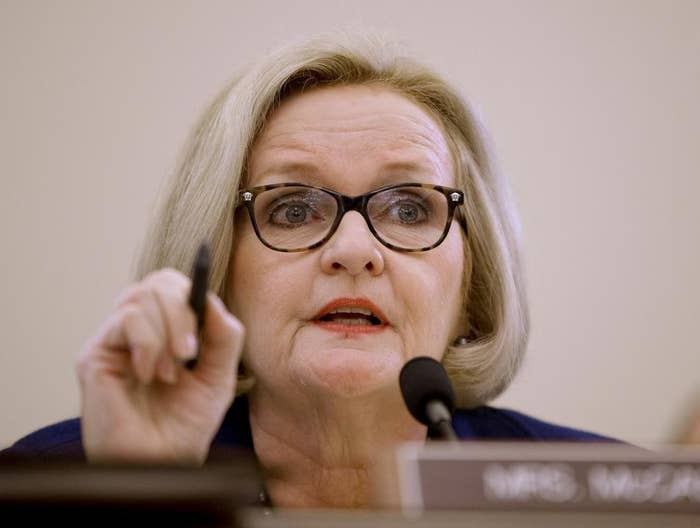 Sen. Claire McCaskill sent an exhaustive survey to 350 colleges and universities this week in hopes of better understanding how schools report and investigate sexual assault and whether or not current federal oversight is effective. The congressional inquiry is unprecedented in terms of scope and specificity, she says — and also in line with her recent strategy for tackling sexual assault in the military.
McCaskill and New York Sen. Kirsten Gillibrand joined forces earlier this month to ask for more funding to combat sexual assault on college campuses, only weeks after the two senators battled over rival bills concerning sexual assault in the military. Gillibrand wanted to remove sexual assault cases from the military chain of command, a move McCaskill said would result in fewer prosecutions. McCaskill's less controversial bill eventually passed.
The nine-part survey will ask a diverse array of institutions about security and law enforcement, student resources, adjudication procedures, and barriers to reporting sexual misconduct — all issues McCaskill says she wants to fully understand before considering legislative solutions. The survey will also help assess enforcement under Title IX federal civil rights law and the Crime Awareness and Campus Security Act, commonly known as the Clery Act, she said.
"I don't think it's helpful to begin just proclaiming 'let's fix this' and 'let's fix that' until we really undertake to understand the complexities of this problem," said McCaskill, who is a former sex crimes prosecutor. "It's really important that we not shoot from the hip. We know there's a big problem, but in order to fix the problem, we've got to really understand what the actual shortcomings are on campuses."
McCaskill also recently requested data from U.S. Attorney General Eric Holder and U.S. Education Secretary Arne Duncan on how the federal government oversees reporting, training, enforcement, and adjudication by colleges and universities.
Annie Clark, a lead complainant in the Title IX and Clery complaints against the University of North Carolina at Chapel Hill and a co-founder of campus activist support group End Rape on Campus, said she supports the idea of a standardized survey that assesses campus resources, but said that "there must be mechanisms to ensure proper oversight so that schools are accurately reporting this data" — given estimates that at least 63% of schools fail to report crime statistics under the Clery Act.
McCaskill says she expects institutions to cooperate fully with the investigation, since the purpose isn't to give individual schools a slap on the wrist but to get an accurate snapshot of the landscape.
"If these universities and colleges are not honest, the first people that will be able to call them out will be the students."
Administrators will take the survey online, but McCaskill's office provided BuzzFeed with the sample draft.