Amherst Fraternity Ban Sparks Protests
Members of fraternities and their supporters say the college's decision this week to ban off-campus fraternities is an ineffective public relations move.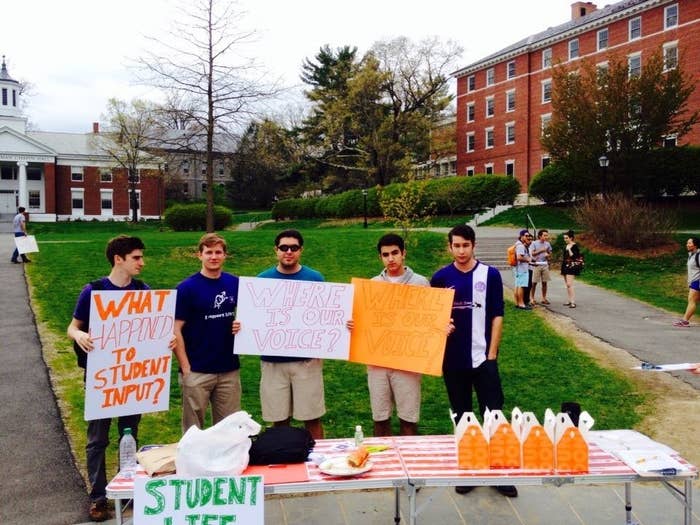 Amherst College's decision to crack down on "underground" fraternities is an attempt to make up for the administration's mishandling of campus sexual assault, fraternity members and other students said.
On Tuesday, the college's board of trustees reaffirmed its 1984 ban on fraternities and sororities and further prohibited "student participation in fraternities and sororities and fraternity-like and sorority-like organizations, either on or off campus," as of July 1, 2014. That means that the three unofficial fraternities on campus, Chi Psi, Delta Kappa Epsilon (DKE), and the fraternity known as TD, will have to disband.
The private liberal arts college in Western Massachusetts is one of 55 schools under investigation by the Department of Education for mishandling sexual assault. Tuesday's decision was related to a report by Amherst's Sexual Misconduct Oversight Committee, which found that underground fraternities "possess considerable ability to shape the College's social life" and that their "juridical invisibility" allowed them to exist "under a "condition of ambiguity" that prevented the college from regulating their activities.
Amherst President Carolyn A. Martin held an open meeting on Wednesday that students described as "charged." Students who oppose the ban argued that it was wrong of the board to announce its decision a week before finals without any student or faculty input, and asked for more detail about how the college would enforce the prohibition. A student government meeting later that night also covered the issue. The next day, fraternity members and their supporters protested outside the dining commons.
"This is a total PR move," Yoni Rechtman, a freshman member of DKE, said of the ban. He was speaking from the protest — dubbed a "brotest" by a few other students — which he said was organized by his fraternity. "It's much easier to make a splashy statement than roll up your sleeves and change the culture."
Even Ethan Corey, a student reporter for the AC Voice who has been critical of fraternities in the past, called the decision a "red herring."
"While I don't want to romanticize fraternities' often troublesome role on campus," he wrote, "eliminating them without creating new, more inclusive institutions to fill the void won't solve anything."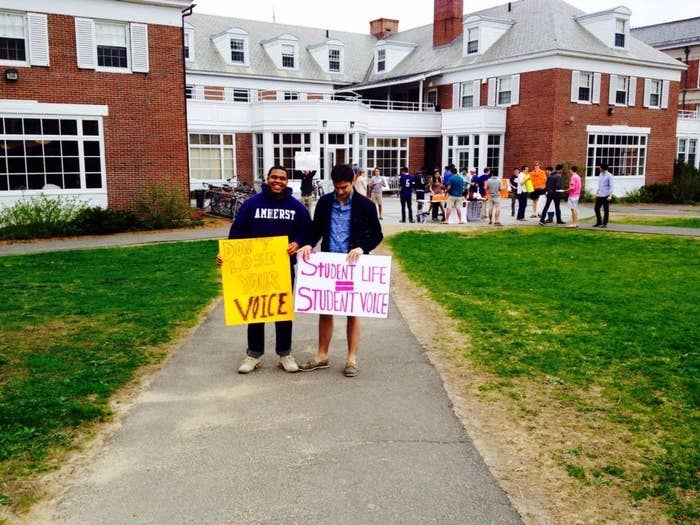 Amherst's off-campus fraternities have made headlines in recent years. In 2012, the same month former student Angie Epifano wrote an essay detailing the way her reported rape was mishandled by administrators, the fraternity TD came under fire for distributing shirts with a bikini-clad woman roasting on a spit and the words "Roasting Fat Ones Since 1847." Earlier this year, a student who was expelled for sexual assault and ordered to leave campus was found to be hiding in a house associated with Chi Psi, according to reports.
An Amherst student who filed a complaint this year outlining some of DKE's hazing practices, which she said she witnessed and heard about secondhand from friends, said it was clear to her that the fraternities' behaviors permeated into campus culture. Her complaint outlined forced binge drinking, sexist rituals — one story involved DKE's president telling women who wanted to pledge "that they would have to give him a blow job" — and a sexual assault.
Administrators were unable to comment on the status of her complaint, but she said she was told that the school was investigating and "writing a report on hazing."
The student who filed the complaint asked BuzzFeed not to publish her name because others who had spoken in support ofTuesday's decision were facing "intense backlash."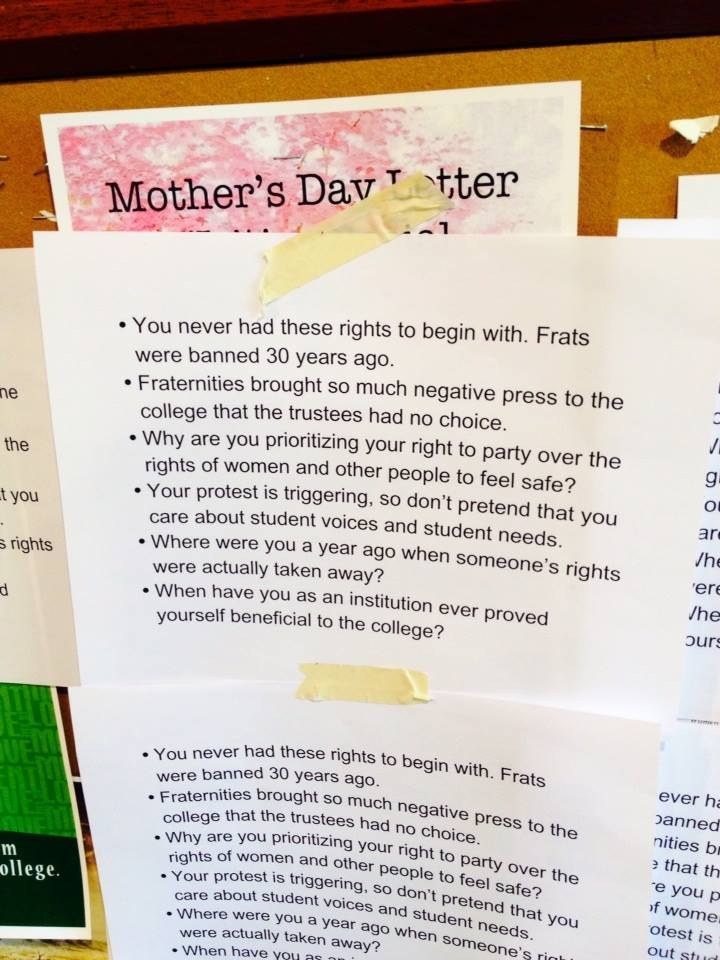 But others say Amherst's sexual assault issues aren't specific to the three off-campus fraternities; the same issues come up in other student groups as well.
"If the trustees had taken the time to look closer into what frats are actually like here, I think they would've been pretty surprised," said Will Kamin, Chi Psi president. He said only 14 of the 43 members of his fraternity were white and that many were on financial aid.
"Is banning some of the only organizations that bring kids from disparate backgrounds together in a way where they trust and care about each other really the way to build a stronger community?" he asked.
Chief Student Affairs Officer Suzanne Coffey told BuzzFeed that the decision was final, though there will be one last open meeting Monday with the board of trustees. She met with representatives of the three unofficial fraternities this afternoon to discuss "how we will replicate for them in their sense what is positive about fraternities in a different type of social scene" and to reassure them that the school will not be "on the lookout" for fraternity activity.
"We assume that students will abide by the honor code and should they fail to do so, those reports will come to us," she said.
Other prestigious liberal arts schools have recently addressed Greek organizations on campus. Students at Swarthmore College in Pennsylvania decided to make all fraternities coed, while school officials at Wesleyan University in Connecticut are debating whether to ban fraternities after a high-profile rape lawsuit.
Ultimately, Amherst's decision is just one aspect of the administration's ongoing efforts to curb sexual assault on campus, said Liya Rechtman, a senior who is part of a new review committee working on revamping the school's disciplinary procedures.
Although she supports the ban, she also understands why students — including her younger brother Yoni Rechtman — want to join fraternities, she said.
"I know the tears of white privileged frat bros aren't what we should be thinking about, but that doesn't mean they don't exist," she said. "People join frats for a reason: because they want a support system. Is that the best support system? Absolutely not. But that doesn't mean their reasons for joining aren't legitimate."
But the 1984 ban led to a "crazy liability gray area" that made the school unable to regulate the fraternities and there's no other way to move forward, she said.
"This is just one necessary step that's a side point in a much bigger conversation about changing campus culture."
Update 5/14/14: DKE pledging materials were leaked to the AC Voice.
Update 5/10/14 : A DKE member emailed a statement from the fraternity after this story was posted:

Let us be perfectly clear: Each and every anonymous rumor included in this story about our new member education is false. None of these claims has ever been true, dating back to our modern establishment in the 1980s....

Delta Kappa Epsilon members – not allowed to represent our fraternity on campus – have actively fought for the rights of survivors at Amherst College. We have supported those in our own ranks who have survived sexual assault. The flippant suggestion that sexual assault would ever be a part of our activities is hurtful not just because it is false, but also because its falseness trivializes the very real problems faced by Amherst and other colleges under investigation by the Department of Education.

We are tired of being falsely painted with the brush of "white privilege." In terms of ethnicity, socioeconomic status, religious affiliation, and sexual identity, we are one of the most diverse groups at Amherst College. It's wrong enough to be stereotyped based on one's own identity, but even worse when that identity is false.
The fraternity member also said in the email that the "investigation by the college and its police department could not substantiate the complaint." They didn't offer evidence for that claim. The university said it could not comment on whether the investigation remains open.