Women More Likely Than Ever To Get Pregnant While Cohabiting
But they're less likely to marry their cohabiting partners, according to a CDC study. More evidence that, for some, cohabiting is replacing marriage.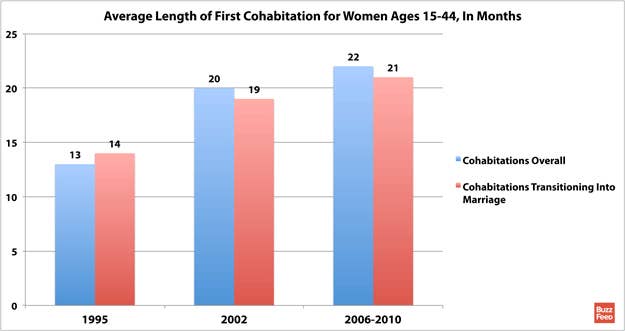 Unmarried cohabitation is on the rise among women aged 15-44, couples are cohabiting for longer without marrying, and cohabiting women are more likely than ever to get pregnant, according to a CDC report released Thursday. Almost twenty percent of women now become pregnant in the first year of their first cohabiting relationship.
The CDC conducted in-person interviews with 12,279 women between 2006 and 2010. They found that 48% of women cohabited with a non-marital partner as a "first union" — meaning the first time these women shared a residence with their significant others — while in 1995, that figure was 34%.
Pregnancy within the first year of cohabiting is also up, from 15% in 1995 to 20% now — and one-half of these pregnancies were unintended. (For the purposes of this study, the only instances of pregnancy reported are those that end in a live birth.)
Cohabitations are also getting longer overall (see above chart). Many of these cohabitations served as a precursor to marriage, with 40% of cohabitating couples marrying within three years of moving in together, but others appeared to serve as an alternative: 32% of the women surveyed maintained their cohabiting relationships after three years without marrying. While some of these women may plan to eventually marry, a three-plus year period of cohabitation suggests an increasing belief that cohabiting is a viable living arrangement in itself.
The study's authors write: "Alongside the increase in fertility within cohabiting unions over the past decade was a decrease in the probability of marriage among women who became pregnant in a cohabiting union." In other words, more people are getting pregnant while cohabiting, but fewer of those women who do become pregnant while cohabiting get married.
Overall, the study's findings suggest a continued shift away from traditional relationship patterns, with many women living with a significant other for longer — and, in some cases, becoming pregnant — before (or instead of) marriage.