When Is It Ok To Facebook Chat Someone?
Never. Also: dealing with Momstagramming, and the rules of Gchat invisibility.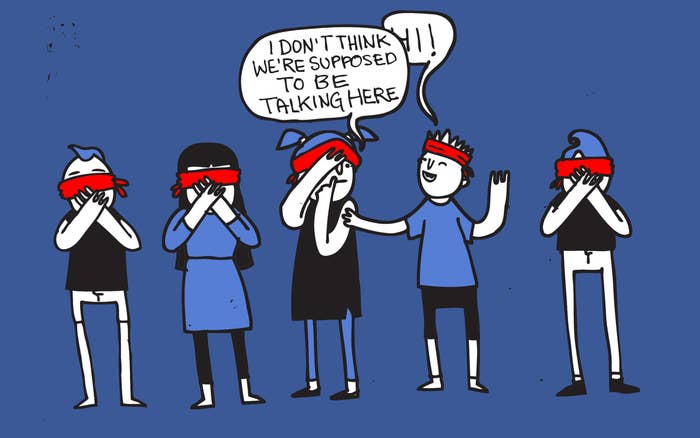 A girl (who I've never met, but who is a friend of a friend) recently Facebook friended me and the other day CHATTED ME on Facebook. Like, what?!?!? I guess I WAS on (though not really intentionally) but normally everyone does the right thing and leaves each other ALONE on Facebook chat. I mean, right?
The easiest way I can think of to describe the mixed bag of emotions most people associate with being Facebook chatted (especially by someone weird or someone they don't know, but also just IN GENERAL, because Facebook chat is the dumbest thing on the planet) is that it's the same exact feeling you get when you are in middle school and you are handed back your yearbook by someone cooler than you, someone you never even intended to have sign it — you know how they just end up getting passed around to whoever — and that person signed it something like, "Man, school goes really long, huh? Mrs. Olson seemed to really like you though, even though I personally didn't realize you were in this class until halfway through the year. HAGS." And you're like, wait a second. This is not GOOD. I didn't ASK for this.
If you are too old for yearbooks you are also too old for Facebook chat. That's the rule. The girl who is friends with your friend should know that, especially given the fact that you two don't even KNOW each other. Although. I mean, yes, it was definitely her fault for presuming to talk to you in a relatively intimate (and also dumb) setting. But you WERE also just sitting in that sad little room, like you wanted someone to talk to you. On Facebook chat, of all things.
So get the hell off Facebook chat, you maniac! I know that it probably logged you in automatically and you didn't even notice because until now, nobody thought to USE the damn thing. But occasionally someone might. So you need to get offline if you don't want people thinking you're available for Facebook chat. It's just not a good look to be seen around those parts. Nobody's going to want to sit with you at lunch.

What is the right combination of Gchat visibility and/or status to let certain people (who I'd want to talk to) that I am at least semi-available, but which makes everyone else think that I'm NOT available????
On the one hand, this is the literal definition of passive-aggression, and you really should work on getting comfortable with telling people you can't talk, because otherwise they'll think you really are just offline or busy and when you see them next at a party they'll be like "HEY GIRL" and then you will have to deal with this IN PERSON. On the other hand, the whole damn internet is the literal definition of passive-aggression, and despite my very best efforts I haven't managed to make everyone behave exactly the way I want them to, yet.
The best answer is to use the little red busy signal and no status, because I think a status usually implies that your busy-ness is more conditional or temporary. A status-less red circle is unforgiving, cold, intimidating. Nobody (who knows ANYthing) should Gchat you when you've got that red circle up, which is why it's up to you to let your special few know that for them, being busy doesn't mean you can't talk. If you Gchat someone enough times while you're "busy," eventually those people will realize it's ok to talk to you, and they should feel comfortable initiating the conversation themselves. And if you really ARE busy one of those times?? Jesus Christ, just say so.
My mom just followed me on Instagram! She is commenting on everything, Katie. Going through all the pictures I have ever posted and commenting on them. I'm not posting anything that is not mom-friendly, it's just... I don't like this! Is there anything to be done? Probably not, right? I feel like it's worse than your mom following you on Facebook or Twitter.
You only think it's worse to have your mom follow you on Instagram than it would be if she followed you on Facebook or Twitter because that's what happened to YOU, the most recently. If I kicked you in the elbow you would be like, "THIS IS THE WORST PLACE I HAVE EVER BEEN KICKED," because I JUST did it, and at that moment, you aren't able to really remember what it felt like when I kicked you in the lower back, or the left shin. (Sorry!) But they're all the worst in their own ways, you know?
I have a friend who basically never uses Twitter, but because it was there, eventually her mom followed her on that nearly empty Twitter anyway. And every time my friend tweeted something, her mom would favorite the tweet, retweet the tweet, AND REPLY to the tweet. It was overkill, certainly, but when you're following 4 people (your daughter, Fox News, CNN, and Josh Groban, let's say), and you have zero followers, what else is there to do on Twitter? What else is there for your mom to do on Instagram? She's just trying to use it. She's cute!
But I get it. You don't have to just quietly accept the excessive commenting because it's coming from your mom. You have to talk to her about it! Send her a text that says, "Mom! Stop commenting on literally all of my pictures!" And then you add a smiley face or four or six emojis, so that it's clear you are teasing her but in a way where you do actually mean everything you're saying. She'll probably say, "Oh sorry, sorry, I just like all your pictures sweetie!" and then you'll kind of roll your eyes but also melt, and probably she will decrease her commenting by at least 25%, which is a start.