How Do I Hit On People On Twitter?
Stars. It's all about stars. Also: How many pictures can you post of your kids?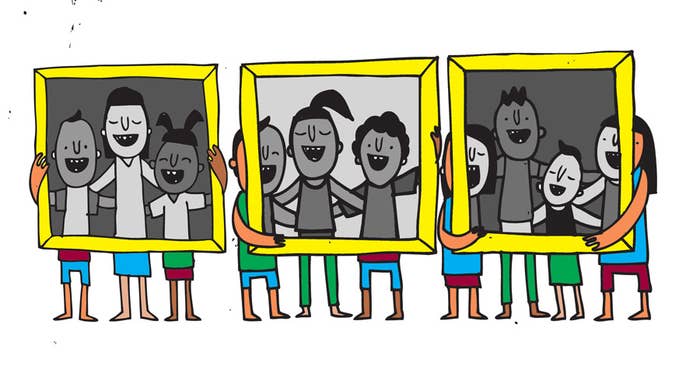 What are the rules for posting pictures of my kids on Instagram? I have a bunch of followers who are also parents, but I also have a bunch who are a little younger than me and not quite (or won't ever be) in that stage of life. I don't want to be annoying, but I also sometimes want to post pictures of my kids, who are cute on occasion.
I think something is wrong with me today because the first thing that came into my head was "kids are just smaller people," and you know what? It's true — like if you post a series of pictures of the same group of people that some of your followers know and care about, but others don't, what's so different? — but it's also not true, because you're right: Some people relate to that life, some don't. I guess it's like posting pictures of new jewelry vs. posting pictures of an engagement ring. I don't care about either one, but only one of them is going to make me throw up.
Of course, and I say this all the time, but I also probably contradict myself often enough that it's worth saying again: Your Instagram is your Instagram, so do with it what you will. If I knew the magic, compelling, non-irritating formula for picture-posting, I would use it on my own account. I would have more than, like, 45 followers, probably. Sometimes you just take a picture of something because it's there and you feel like you haven't done it in a while and you feel like people are "expecting" something from you, only nobody is. Nobody is waiting for that picture of snow, or coffee, or a child. They might like it when it shows up, though, and because you know there's a chance, you won't stop.
This is fine. I think that with any Instagram subject, really, it's best to limit yourself to two to three posts a day, on (high) average, and less when it's a repetitive, insular subject — like your kids, or multiple courses of one meal at one restaurant, or a group of you and your friends just being at a bar. We get it, right? It's nice, though, the lighting is nice. Your kids ARE cute. Nobody minds that much who likes you all the same anyway. But for minimal annoyingness, try not to post more than one every couple of days.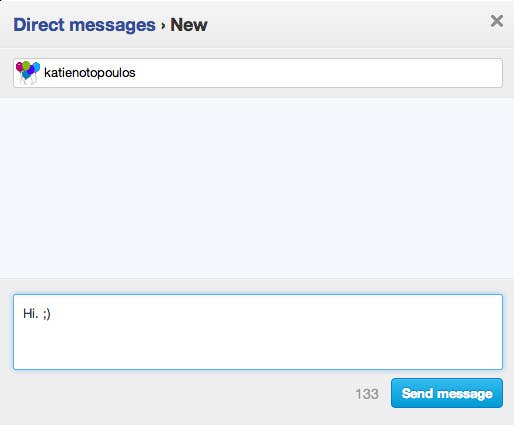 How do I hit on guys (or hypothetically, for the mass audience, girls) via Twitter?
Oh god, "hitting on" is not one of my forte verbs. Usually when I think I am hitting on someone I am actually either being mean to him or maintaining as quiet an existence as possible so that he doesn't know that I am there. Neither of these options translates particularly well to Twitter, or to real life, or anywhere.
But I think basically what this question boils down to is "how do you get closer to someone you know from Twitter," because you and I will just assume that the romantic part can come a little later (or be added in where appropriate) using whatever skills you almost certainly possess more of than I do. So in that case, you just favorite everything they tweet. Well, not everything. But a lot of things! Not multiple times a day, but just slightly more than you would for a funny person you DON'T have a huge crush on. This gets you "on the radar." Haha.
Thennn I think you hope (NOT ask) that this person follows you back, and if he does, you send him a DM that says you like his tweets and maybe his little avatar face. (Or something better!!! Say something better.) And hopefully you exchange DMs, and eventually you're like, "Ahh, tell me more about that, my email is ______." And I think email is really where you start flirting more clearly. There isn't much room elsewhere, unless you are good, in which case, why are you here?
My boyfriend doesn't use Facebook all that much, which is fine, but I can't help but feel a little self-conscious when I put up some good-news status or have my birthday or whatever and he isn't there to comment on it. He does stuff IRL but it's just this weird thing where I wonder if other people notice. Should I not be letting this bug me?
Oh I do not like this at all. I'm not aware of your personal demographics, but if you are a boy or girl at or below the age of 20, I will not like it, but I will deal with it. If you are over the age of 20, you absolutely should not be letting this bug you, because it (and I mean Facebook, and society, and life, and romance, but mostly Facebook) is stupid. You are upset about a boy who does actual real-life shit for you because he isn't clicking on a little drawing of a thumb.
I get it, of course. I mean, I'm not crazy. I remember a time when I thought anything on Facebook could mean even one single thing! It was yesterday. No, it was years ago. But then I grew up and realized that Facebook is only ever a bonus (and an annoyingly inconsistent, poorly mannered one at that) to whatever is going on between you and another person in real life. And if everything that's happening in your real life with this boy is good, you should leave well enough alone.
Nobody notices that your boyfriend doesn't wish you happy birthday on your wall, or if they DO notice, they are maniacs or else just normal people who are bored at lunch. I have only ever had incredibly stupid thoughts, based on nothing, about other people's Facebook pages. That's how it goes. You have nothing to prove, unless you are under 20, in which case just get over 20 as quickly as you possibly can.