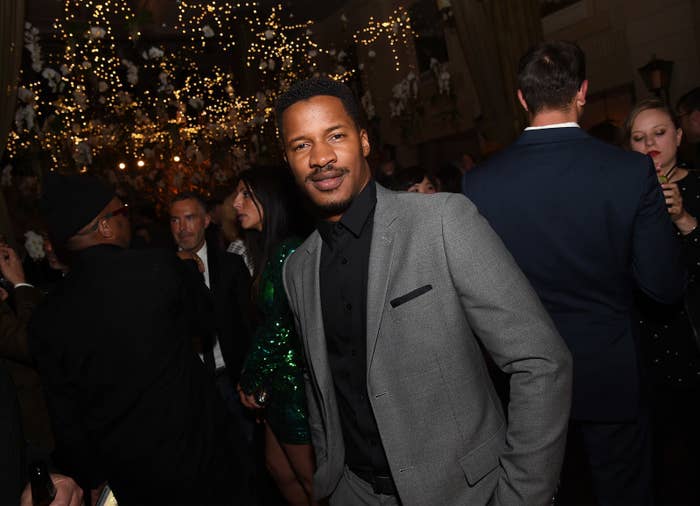 TORONTO — During a press conference for his film The Birth of a Nation at the Toronto International Film Festival on Sunday morning, actor, director, and screenwriter Nate Parker balked at the opportunity to address why he hasn't apologized to the family of the woman who accused him of rape in 1999.
"A lot of people are having trouble separating the artist from the art," New York Times reporter Cara Buckley posed during the presser, held at the Fairmont Royal York Hotel. "A lot of people felt you should have apologized for what happened 17 years ago to the victim and the family. Why haven't you, and would you now?"
Parker responded by saying the press conference was not the appropriate "forum" for discussing the allegations and his personal history.
"I've addressed it a few times, I'm sure I'll address it in different forums," he said. "This is a forum for the film, this is a forum for the other people who are sitting on this stage. It's not mine, I don't own it, it does not belong to me. I definitely don't want to hijack this with my personal life."
The rape case against Parker and his friend Jean Celestin, who helped conceive The Birth of a Nation, made headlines when Parker did two interviews addressing the allegations in mid-August in an effort to gain control of the inevitable news. The interviews caused re-emergence of facts about the case, including that the accuser committed suicide in 2012. Parker was acquitted in 2001.
"I do want to make sure we're honoring this film and these people in front of you," Parker added at the TIFF press conference. "Respectfully, I would just like to… I want to say thank you again to the Toronto International Film Festival for allowing us to be here. I want to continue to celebrate the people that helped make this film possible."
Prior to questions being opened up to attending media, the moderator of The Birth of a Nation panel, Cori Murray from Essence magazine, initially broached the topic of Parker's rape allegations and the impact they may have on the film when it hits theaters on Oct. 7. Murray said it's "not fair" for people to judge the film and noted the case's closure.
"Unfortunately, now Birth of a Nation is shadowed with controversy, because now it's taken Nate's very personal story and made it very personal story to you," she said, referring to the attending journalists. "...given your acquittal of sexual assault 17 years ago. Now what people are doing are judging the film before seeing it, which is not fair because it's still an important film. What do you now say to those people who have already made this choice and how do you motivate them to support it?"
Parker said the words he'd also repeat later, as noted above. "I've addressed it, and I'm sure in future forums I'll address it more. The reality is that there's no one person that makes a film. We've had more that 400 people involved in this project … I'm just a person." He urged that the heart of the film was creating "honest conversation about race in this country," and flagged that it was a group effort, and that any success would be the group's success.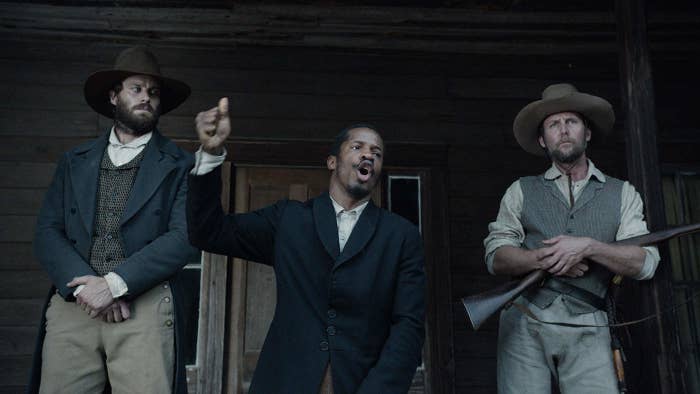 "This isn't the Nate Parker story, this is the Nat Turner story," added co-star Penelope Ann Miller, referring to the historical figure at the movie's center, who led a slave rebellion in Virginia in 1831. She made note of the "powerful women" in the film too. "It would be a shame if people didn't get the opportunity to see this movie and judge for themselves and form their own personal opinions on where art is as actors... I hope that people will give this a chance." She highlighted the enthusiastic response that The Birth of a Nation received Friday night during its first two screenings at TIFF: "That to us was a testament to the impact of the film when people see the film."

Fellow Birth of a Nation actor Gabrielle Union was the first to use the words "sexual assault" during the press conference. "Yes, we are addressing racial inequity... but that movement is inclusive. That movement includes the people who fight back against sexual violence," she said in her response to what — and whom — the movie is for. Union mentioned other "oppressive systems" including inadequate military veteran services, people dealing with mental health issues, trans violence, and early childhood education. "People are trying to legislate bathroom use; this movie is for you as well. So don't think you are not part of this movement. There is a space and place for everyone. It's going to be a lot of uncomfortable, awkward, heated conversations, but that's the only way we can hope to have evolution and hope to have behavioral shifts, which is what Nat Turner was all about."

Union is a rape survivor, and wrote an op-ed for the Los Angeles Times earlier this month mentioning her assault and expressing her deeply mixed feelings about Parker and his case. She also wrote of her character in the movie, who is raped. At the TIFF press conference, she guided the conversation back to racial inequality. "If you were confused why Ryan Lochte was called a child, been referred to as a 'kid,' and was celebrated and rewarded with a Dancing With the Stars appearance, and you're wondering why Tamir Rice was never referred to as a child and was murdered within seconds for acting like a child, and you have problem with that, this film is for you as well," she said.
She pointed to another recent American cultural phenomenon when it came to the film's themes of patriotism. "There's nothing more patriotic than an American in resistance. That's what our country is built on," she said. "There's a reason Nat Turner's story has been erased from the history books. There's also a reason why they're trying to erase Colin Kaepernick, and Brandon Marshall, and Megan Rapinoe, and everyone else who has opted to take a knee — not to be against the military or the police, but to draw attention to oppression and inequality."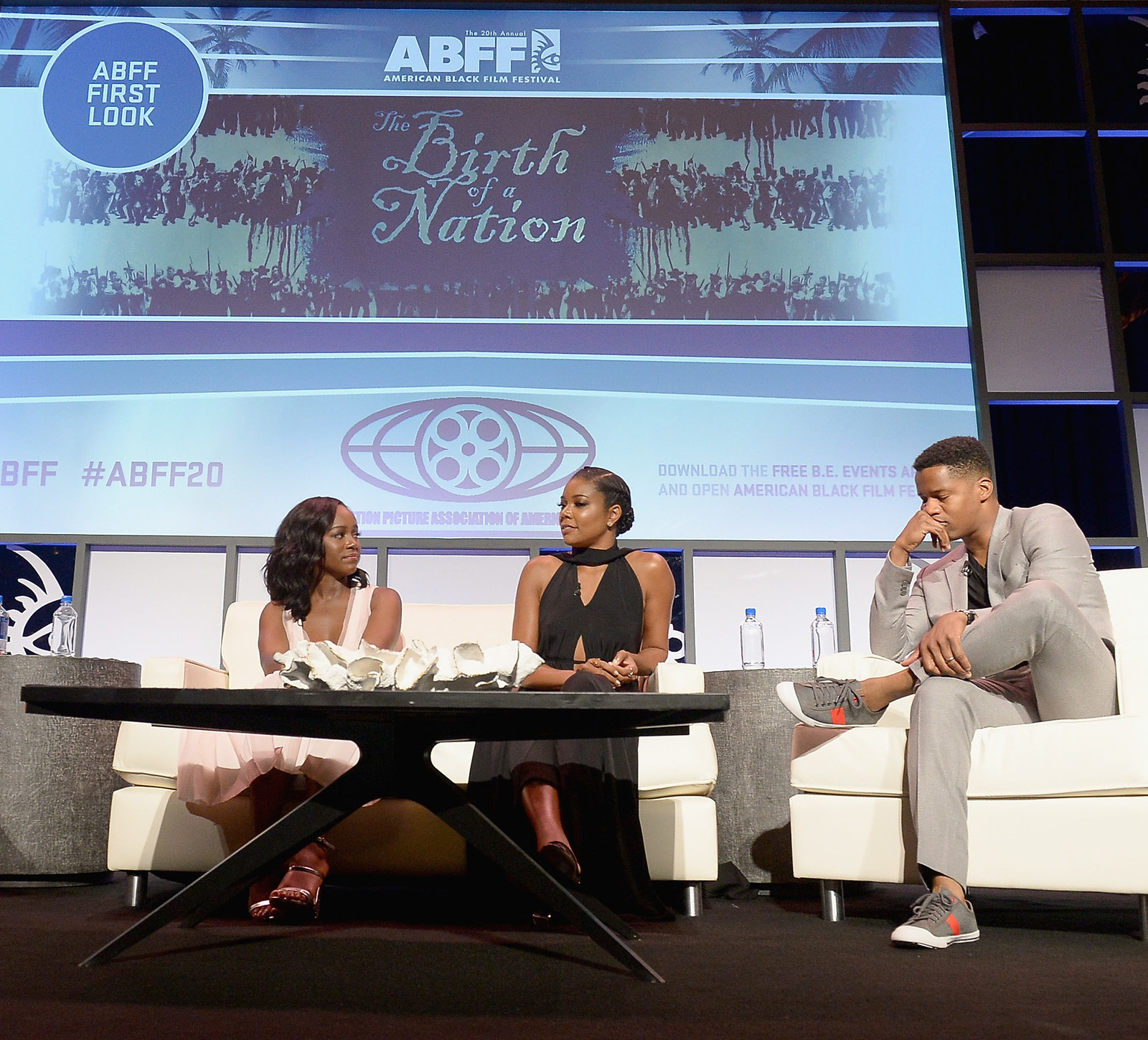 During TIFF press conference, The Birth of a Nation actor Aunjanue Ellis carefully pointed out, "There is the art and there is the artist. They are two different things. What I would say to anyone who says, 'I'm gonna stay home,' I'm gonna say to them that, 'Whatever issue you have, whatever apprehension that you have, bring it with you to the theater.' Because we need our art to tell us who we are. Because we are living in a system of education that is telling us who we are not."
There were few laughs and smiles from the eight assembled actors during the press conference, with Parker appearing professional and somber but his foot frequently shaking from underneath the conference table. Union made a joke about her short amount of screen time in the film — "Best 12 minutes of my life. Don't tell my husband" — which went over oddly with the 50 to 60 journalists in attendance.
Parker was also asked if he still planned to screen The Birth of a Nation at colleges, and if he planned to use those opportunities to also address issues of sexual assault on campuses. He said that he "can't speak for Fox [Searchlight]," but that the tour would be moving forward as planned. He did not speak to the latter question, but said he'd talked to Union "about different things."
"Healing comes with honest confrontation with our past," Parker said. Then, he repeated a line from his interview with Ebony last month. "If you've got injustice, this is your movie."