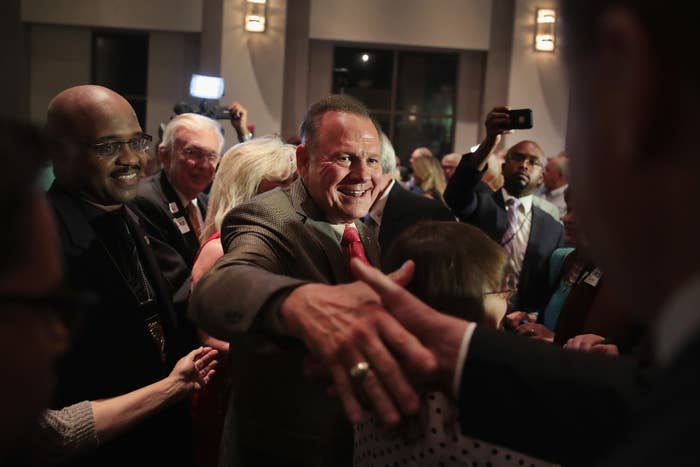 The Senate race in deep-red Alabama might be within reach for Democrats, after the Republican nomination of Roy Moore.
The poll, conducted by Opinion Savvy and commissioned by Decision Desk HQ, finds that Moore leads Democratic opponent Doug Jones 50.2% to 44.5%.
While still not a close-close race, that's definitely closer than a normal Senate race in Alabama for an off year. The poll is of 590 likely voters in the state reached this week by landline and mobile, with a margin of error of 4 points. (Full methodology here.)
Though he is well-known and has a built-in set of supporters in the state, Moore has a long and complicated history in Alabama and nationally: He was twice removed from the state's Supreme Court for refusing to follow federal rulings.

He's suggested various national tragedies — including 9/11 — happened because of what he calls the United States turning away from Christianity. He's written columns for World Net Daily, a fringe right-wing site known for pushing birther conspiracy theories about President Obama. And he has a long history of making anti-gay comments, as well as opposing Keith Ellison's being in Congress because he is Muslim, and another man from serving in the George W. Bush administration because he was an "admitted homosexual."
Jones, meanwhile, is a former US attorney backed in particular by former vice president Joe Biden. Winning in Alabama for a Democrat, though, even with an extreme candidate like Moore on the ticket, seems like a tall feat.
"Any time you get a result that seems to run totally contrary to the conventional wisdom of a state's politics, it gives you pause," said Brandon Finnigan, the executive director of Decision Desk. "However, Roy Moore barely won his election as chief justice to the state Supreme Court in 2012, underperforming presidential candidate Mitt Romney by 18 points. I still have difficulty seeing him lose in Alabama — even in the surprisingly close South Carolina 5th Congressional special, the Republican still won. But in a special held 13 days before Christmas? Who knows."
The poll also found that 56.1% of voters somewhat or strongly opposed "efforts within the state of Alabama to remove monuments to the Confederacy from public grounds," while 34.6% strongly or somewhat supported the efforts.
And when it came to the protests in the NFL that have become the source of a week's worth of Trump commentary and a year's worth of tense debate, that margin was slightly different. Per the poll's phrasing, 53.4% strongly or somewhat oppose the protest of what some players call "a country that oppresses black people and people of color" — while 41.7% somewhat or strongly support the players.
BuzzFeed News has partnered with Decision Desk HQ for live election results coverage in 2018.
Outside Your Bubble is a BuzzFeed News effort to bring you a diversity of thought and opinion from around the internet. If you don't see your viewpoint represented, contact the curator at bubble@buzzfeed.com. Click here for more on Outside Your Bubble.