Politics May Make Meerkat, But Meerkat Won't Change Politics Much
A lot of reporters and campaigns are suddenly obsessed with Meerkat, the new livestreaming app. They are forgetting that a lot of politics is pretty boring.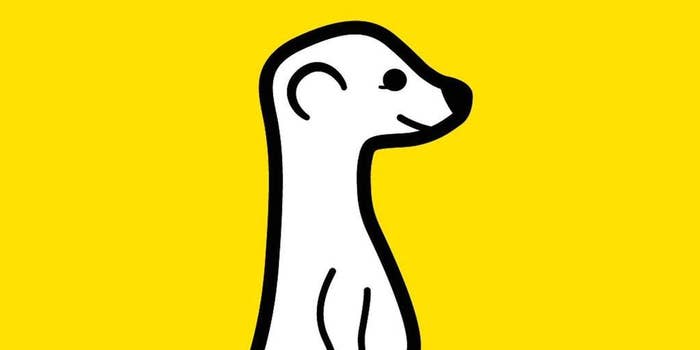 Meerkat, the new livestreaming app, is supposed to change politics. Now, campaigns and reporters will be able to directly broadcast video on Twitter and nothing will ever be the same.
The app was showcased last weekend at SXSW, and reporters and campaigns have been streaming from it since. Politico's Dylan Byers noted Meerkat is already "the social media tool of the 2016 presidential election." Former White House senior adviser Dan Pfeiffer argued Meerkat will, by removing the enormous fixed costs in television production, change the way political video travels, in a widely shared Medium post. We will witness, he wrote, "another new technology is in the process of revolutionizing our politics."
All of this leaves out a very key component of political events:
Many of them are boring as hell.
Most of what transpires on a given day of campaigning most people do not want to see. I know because I was the director of a conservative website's war room in 2012, and I spent that year endlessly, ceaselessly watching video from the campaign, waiting for news.
Why would anyone outside the political media want to watch Scott Walker or Hillary Clinton's third stump speech of the day? Why would most reporters? The monotony of these appearances, of which there are many each day, will drive you nuts. The reason so many reporters like Joe Biden is because Biden, unlike most, does not say the same thing every day. With Biden, there are fewer rote answers, paragraphs and paragraphs of repeated text, or small talk with all the vibrant flavor of some Saltines and a ginger ale. Biden's unpredictability creates some suspense.
Yes, there are times when livestreams captivate large swaths of the population. For example: Ferguson, the Green Revolution in Iran, the Cairo protests. But that's a few hours of video maybe once a year. When the world isn't on fire, not a lot of people want to watch a livestream.
And as Matt Browner-Hamlin pointed out on Friday, livestream isn't new to politics. Meerkat may seriously disrupt the television production model, but the end product isn't very original, and there is already an entire campaign and media apparatus of people watching — always watching — each appearance and each speech and searching for the small moments that create a news cycle.
Technology sometimes hangs around for years before it really blows up, though. There were digital video startups before YouTube, for instance. And this may be Meerkat's moment, the combination of a nice interface, an easy sharing feature, and the ubiquity of mobile devices that can carry video. Politics could help give Meerkat that moment.
But while politics may revolutionize Meerkat, it's hard to see how the reverse can be true. Most people do not want to meander through life waiting for things to happen. If you ask someone to watch something live, you need to give them a reason. There needs to be urgency or the expectation that something will happen, and soon.
And even when there is a real urgency to a livestream ("HOLY SHIT THIS IS HAPPENING!!"), in politics, things can change pretty quickly. Here's a scenario, for instance, that is unlikely to happen on a livestream: the 47% video. Twitter is not a soundless, static void — and no one monitors it more closely than a campaign operative. If a Twitter feed were broadcasting from inside a closed fundraiser during the fundraiser, sure, maybe it does operate live for a little while. But every campaign staffer will soon descend, even if they have to cut off the candidate.
There are a handful of smaller situations that make sense for uncomplicated livestreams — a shot of a rowdy debate crowd, for instance. Or maybe a situation like this: After a bad moment on the campaign or a major world event, Hillary Clinton goes to talk with reporters on the plane. Many people will want to know what she says and how she says it. And because there are eight reporters there, no one can hold what she's saying — they can't be the OPEC of Hillary Clinton's comments, picking and choosing when to release her words like crude oil.
Like a lot of technology in politics, Meerkat could actually turn out to be more message control than spontaneity. Because there is one cartel that can control a candidate's comments, one that would love to broadcast them in a way that feels intimate and immediate and new, without the messy complications of talking to a reporter or a voter: presidential campaigns. Campaigns already do that every day, and now they have a new tool for it — full of authenticity.