Suburban Pittsburgh voters are deciding whether Democrat Conor Lamb or Republican Rick Saccone will fill the congressional seat vacated by a Republican who resigned amid a sex scandal.
Polling has shown a tight race, with Lamb running as a pro-Second Amendment critic of Minority Leader Nancy Pelosi, supported heavily by trade unions, in what is a Republican district.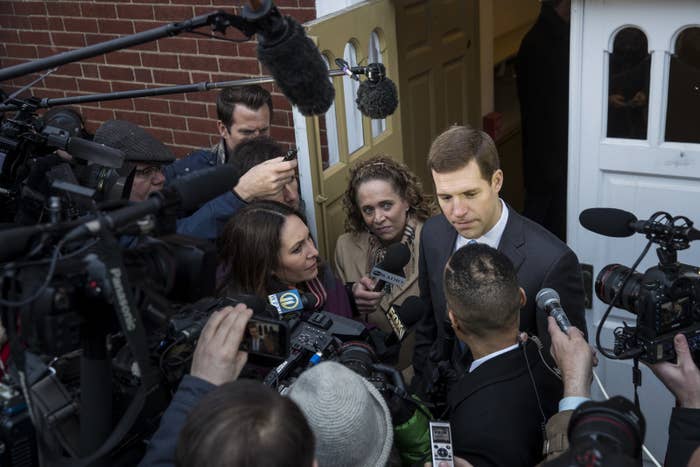 "He's a God-fearing, union-supporting, gun-owning, job-protecting, pension-defending, Social-Security-believing, health-care-believing, sending-drug-dealers-to-jail Democrat," said Cecil Roberts, president of the United Mine Workers of America, who held a rally for Lamb in Waynesburg on Sunday afternoon.
Depending on who you ask or what you're asking about, this race is essentially meaningless or incredibly meaningful. Or both!

Essentially meaningless:
Because of all the Pennsylvania redistricting stuff playing out in court, this district is about to disappear. No matter who wins, they'll only be in this seat for nine months, and the outcome won't change the balance of the House of Representatives. (More than $12 million has been spent on this race.)
Incredibly meaningful:
If Lamb prevails (or even narrowly loses), that would indicate yet again that we're looking at a potential Democratic wave election in the fall. This a Republican district, and one where Trump remains more popular than he is in lots of places, so a win here is the kind of sign that Democrats would want to see.
How to watch the results:
At the moment, the 18th District contains slices of four counties — Allegheny, Greene, Washington, and Westmoreland — in suburban Pittsburgh.
First, Lamb will need to win the Allegheny County portion of the district outright. If he's not winning there, he's probably not going to win.
Dave Wasserman of the Cook Political Report put it even higher for a Lamb victory:
Second, take a look at how the ancestrally Democratic regions break. Though this district's been considered solidly Republican in recent years, there are parts that aren't or didn't used to be. Greene County, for instance, voted for Gov. Tom Wolf, a Democrat, in 2014, and for John Kerry in the 2004 presidential election.
Those are the kinds of areas people will be watching to divine results this fall.
Third, will the sharp break between areas dominated by white people with college degrees and those dominated by white people without college degrees continue in PA-18? (This kind of split can be seen in townships in Westmoreland and Allegheny, per Decision Desk HQ head Brandon Finnigan.)
That split (or lack of split) could be enormously important for the results in the fall; Democrats are largely looking to pick up seats in affluent suburban areas in states like Florida, California, and Virginia that often vote Republican but don't love President Trump. PA-18 is a good place to watch that split, as 37% of adults there have a college degree.
Alexis Levinson contributed reporting.