Clinton: More Air Strikes, More Special Operators To "Smash" ISIS
The former secretary of state called her plan — which also addressed how to combat terror networks in Europe and online at length — "in many ways an intensification and acceleration" of Obama's strategy.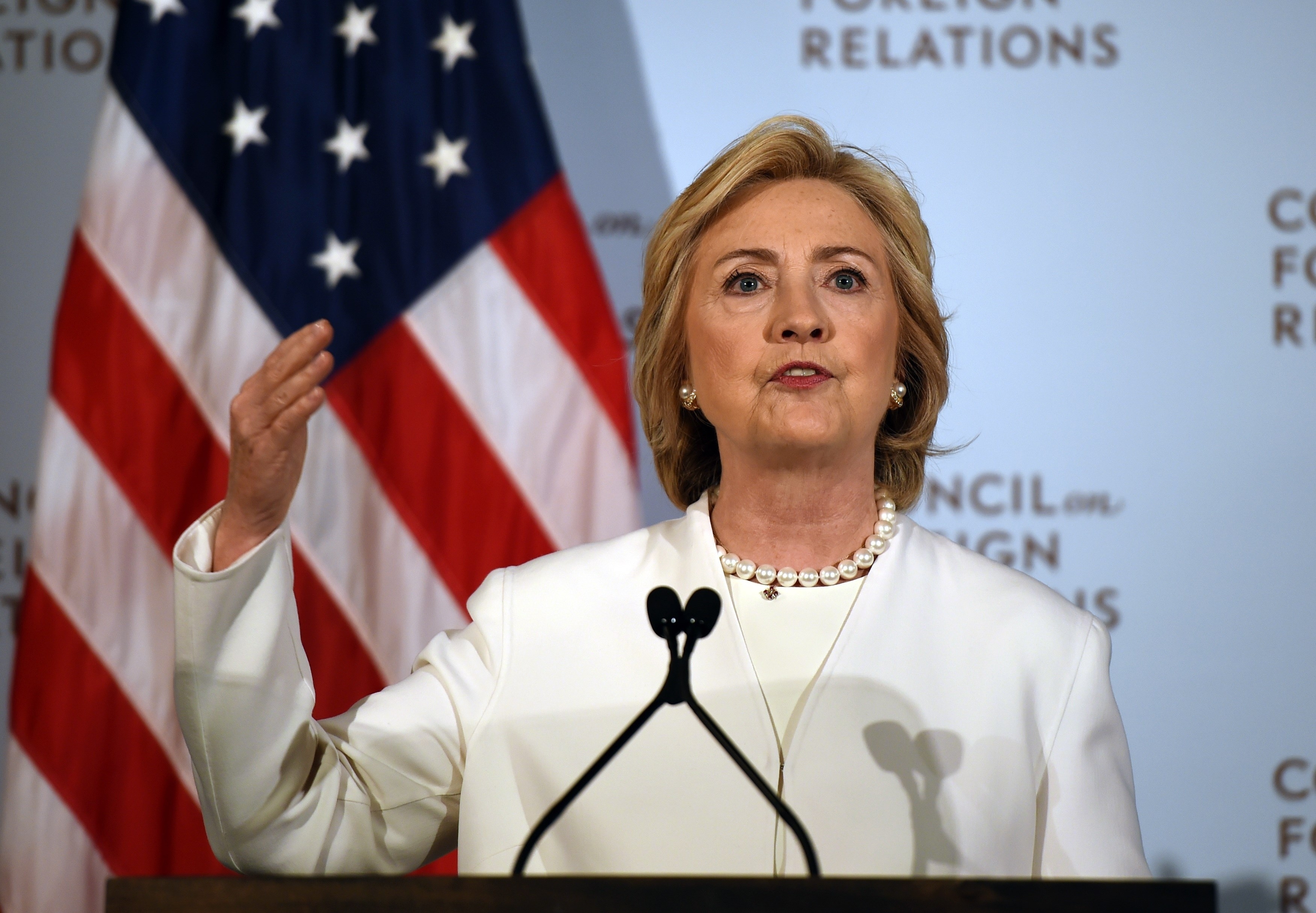 Calling for a "second Sunni awakening," Hillary Clinton outlined her strategy to fight ISIS on Thursday in New York City: more air strikes, more intelligence assets, the immediate deployment of special operators, and additional operators to combat ISIS in Iraq and Syria.

Clinton described her approach as "in many ways, an intensification and acceleration" of President Obama's ISIS strategy following prepared remarks at the Council on Foreign Relations in New York City.
Though she said that we should be "honest" that "airstrikes will have to be combined with ground forces actually taking back more territory from ISIS," Clinton did not specify how many ground forces she would deploy to the region, and emphasized that action must be undertaken by a coalition.
"Like President Obama, I do not believe that we should again have 100,000 American troops in combat in the Middle East," Clinton said. "That is just not the smart move to make here. If we have learned anything from 15 years of war in Iraq and Afghanistan, it's that local people and nations have to secure their own communities."
She was forceful about the goal in her remarks, though: to "smash the would-be caliphate" of ISIS, whose members "persecute religious and ethnic minorities; kidnap and behead civilians; murder children… systematically enslave, torture and rape women and girls"; and to disrupt terror networks and radicalization, particularly in Europe and online.

Clinton maintained her call for a no-fly zone to be established — something that would be more about Bashar Assad than ISIS — and talked about the establishment of "safe areas" inside Syria with "material support" from the coalition.
In the speech, Clinton called out Turkey twice (for not properly securing its border from ISIS and for focusing more on the Kurds than on countering ISIS), and said that Vladimir Putin is hindering rather than helping efforts to defeat ISIS — though she added that there is a role for Russia to play in Syria.
The policy framework Clinton outlined for combatting international or expanding terror networks involves more action and security from European countries (and social media providers). European countries, Clinton said, need to communicate better about the travel of terror suspects and stolen passports within the continent, "It seems like after most terrorist attacks, we find out that the perpetrators were known to some security service or another, but too often the dots never get connected." European countries likewise, she said, need to better police their own banks for the funding of terrorism. And social media companies need to be "swiftly shutting down terrorist accounts, so they're not used to plan, provoke or celebrate violence."
Clinton was light on the details of how she would lean on Europe (or the social media companies) to actually do this.
And on the question of Islamic extremism, Clinton said that the debate over using the term was a "distraction," again rejecting as she did last week the Republican argument that the ideology should be identified that way.
"In the end, it didn't matter what kind of terrorist we call bin Laden, it mattered that we killed bin Laden," she said.