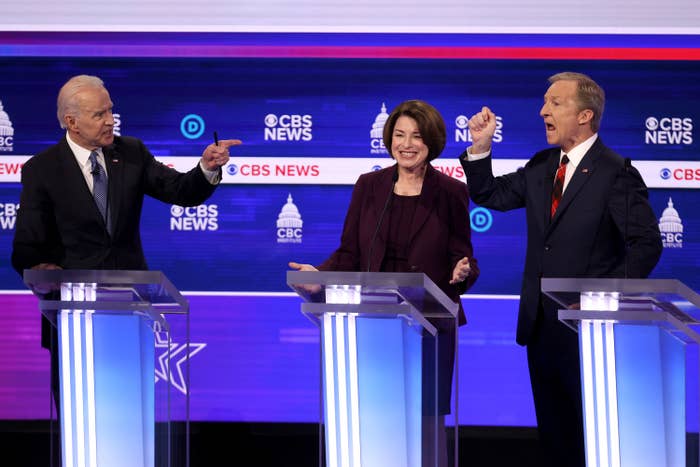 A few weeks ago, after the very loose Las Vegas debate, Sen. Amy Klobuchar sat down with CNN's Erin Burnett, who asked various questions and then teed up a clip of Klobuchar and Pete Buttigieg arguing over what it meant that she had forgotten the Mexican president's name.

When CNN returned to the live shot, Burnett and Klobuchar sat side by side in folding chairs, squinting grimly at what appeared to be a monitor located somewhere offscreen.
"You went on to say," Burnett said, glancing down at her notebook, "'Not everyone can be as perfect as you are' to Mayor Pete. But what were you thinking in that moment?"
Of course, we all know what Amy Klobuchar was thinking in that moment. For nearly 24 hours, as soon as Buttigieg dropped out, Twitter was alight with Klobuchar's name and GIFs following a narrative of satisfaction and mirth (even if she, of course, tweeted her great respect and regard for the former mayor).
On Monday afternoon, Klobuchar herself dropped out of the race and announced she'd be flying to Texas and endorsing Joe Biden in person and onstage, just hours before Minnesota's not insignificant Tuesday primary.

All of this came just after Buttigieg quit but before he too could endorse Biden — a narrow gap that allowed Klobuchar just one last triumph over the perfect Pete Buttigieg.
Or, at the very least, that's how a lot of people received the news: an online/group text festival of joy in spite. Her distaste for the younger, less traditionally credentialed, male Buttigieg — and the churning rage she plainly felt toward parts of the nominating process — has been one of the rare moments of collective consciousness this election cycle. It was as though, like at the same time, our eyes finally adjusted to a dark room.
And maybe because it's so personal, and so entirely detached from the outcome of the election, that it also became a great source of joy online. When Biden's campaign manager mocked the Buttigieg campaign's third-place performance in Nevada on Twitter, wrote Jon Lovett of Klobuchar, "Let's see if she gives it the old RT."
This aspect of Klobuchar registers differently with people: delight, ironic delight, a leery kind of recognition, a righteous kind of recognition, an outright distaste for the passive aggression on display. Most debates, however, involved at least a few moments of the rage that suggests Klobuchar in her suit and New Balance sneakers pulling out a book of matches while "Smells Like Teen Spirit" cues up.
This was the candidate caught in frame regarding glacially Sen. Bernie Sanders, Biden, and Tom Steyer. This was the candidate who enters a gym in Iowa mid-caucus and goes first to the people in Pete's corner. This is the candidate who remembers a criticism about Washington experience in the November debate and rebuts that line in the December debate.

"As usual," she said last weekend after the Nevada caucus results, "I think we have exceeded expectations. A lot of people didn't think I'd be standing at this point."
Many of Klobuchar's prepared remarks worked in that two-step formulation: a) a quip in which she has implicitly persevered over a slight, followed by b) a practical answer or plan on policy — often crowd-pleasing, if not as ideological as progressives would like. In this, there's a portrait of Klobuchar: smart, formidable, dissatisfied. There's a National song with this kind of tone, a breakup song. "Besides, I barely ever see you anymore / And when I do it feels like you're only halfway there," the song goes. "Young mothers love me / Even ghosts of girlfriends call from Cleveland / They will meet me anytime and anywhere."
People have sliced this in different ways: as part of a feminist frustration with male mediocrity or, incorporating what former staffers described as Klobuchar's abusive behavior as a boss, into an argument about the poisonous #GirlBoss.
Because there is a darker edge at work here. This was also the candidate who, after failing to name the Mexican president in an interview, cut that interview short, leaving so quickly that her microphone was still attached. She returned an hour later — after telling a different interviewer the Mexican president's name (as she told Burnett, "I have since, many times, said the president's name in numerous other interviews and made it very clear that I know his name") — to find the Telemundo interviewer and say: "So you see that I know more than you think."
That this element of Klobuchar can be alarming and a source of satisfied comedy is the result of something simple. Klobuchar is deeply competent and, clearly, deeply flawed; the distance between those two things in public life is an authentic individual.