Young Members Of Congress Team Up To Create "Future Caucus"
Democrat Tulsi Gabbard and Republican Aaron Schock will try to shake Congress of its "old" label.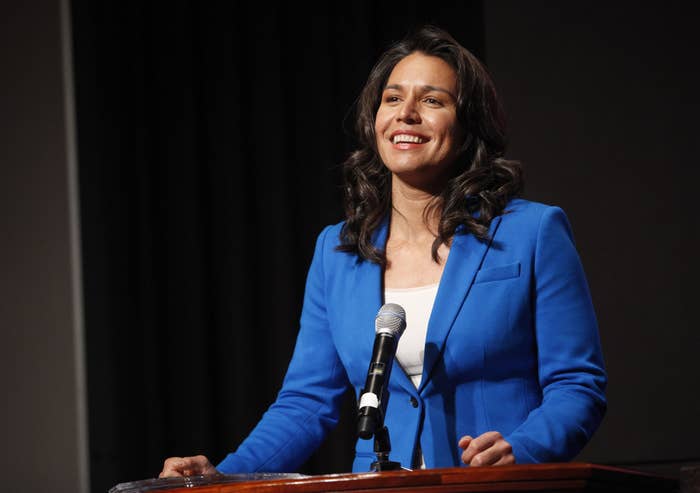 WASHINGTON — Two words often come to mind when people think of Congress: dysfunctional and old.
But members of a new bipartisan caucus, spearheaded by Republican Aaron Schock and Democrat Tulsi Gabbard, are hoping to change that.
Shock and Gabbard, two of the only six members of Congress born in the 1980s, have teamed up to form the "Congressional Future Caucus," a group they hope will be able to come up with policy solutions with the millennial generation in mind.
"When I was elected, there were only four members of Congress under the age of 40, and now there are 40 of us," Schock, who arrived in Congress at the age of 27, told BuzzFeed. "That helps give the opportunity to make people think more long term. People in their thirties and forties look at life differently than people in their sixties or seventies."
As Congress leapfrogs from one short-term budget crisis to the next, the caucus members said they are focused on trying to think about the long term — a rarity these days.
"Clearly there is a lot of frustration that exists with Congress, and we feel like we have a responsibility to work together to be able to make progress for our country, but not just for the next six months or the next year, but really work together to find solutions for the next generation," Gabbard said. "Being in a position where you are constantly reacting to situations or playing defense is not where we want to be."
Gabbard said the caucus seemed like a natural next step for the younger members who have been elected in recent years. Often, she said, they are just as frustrated with the slow pace of the Hill as the public is.
"We have a high level of impatience and we're not going to just sit back and say well, this is going to take the next 10 or 20 years to accomplish," she said.
For four years, Schock was the youngest member of Congress; he said that when he arrived he brought the average age of the place down to 59.
"We need diversity in government," he said. "The long-term strategy has suffered as a result of the age of Congress. I've said before that if you took all the members under the age of 40 and locked them in a room, they'd be able to come up with solutions to our problems in 24 hours. Many of us are less interested in the institution and more interested in finding solutions."
So far, Schock said, Democrats Patrick Murphy and Joe Kennedy as well as Republican Todd Young have committed to joining.
The caucus was in part the brainchild of the Millennial Action Project, a nonprofit group dedicated to making "creative cooperation — rather than ideological conflict — the dominant mode of American political decision-making." The group approached Gabbard and Schock about the project, as the two had already been thinking about a way to create something for young members of Congress.
"Today's political gridlock is paralyzing our country and threatening our generation's future. That's why we've launched the Millennial Action Project to foster new post-partisan leaders and ideas, and it's why we're proud to work with the Congressional Future Caucus," said Steven Olikara, co-founder and president of MAP.
The initiative kicks off on Wednesday afternoon with a panel discussion with Gabbard, Schock, former U.S chief technology officer Aneesh Chopra, and Priceline's founding CTO Scott Case. It will be moderated by BuzzFeed's Washington bureau chief John Stanton.
Kate Nocera is the DC Bureau Chief for BuzzFeed News. Nocera is a recipient of the National Press Foundation's 2014 Dirksen Award for distinguished reporting on Congress.

Contact Kate Nocera at kate.nocera@buzzfeed.com.

Got a confidential tip? Submit it here.