"You Are Amazing!" Donald Trump Wrote To Harry Reid In 2010
That's it. That's the entire letter, which Reid's office provided on Sunday after Trump said Chuck Schumer is "far smarter" than Reid.
Here is the letter Sen. Harry Reid received after Election Day in 2010: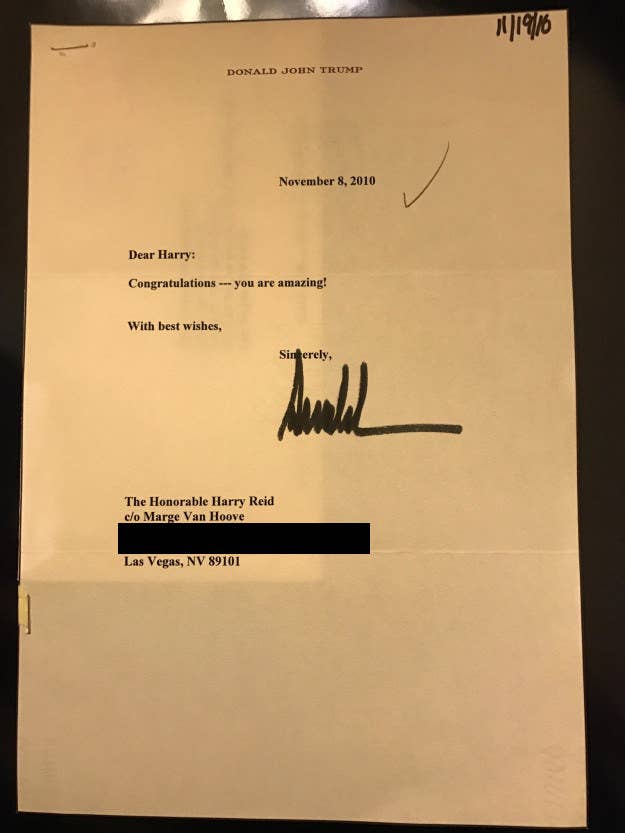 Reid had just won a hard-fought re-election against Sharron Angle. Trump had given $4,800 to Reid's campaign.
On Sunday, Reid's office provided the letter to BuzzFeed News after Trump had tweeted that incoming minority leader Chuck Schumer is "far smarter" than Reid.
The Trump transition team did not immediately return a request for comment.
Kate Nocera is the DC Bureau Chief for BuzzFeed News. Nocera is a recipient of the National Press Foundation's 2014 Dirksen Award for distinguished reporting on Congress.

Contact Kate Nocera at kate.nocera@buzzfeed.com.

Got a confidential tip? Submit it here.