What Exactly Is Amy Klobuchar Up To?
The relatively unknown Minnesota Democrat has been all over the country this year.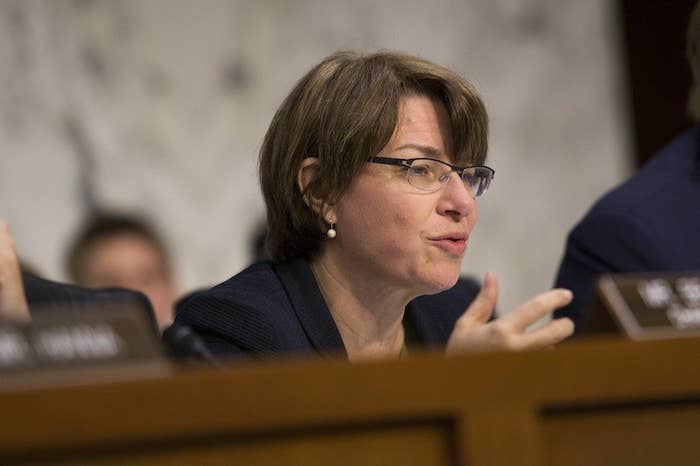 WASHINGTON — A few weeks ago at a Washington cocktail party, Sen. Amy Klobuchar was chatting with someone who asked why she was going to Iowa again.
"I was invited!" Klobuchar insisted, laughing, an attendee who heard the conversation recalled.
The Democratic Senator is being invited a lot of places these days — which is surprising considering her name I.D. outside of her home state of Minnesota isn't exactly sky high. Klobuchar has crisscrossed the country in the last few months, keynoting Democratic Party Dinners, fundraising for Senate candidates (her PAC has maxed out to several candidates), and building up her profile with the party base. She's toured a popcorn store with Bruce Braley in Iowa, co-chaired an economic roundtable with Jeanne Shaheen in New Hampshire, and spoke at the Sanford Hunt Frye in North Carolina on behalf of Sen. Kay Hagan. All told, Klobuchar has traveled to more than 10 states this cycle.
Furious travel schedules like these are usually meant to do one thing: produce a big spike in a politician's influence.
One Democratic operative compared Klobuchar's 2014 to what Sen. Kirsten Gillibrand has done in recent cycles.
"Gillibrand had a little bit more of a profile — she was starting at a slightly higher base than Amy does," the operative said. "Gillibrand was using her 'off the sidelines' project to build a national base and now she is, if not a household name, a Democratic base-hold name and I think Amy wants to do the same thing."
Like Gillibrand, Klobuchar maintains the relentless campaigning is in service of a bigger goal: electing more Democratic women to the Senate.
"I've gone this around the country a lot because we don't have that many women in the Senate, though about a year ago we had a traffic jam in the women's bathroom for the first time in history," the senator said in an interview. "So I've been helping them. It goes back to when I headed up the women's Senate network for the last two cycles of the [Democratic Senatorial Campaign Committee]."
Klobuchar has been deeply involved with Emily's List, a group that works to help elect women supportive of abortion rights. She co-chairs the group's "impact series" — quarterly events that highlight the work of women supported by Emily's List are doing in Congress. During the 2012 cycle, when Klobuchar was up for re-election and doing well, she worked in both Wisconsin and North Dakota to help with the elections of Tammy Baldwin and Heidi Heitkamp.
She went to Georgia to help Michelle Nunn this time around — a weird place for a progressive midwestern senator. What does a Minnesota senator have in common with the voters of Georgia? A lot if you ask Klobuchar, who argued Georgia and Minnesota are more alike than different in terms of their business and farming communities.
That trip speaks to a core reason for Klobuchar's schedule: no one would be inviting her anywhere if they thought she wasn't any good. Operatives describe Klobuchar as approachable and likeable on the stump.
"People may not know who she is, but they walk away from her liking her and understanding her message," said a campaign staffer for one Democratic candidate in a tight race.
And while Klobuchar's certainly cognizant of the big priority (keeping the Senate in Democratic hands), the progressive senator emphasized the importance of moderate, red state Democrats in the Senate.
"A lot of it is trying to elect good people trying to move the country forward and not just stand in corners of the boxing ring," she said. "For me that's very, very important. The majority people that are up would be considered moderate Democrats and they do try and find common ground."
"They are people that want to get things done for the country and that's why this election to me is so important and of course getting these women elected, knowing how fragile this is," she continued. "We lose them, we lose a good part of the women in the Senate."
Klobuchar ticked off the accomplishments of her female colleagues this past congress: Patty Murray's work on the budget negotiations, Debbie Stabenow's work on the farm bill, Barbara Mikulski's work as appropriations chairwoman.
She left herself off the list. But, like Gillibrand, she's likely got some next thing in mind.
"Every one of these senators thinks that he or she can be the next president of the United States," said Jim Manley, a Democratic strategist and Harry Reid's former communications director. "Clearly she has ambitions; I don't know what they are right now. Is she building chips in the caucus as she moves up the ladder in the Senate or is it broader than that? I just can't tell."
Kate Nocera is the DC Bureau Chief for BuzzFeed News. Nocera is a recipient of the National Press Foundation's 2014 Dirksen Award for distinguished reporting on Congress.

Contact Kate Nocera at kate.nocera@buzzfeed.com.

Got a confidential tip? Submit it here.