Wendy Davis Goes Purple
In a Washington speech, the liberal icon tries to play up her bipartisan credentials. She's strongly considering a run for governor in the deep red state.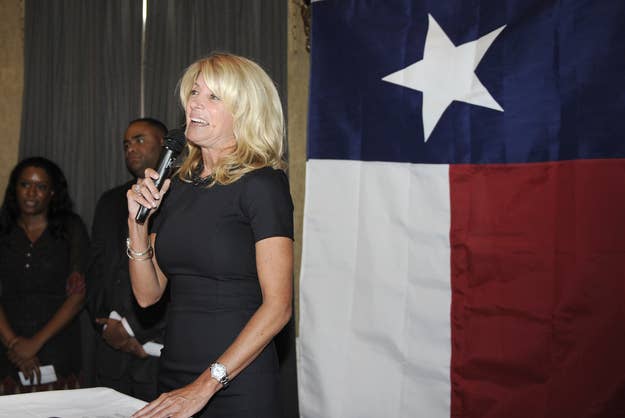 WASHINGTON — Texas State Sen. Wendy Davis, in her first public speech since filibustering her state's abortion bill in late June, sought to paint herself as a legislator who can work with Republicans and Democrats alike and unequivocally said she was strongly considering a gubernatorial run.
"I'm working very hard to decide what my next steps will be," she said in a Q&A following a speech at the National Press Club. "I do think that in Texas people feel like we need a change from the very fractured, very partisan leadership that we're seeing in our state governor right now."
She ruled out a run for attorney general saying she would only run either for her current seat or for governor.
Davis became a liberal cause célèbre after her 13-hour filibuster temporarily delayed a bill that will ban abortion after 20 weeks of pregnancy and puts strict limits on abortion clinics.
When asked what limits on abortion she supports, Davis only said the Supreme Court had already ruled on the issue.
"The Supreme Court has made that decision … I respect the Constitution protections that are in place today, whether it be for this purpose or other protected purposes in the constitution, I don't think we can pick and choose."
But while she talked about her filibuster, Davis used the word "abortion" only once in her speech. Instead she spoke at length about the state of the economy in Texas, her personal story, and played up her bipartisan credentials.
"The majority of Texans know that our state is stronger when it makes the investments in its people that help them reach their full potential," she said. "One out of every ten public school students in the United States goes to school in Texas... but we produce the lowest percentage of high school graduates. A quarter of our children live in poverty. And we have the highest percentage of uninsured children in America. That's nothing to brag about."
She noted that she when she got her start in politics, on the Fort Worth City Council, it was not "with a party affiliation next to our name."
"During my time on the City Council, I got in the habit of working in areas that aren't considered naturals for Democrats — from shale gas drilling, to transportation planning, to strengthening our economic development through public private partnerships," she said.
"I've continued to take on issues that people don't always associate with Democrats. These problems don't have a partisan affiliation, so their solutions shouldn't either," she added.
It's no surprise that Davis would want to broaden her political appeal: While she has become a hero in Democratic and liberal circles, she would face an uphill battle in the deep red state should she run for statewide office. Republican Attorney General Greg Abbott has already announced his candidacy.
"Texans work hard and believe that hard work should pay off. And the majority of Texans know that our state is stronger when it makes the investments in its people that help them reach their full potential," Davis said.
Kate Nocera is the DC Bureau Chief for BuzzFeed News. Nocera is a recipient of the National Press Foundation's 2014 Dirksen Award for distinguished reporting on Congress.

Contact Kate Nocera at kate.nocera@buzzfeed.com.

Got a confidential tip? Submit it here.