Voters Shrug Off Mark Sanford's Affair
"I wouldn't necessarily want him marrying my daughter, or my sister," one voter said. They don't approve of his 2009 extra-marital affair, but Sanford supporters said they're willing to look past it.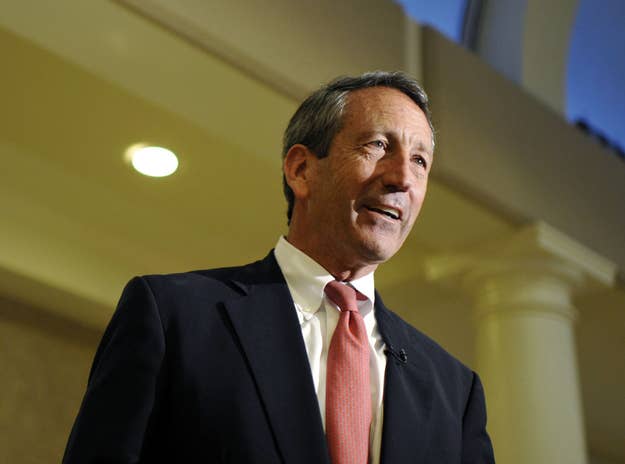 SUMMERVILLE, S.C. – Mark Sanford was on a mission.
When an NBC reporter here in South Carolina asked Sanford if he was worried about his standing with women voters --especially after recent news his ex-wife accused him for trespassing--Sanford said no. He told reporters that the affair he had as governor was not a major impediment to his potential political comeback. He then dragged the small gaggle of reporters from store to store to "try to find a woman who doesn't like me."
The group ran into Patty Hulbard, who was out shopping with her husband. They cheerfully approached Sanford, telling him he had their vote and a Sanford lawn sign was prominently displayed in their yard.
"I appreciate that," he said, then pointed to the NBC News reporter and jokingly explained he was trying to find a woman that hates him "for her story."
Hulburd paused for a moment.
"I'm not your biggest fan. What you did I don't appreciate, but that should not influence my vote necessarily," she said. "Politically I'm in line with you and fiscally you line up with my thinking so I'll give you the benefit of the doubt."
It's a line you'll hear many times over in South Carolina's conservative first district, where Sanford is running against Democrat Elizabeth Colbert Busch in a special election to replace now-Sen. Tim Scott. Sanford's supporters shrug off his past—or at least are willing to look beyond it for the sake of keeping the seat in Republican hands. And most of the Colbert Busch supporters Buzzfeed interviewed didn't mention his past, but his policies as the reason to vote against him.
Democrats view the district as a potential pick-up in large part due to Sanford's past. But with three days to go before the election, Republican voters here seem to be willing to let bygones be bygones.
"I wouldn't necessarily want him marrying my daughter, or my sister. But his constitutional voting record is more than enough to carry the day versus the absolutely unconstitutional voting positions of his opponent," said John Hull. "It's no contest, it's good versus evil."
Sanford says he addressed the affair at length, and his forthrightness has helped him on the trail. And he insists, the only people who really care about his personal baggage are "the media, especially the out of town media."
"I've said many times over, I failed and I failed very publicly. The question is what you do about moving on with your life," he told Buzzfeed. "I've acknowledged it, I've talked about it at length and people say 'I don't approve of that, I believe in you as a human being and I believe in the politics you espouse."
Faye Campbell, a Summerville voter and avid Sanford supporter, said she admired him in part because Sanford had admitted to his infidelity so publically.
"It's one of things where he who is without sin can cast the first stone. None of us are without sin, and I know a bunch of politicians have crossed the line. He has stood up front and admitted 'yes I did,' and I regret the damage. Others have not done this, from Bill Clinton on down. The list is long," she said.
CORRECTION: A reporter's question to Sanford dealt specifically with his alleged trespassing incident. An earlier version of this story did not indicate this. (5/4/13)
Kate Nocera is the DC Bureau Chief for BuzzFeed News. Nocera is a recipient of the National Press Foundation's 2014 Dirksen Award for distinguished reporting on Congress.

Contact Kate Nocera at kate.nocera@buzzfeed.com.

Got a confidential tip? Submit it here.