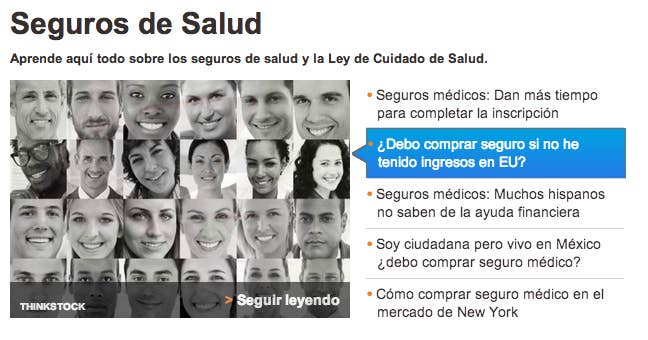 WASHINGTON — The Obama administration has been working overtime in recent months to enroll uninsured Latinos — one of the groups most likely to be uninsured — but it's not just the White House making a concerted effort.
For more than a year, the Spanish-language television network Univision has embarked on their own company-wide effort to get Latinos signed up on the exchanges, working through newscasts, special programming, advertising partnerships, and a dedicated health care website.
Univision has not only been providing information to their viewers as to how to sign up but openly encouraging them to do so.
The network's "empowerment initiatives" team — which focuses primarily on health and educational programming — began looking for partners to help their audience find coverage last year. Univision ultimately went with the California Endowment and the Ford Foundation, launching in earnest last April.
The company makes no bones about what they were trying to do. Empowerment Initiatives Director Stephen Keppel told BuzzFeed that the company thinks "it's better to have health insurance than not to have it" and because of the high number of uninsured Latinos, it was an important initiative for them to take on.
The approach has been wide and varied. Beyond information on a website, Univision has sponsored several town halls — including one with President Barack Obama. The network produced an hour-long documentary on a Texas family that practically went bankrupt from medical bills, and has aired a weekly program on preventive health care as it relates to the Affordable Care Act. That's in addition to any events or news local Univision affiliates produce.
"Those are just some ways we went beyond just regular news stories to tell this story," Keppel said.
And last year, the major insurance company WellPoint teamed up with Univision to do town halls, radio and TV ads, and news programming on Obamacare.
Univision would not say how much money the company has invested in the effort.
Keppel said the network's enrollment drive was not a political decision — and Univision's political reporters have continued to cover the politics of the law. The enrollment effort is separate from that coverage, he said.
"We've always looked at it with the simple fact that this is the law, it was approved by Congress, it was approved by the Supreme Court. It has an outsized impact on our audience because of the statistics on uninsured Latinos," Keppel said. "We definitely want to give people all the tools they need to get enrolled. Our basic messaging on the website is: Find out what you are eligible for and enroll. And if you don't enroll you have to pay a fine and that's what it means."
Not everyone is impressed with what Univision is trying to do.
Rep. Mario Diaz-Balart, a Republican with a large Latino constituency in southwest Florida, said that Obamacare has "been disastrous" for Latinos and said the law played a role in the high unemployment numbers in Latino communities.
"I don't have a problem with advocacy, I'm fine with advocacy," he said. "I do think however, while you are doing it, it's important to notify your audience as to what the real implications are. What is the deductible going to be? What's the impact on the economy going to be? It's hard to argue that Obamacare has not been particularly disastrous for Latinos."
Univision says their effort also extends beyond enrollment. Keppel said that because Latinos have disproportionately high rates of diabetes and obesity, they've redoubled their efforts on trying to get their audience into preventive care, and into "going to the doctor regularly and getting checkups."
So far, it's unclear what kind of impact Univision's efforts are having. Recent reports describe the sign-ups in the Latino community as lagging behind. The president of the National Alliance for Hispanic Health Jane Delgado has said that Latinos were "not at the table" and they were "not going to be able to enroll at the levels we should be enrolling at."
But the Spanish-language outreach effort also faced difficulties early on at the very top — the launch of the Spanish version of HealthCare.gov was delayed by more than a month.
A December poll conducted by Univision and the California Endowment examined the impact of the outreach efforts. The poll found overall knowledge about the Affordable Care Act increased, and "as a result of campaign outreach, about one out of every six people now report that they have received information about the new law." There were also slight increases in people saying they were more aware about how to enroll, and if they felt they were eligible to enroll. But the law's favorability actually decreased among those polled, which the surveyors attributed to the rocky roll out last October.
A main goal for Univision, Keppel said, has been reiterating that signing up for the ACA would not require giving immigration information to the government. The network heard concerns from viewers who worried that if they signed up for Obamacare, the government would use the information to find out the immigration status of family members.
"That was a key issue for us. We heard a lot about it from mixed-status families and we pressed the administration a lot to get specific and clear answers on what they need," he said. "We got specific statements from ICE in Spanish saying they would not use this information for immigration purposes. We did a town hall with the president where we asked him this directly."
Rep. Luis Gutierrez, a Democrat from Chicago and Univision regular, lauded the effort, telling BuzzFeed that the channel was one of the "most valuable institutions that we have for economic, social change."
"They have demonstrated a corporate responsibility by communicating to our community issues that are important and that allow many people in our community to grasp the issues and understand them in a fundamental way," Gutierrez said.