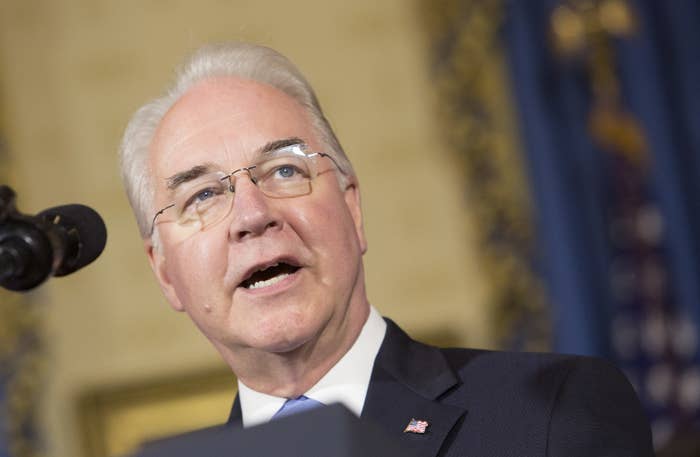 Regional representatives from the Department of Health and Human Services will not be participating in open enrollment events in the states as they have in years past, according to an administration source and an email sent to health advocates in Mississippi obtained by BuzzFeed News.
The source, who had direct knowledge of the change, told BuzzFeed News that all of the department's 10 regional directors were told to not to participate in state-based events promoting open enrollment — a significant change from years past.
The move follows a trend by the Trump administration of stepping away from past federal assistance for Obamacare and, particularly, of dialing back resources for the upcoming open enrollment period.
Health care advocates in Mississippi received an email on Monday, confirming the directive, and informing them that the department would "not be supporting marketplace efforts by being out in the regions this year." (Vox first reported that officials would be pulling out of the events in Mississippi.)
"I will certainly miss the interaction and an opportunity to share departmental updates and positions, even though they have changed drastically," wrote Deric Gilliard, a public affairs specialist from HHS's regional Atlanta office. "My apologies for taking so long to provide a definitive answer. If someone would like to discuss further, please feel free to call me. All the best in your endeavors."
Gilliard directed inquiries to the HHS national press office.
In a statement Wednesday night, department press secretary Caitlin Oakley said "Marketplace enrollment events are organized and implemented by outside groups with their own agendas, not HHS. These events may continue regardless of HHS participation." She went on to say that "As Obamacare continues to collapse, HHS is carefully evaluating how we can best serve the American people who continue to be harmed by Obamacare's failures."
Roy Mitchell, the executive director of Mississippi Health Advocacy Program, said that since 2013 the department had sent representatives to the state to participate in various events to help coordinate enrollment efforts between stakeholders.
Mitchell's group, along with others, had scheduled the annual pre-enrollment meetings for the week of Oct. 2 through Oct. 5, and he said they had been "reassured multiple times someone from HHS would be there." The regional HHS director, former congresswoman Renee Ellmers, had been scheduled to attend an event in Jackson, according to Mitchell.
Mitchell said they will now cancel the pre-enrollment events and instead focus efforts on how to get the word out about open enrollment without the help of HHS.
"We're regrouping, we're restructuring, we're wondering if we should go direct to consumer rather than trying to work with the navigators," he said in an interview. "In the absence of any kind of federal marketing, we're working on a plan to go directly to consumers, exploring any kind of partnerships with the one carrier in the state."
In a notice informing participants they would be canceling the events, Mitchell said HHS's "destructive actions will ultimately reduce enrollment, increase costs and drive up the uninsured rate in Mississippi."
"I didn't call it sabotage," Mitchell told BuzzFeed News. "But that's what it is."
The Trump administration has increasingly been taking a hands-off approach to the Obamacare markets, as Republicans in Congress have failed to repeal the law. In August, HHS announced it was cutting its Obamacare enrollment advertising budget by 90%, from $100 million down to $10 million. The administration is also shutting down healthcare.gov every Sunday from 12 a.m. to 12 p.m. throughout the open enrollment period.
Already, Democrats in Congress have raised alarm bells about the Trump administration's moves, arguing that the White House is trying to sabotage the open enrollment period by decreasing resources for it in an effort to cause the individual markets to fail.
And the administration has continued to pay out Obamacare subsidies, but refused to commit to funding them long-term. Insurance companies could set premiums up to 20% higher next year because of fears that the subsidies will be cut off.
More broadly, Trump has repeatedly called for letting the Obamacare markets collapse so that Democrats would be forced to negotiate with Republicans. Back in January, Trump signed an executive order on his first day in office directing agencies to delay or waive provisions of Obamacare that would "impose a fiscal burden."
However, this did not lead to a spike in exemptions from paying Obamacare fees. In fact, the total number of exemptions claimed this year is actually down slightly, though that could be a result of normal year-to-year variance.