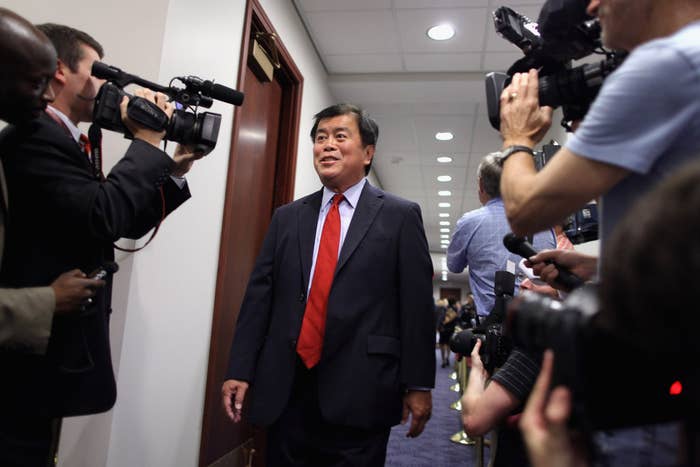 David Wu casually strolls onto the floor of the U.S. House of Representatives, broadly smiling at security guards who nod at him — he has a right to go onto the floor and wander the halls of Congress whenever he likes.
He's in a suit, as any lawmaker would be, and says hello to Democratic members on the floor. Some stay and chat briefly with him. Others give a smile and quickly move on.
He shows up other places nearby too. He indulges in the fried chicken served Wednesdays at the Democratic National Club, or checks out a hearing at a House office building. At first glance, his business card looks like that of a current lawmaker; it employs the same font elected officials are required to use and features a raised House seal.
The card reads: "David Wu, Attorney at Law, Former Member of Congress, (Seven Terms)."
***
David Wu resigned from Congress in 2011 in the wake of allegations he'd had an "unwanted sexual encounter" with the 18-year-old daughter of a friend.
Months before, staffers reportedly staged two interventions for the congressman over his behavior, telling him to suspend his 2010 re-election bid and seek professional help. Around Halloween of that year, staffers received a bizarre series of late-night messages from Wu's email account, some of which were signed by his children. The emails featured photos of the congressman dressed in a tiger suit. Practically all of his top staffers quit after his 2010 re-election.
Given the circumstances of his resignation, you might expect Wu to go quietly, to fade away from Washington and politics, perhaps return to Oregon or maybe some other place.
But three years later, he's still hanging around the Capitol. Wu sightings are generally met with snickering and tweets from reporters, cringes from his former staffers, and confused looks from some current members who greet him with half-smiles when they run into him. ("Is that guy still a member?" one freshman lawmaker asked a reporter recently).
It's really not a big deal in Washington to see members who have lost or retired in their old haunts, or even visiting with their former colleagues. But this is someone who resisted resignation in the wake of a scandal until finally, mounting pressure from Democratic leadership forced him to step down. Wu maintained his innocence and charges were never filed, though he reportedly acknowledged he did have a sexual encounter with the 18-year-old woman; he reportedly told senior aides the incident was consensual. From all outward appearances, Wu doesn't seem to think anything is amiss about his regular appearances on the Hill.
One current congressman, recently approached by Wu on the floor, put it bluntly: "I don't think he has a sense that he left in disgrace. That chip seems to be missing."
So what is he doing here?
***
"I'm hot, so I'm going to take off my jacket," Wu tells me when we sit down. He is smiling, and will not stop during a lunch at Martin's Tavern in Georgetown — a favorite restaurant of Wu's.
Initially, we'd planned to meet at the Democratic National Club, where Wu can and routinely does eat. (He likes the aforementioned fried-chicken Wednesdays.)
But that didn't work out, so instead, we are sitting in a booth named for astronaut Neil Armstrong, which is fitting, Wu notes, because his main project these days is organizing an exchange trip in August to send American students to China to check out its space program.
This is just one of Wu's hodgepodge of current gigs.
Some he does pro bono; some he gets paid for. His main stream of income seems to be coming from consulting Chinese companies about investing in the United States ("We sent $3 trillion over the last 30 years and I think it's a good idea to repatriate some of that money," he says). The rest of his time, he says, is spent going around the country "giving speeches and encouraging young people to get more involved in civic engagement."
He says he's traveling more than he ever did as a member of Congress, and tells me he has more time to read, think, and hang out with his kids. Sometimes you can see him quoted in Chinese media about the Senkaku Islands. He popped up in a story (which noted his perma-smile) after the Supreme Court issued its ruling on the Affordable Care Act in 2012.
But if he's clear on one thing, it's this: Almost three years after his resignation, Wu insists he's moved on from his life as a congressman.
"I pretty much talk with friends, people come into the buffet and that's where I spend most of my time, a lot of people shuffle through," he says. "Rarely do I go up on the floor, but when a vote is called I think, Oh, I want to see a few of the people and grab a bunch of folks and just settle in with them."
When lawmakers resign, it's rare to see them again in the halls of the Capitol complex — if you do, it's not usually so soon after their resignations. In the past few years, for instance, Chris Lee, Eric Massa, and Mark Souder left Congress over sex scandals; they haven't really been heard from since. Anthony Weiner is an exception, returning to New York to run for mayor, only to find himself ensnared in another sexting scandal — but he is not a presence in Washington.
Wu says there's a legitimate reason he's still in the District. The terms of his divorce state he needs to remain there until his two teenage children have graduated from high school. He plans to one day return to Oregon, where he spent years as a lawyer before running an underdog campaign for Congress. "It's the only place I ever chose for myself," he says. "I consider myself an Oregonian and I fully intend to go home." His election was not insignificant: Wu became the first Chinese-American member of the House in 1999.
"I've moved on from a lot of stuff in my life, set up professional activities, which I truly enjoy, spending time with my children at an absolutely crucial phase in their life," he adds.
Until then, though, Wu remains in Washington. He considers himself someone who has a lot to offer the political world. He is the treasurer of a political action committee, the Education and Opportunity Fund. Filings show the PAC doesn't do a lot, beyond small donations to local parties and a few House candidates, like Rep. Mike Honda, whom Wu considers a friend. It's the small donations to local parties he considers "incredibly meaningful."
"Some of the county parties at home are never appreciated, never supported," he says. "By Washington standards they aren't high donations, but they are incredibly meaningful. No one says thank you, no one shows their appreciation."
He won't talk about his resignation, and when directly asked, he only says that he doesn't "talk about it with anyone." This includes his closest friends on the Hill — when asked, he lists off John Larson of Connecticut, Peter DeFazio of Oregon, Mike Capuano of Massachusetts, and Mike Doyle of Pennsylvania.
"I don't go back there. I don't go back there myself, or with my friends, or in a setting like this," he said.
What does he talk to with his friends about nowadays?
"Kids and sports."
For his part, DeFazio defended Wu, saying that life after Congress has been good to his former state colleague. "He's overcome a lot," he said. "He's being a good dad to his kids, and I know he's doing some work that relates to China so I think he's in a very different place than when he left. People don't know the facts of his personal life...but it was a very, very difficult time."
What Wu actually will talk about is the space exchange trip he's been trying to get together. China and the United States are prohibited from sharing information about their human space programs — in fact, it's illegal to do so. The loophole, it appears, is students. ("The old political adage is never compete with pets and kids. So let's do something that no one can oppose, we'll bring the kids over," Wu says.) Wu has been trying to put together a trip (and raise a lot of money) to send 12 American kids to China in August, to tour Chinese space facilities as well as other landmarks. There will be a few chaperones, and Wu himself will go on the trip. He needs to raise $36,000 for the trip; he says he has "a lot of commitments" in private donations, and an online fundraising effort that's raised around $880.
"It's like my congressional campaign — you just have to believe," he says. "And there are many times where I think, Oh my gosh, I don't think it's going to happen."
The trip, he argues, is meant to help build goodwill between China and the United States. Four former NASA administrators want to see more communication when it comes to human space flight, he claims. He'd like to bring a journalist on the trip as well, to see a part of China most American journalists can't see. "Perhaps you'd like to be our press pool," he says. As interesting as it sounds, I say, I probably am going to pass.
Our waiter arrives and we pause to order lunch. Wu goes with the crab, then veers off into a story about trying and failing to cook shad roe — a fish-egg delicacy.
"It's a Sunday morning. I'm in my white terrycloth robe and I think it's a fast sauté and so I get the butter fairly hot and I drop the shad roe in the butter and every single one of those little eggs busted and it was a mess! But we were talking about space…"
The day before we meet, he had been on the Hill and seen a space exhibit at the Rayburn office building that he says he "just got lost in." If there's something unusual about Wu staying near Capitol Hill, he doesn't seem to be aware of it. He keeps reiterating that his professional life is going really well, that he's happy, that he doesn't miss being a member of Congress at all.
I again ask if he maybe he misses it, just a little.
"I think you are not supposed to admit that you miss it," he says. "I think I missed it for the first year and a half, maybe two years, but when you find something in which you are truly engaged and passionate about, which I have, you get the proper distance from it and you look back upon it with fondness. You don't miss it so much."
***
About two weeks later, the Congressional Baseball Game kicks off, an annual tradition that pits Republicans against Democrats on the diamond where the Washington Nationals play. Staffers root for their bosses in T-shirts mocked up for the event, journalists drink beer, the lawmakers not suiting up look on. The game is called early due to rain, but the Democrats — just like last year — handily beat the Republicans, 15-6.
He doesn't really make the rounds this time, or chat it up with people in the bleachers. But there, casually hanging out and watching the game with a friend, is former Rep. David Wu.