The Democratic Party Chair's Big Political Ambitions Have Stalled In DC
"It was abundantly clear that's where she wanted to go. That talk has been considerably quieter."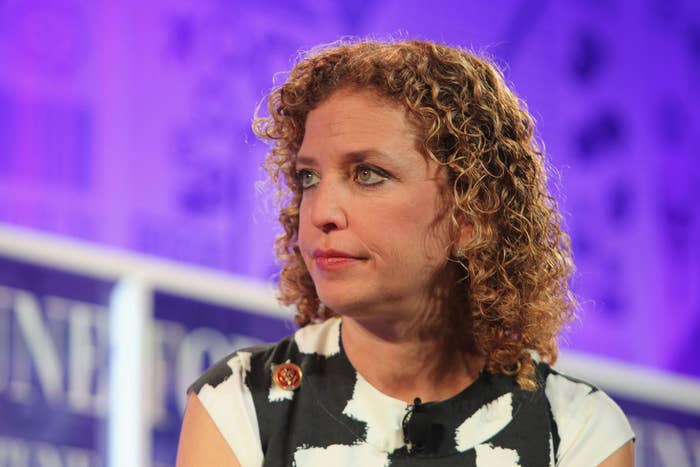 WASHINGTON — Debbie Wasserman Schultz, the chairwoman of the Democratic National Committee, was never particularly shy about her ambitions.
Friends describe the Florida congresswoman as openly talking just a year ago about one day being speaker and moving up the ranks in Democratic leadership. She regularly doled out checks to rank-and-file members from her PAC and made it obvious she was courting their support.
"It was abundantly clear that's where she wanted to go," one Democratic member close to Wasserman Schultz said. "That talk has been considerably quieter."
Her tenure as DNC chair has been marked by steady stream of viral gaffes or messaging missteps that have led her fellow Democrats to wonder if she'd be able to muster the support for a jump into the Democratic leadership. While most of her colleagues (most of whom declined to go on the record) defended her time as DNC chair, they said her ability to make news (and not the good kind) in her current job have made her future path more challenging.
There was the time she (apparently inadvertently) rebuked the White House critics on the issue of deportations, and the time she described Republican Gov. Scott Walker as giving women "the back of his hand." Moments like those have led to private eyerolls by Democrats worried she does more harm than good. She's been open in the press, too, about her ambitions: telling Politico last year she was planning to leverage the DNC job and the connections she's made there into any number of senior elected Democratic positions. That led to "outrage" in the White House. Other top Democrats worried Wasserman Schultz was out for herself and not the good of the party.
A dozen House Democrats BuzzFeed News spoke with also brought up Wasserman Schultz's frosty relationship with Nancy Pelosi that could hamper what ever plans for the future she has.
"I'm not sure what she does next. She has a solid base of support in the House — people who really love her — but I don't know what that translates to if she doesn't have Pelosi in her corner," one member said. (A source close to Pelosi downplayed that characterization, pointing to several instances where Pelosi elevated Wasserman Schultz, like appointing her to the Appropriations Committee as a sophomore member).
Wasserman Schultz's defenders say that makes it hard for her to make news for anything other than a gaffe or a mistake.
"I think that everybody says things that are unwelcome from time to time. But in an era where there's so much scrutiny and when you have a president of the same party, it's tougher for the party chair to make news on the big positive stuff," said Jamal Simmons, a Democratic strategist who's known Wasserman Schultz since he worked on the Florida recount in 2000.
"[Republican National Committee chair] Reince Priebus has a much freer hand than Debbie Wasserman Schultz does," he said. "Nobody looks at John Boehner as the political head of the national Republican Party. He's the head of the House Republicans, but that's it. The president is a different person. He's not only the head of the government; he's also the head of the party. Reince Priebus doesn't have a boss."
Emanuel Cleaver, a Democrat from Missouri and close ally of Wasserman Schultz, said criticism of her was only due to the fact she has been so prominently out there for the party.
"People don't try to hit people who don't bat above .200," he said.
"There are not many people who could serve in the House of Representatives, and do senior Whipping duties, and chair the Democratic National Committee. Debbie Wasserman Schultz is one of a handful of people who could do that," he added.
Sen. Tim Kaine, who helmed the DNC prior to Wasserman Schultz, called her a messenger with "energy and enthusiasm" and that it was often a difficult task to balance the line of the president with the best message for the Democratic Party.
"I will say I have been so focused on my new job I haven't been that deeply engaged with the DNC since I came to the Senate but I think she was the right person for the job and I think she's doing it well," Kaine said. "You have a lot of constituencies to satisfy. Look sometimes the right thing to do is to toe the presidential line and sometimes when you're the chair of the Democratic party you can be a little hotter in your rhetoric than the president can be. On issue to issue, do you want to do exactly what the president says or can you go a little bit further?"
For all her missteps, Wasserman Schultz is viewed among Democrats as a prolific fundraiser with a message that resonates especially with the party base. Aides say she's been to 37 states and 99 cities to support the DNC, state parties, and Democratic candidates during the 2014 cycle. Additionally, she's headlined 63 events for the DNC and is regularly asked to appear at fundraisers.
"She's a huge draw for us. She's constantly speaking for us, and always one of lead speakers," said Scott Arceneaux, the excutive director of the Florida Democrats. "Activists really love her and always have even before she was chair."
"She works her ass off, has good relationships with the grassroots and can raise money like a champ. I mean, I think their comms and research shop have fallen off a bit (or rather, been surpassed by outside groups like American Bridge,)" said a Democratic strategist based outside D.C. "But I'm not someone who thinks that's as important as the shit she's really good at."
But the "what's next" question remains. There's been some speculation that Wasserman Schultz may try to run for Senate in 2016 or 2018.
One prominent D.C.-based Democratic strategist suggested Wasserman Schultz had not endeared herself to Washington during her time as DNC chair and suggested she go back home once her time as party chair is over. "Statewide office in Florida," the operative said when asked what Wasserman Schultz should do next.
Arceneaux wouldn't speculate on her next move but said it was "a lot easier" to get the DNC chair to Florida because she was comfortable in her home state.
"Debbie's got boundless potential. Obviously being at the DNC gives her a great profile because she has to be out there all the time," he said.