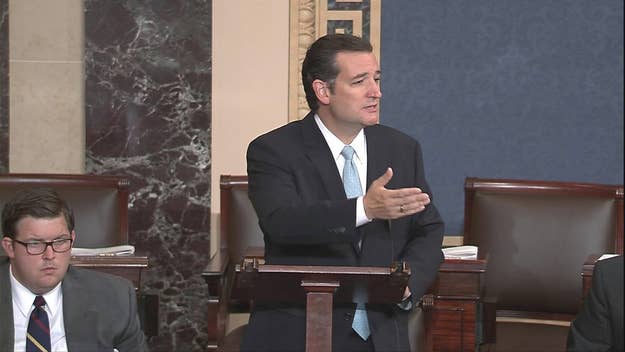 WASHINGTON — Sen. Ted Cruz has known since Monday exactly how long he'd be allowed to speak, and that no matter how long he talked, he wouldn't be able to prevent a vote he had hoped to stop.
That's because, according to a spokesman for Majority Leader Harry Reid, Cruz approached Reid privately on the floor requesting the time to talk. And when no other Senator objected, Reid allowed it.
The spokesman, Adam Jentleson, blasted Cruz on Twitter Tuesday afternoon:
The Texas Republican has been speaking on the Senate floor since early Tuesday, to protest Obamacare and a looming vote on a short-term budget resolution that Cruz has pushed his colleagues to oppose.
Because Reid had already filed what's known as "cloture" on the continuing resolution — effectively a countdown clock to a vote that would end debate on the bill — the vote will happen and Cruz will need to stop talking by Wednesday afternoon.
"By that time there was nothing Senator Cruz could do to delay the Wednesday cloture vote, so Senator Reid did not object," Jentleson said in an email.
A spokesman for Cruz responded to the report, telling BuzzFeed, "That's correct."
Reid mentioned their conversation on the floor Monday:
"People can talk all they want. There's no way that we can be prevented from having that vote. We'll have conversation, but it's not — there won't be any filibusters. Because this is under the rules of the time for talking but it doesn't delay anything," Reid said. As I indicated today earlier with a conversation I had with a Republican senator, just follow the rules. Whatever the rules are we'll follow them and do the best we can to make sure we're as fair to everyone as possible."