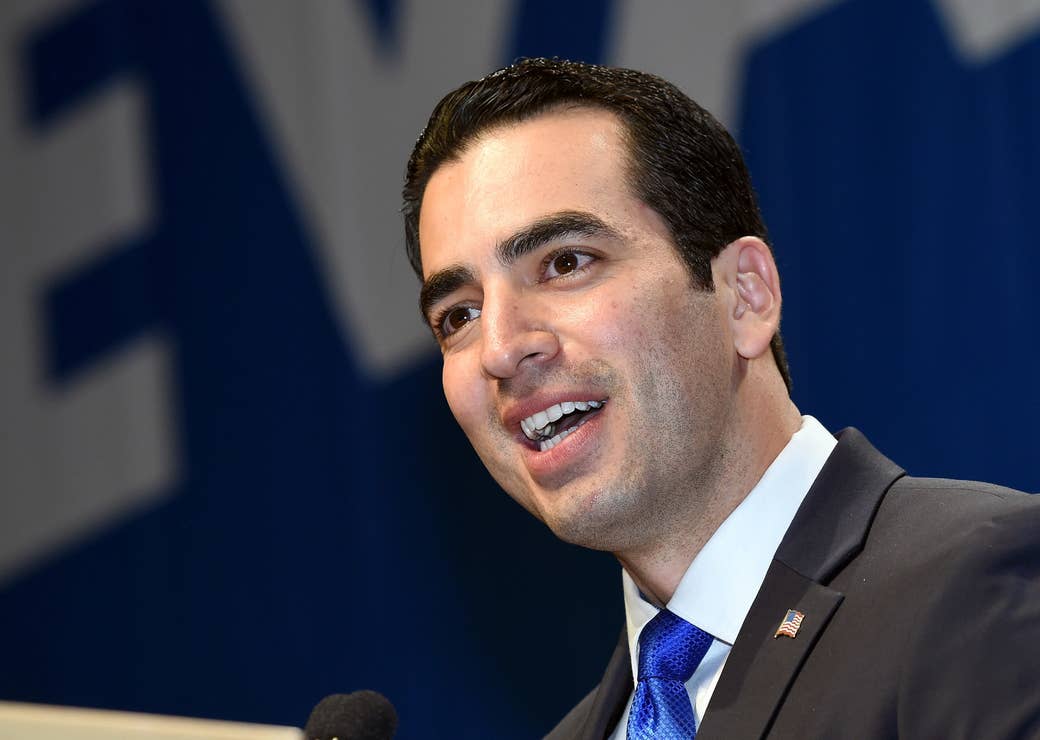 A woman who worked as the finance director for a promising Nevada Democrat is alleging that he repeatedly harassed and made sexual advances toward her during his 2016 congressional campaign — and like many young people on campaigns all over the country, she did not know what to do with her complaint and didn't feel comfortable bringing it to the campaign's leadership.
So she quit her job. And he's now in Congress.
Samantha, whose last name BuzzFeed News is withholding at her request, began working for Rep. Ruben Kihuen early in his campaign to unseat Republican Rep. Cresent Hardy in December 2015 and quit by April 2016. Starting in February of that year, Samantha, who was 25 at the time, said Kihuen, who was then 35 and still competing in the primary race, propositioned her for dates and sex despite her repeated rejections. On two occasions, she says he touched her thighs without consent.
While Samantha was uncertain how she could report her experience, she said she spoke with a contact at the Democratic Congressional Campaign Committee to explain why she was quitting so abruptly, and told the staffer that Kihuen had done things that made her uncomfortable.
"I didn't know what they could do, but I felt like I had to let someone know," she said.
The person she spoke with at the DCCC, a midlevel staffer who no longer works there, confirmed a conversation took place. He said he did not recall her telling him any specifics, only that she quit because she felt uncomfortable with Kihuen, and he did not believe that she wanted the DCCC to escalate it. He spoke only with a colleague — another midlevel staffer who is also no longer there — about the call.
Because the race was, at that point, still in the primaries, the DCCC had limited involvement in Kihuen's campaign. But the second staffer informed Kihuen's campaign manager, Dave Chase, of Samantha's call after she had left the campaign. Chase confirmed to BuzzFeed News that someone at the DCCC called to say that the woman had quit because she felt "uncomfortable" around Kihuen, but he was not aware of the specifics of the allegations. He says he confronted Kihuen, who denied that anything improper had occurred.
In a statement from his congressional office Friday, Kihuen said, "The staff member in question was a valued member of my team. I sincerely apologize for anything that I may have said or done that made her feel uncomfortable. I take this matter seriously as it is not indicative of who I am. I was raised in a strong family that taught me to treat women with the utmost dignity and respect. I have spent my fifteen years in public service fighting for women's equality, and I will continue to do so."
After this story was published, the congressman's office sent out a new statement adding that he wanted to "make it clear that I don't recall any of the circumstances" described by Samantha. BuzzFeed News did not receive a response earlier Friday to a follow-up question to a staffer in Kihuen's congressional office asking if the congressman denied that the events, as described, occurred.

When presented with specific details of the allegations contained in this story, DCCC chairman Ben Ray Luján called on Kihuen to resign.
"Members and candidates must be held to the highest standard. If anyone is guilty of sexual harassment or sexual assault, they should not hold elected office. Congressman Kihuen should resign," he said Friday.
"If anyone is guilty of sexual harassment or sexual assault, they should not hold elected office. Congressman Kihuen should resign."
House Minority Leader Nancy Pelosi also called on Kihuen to resign in a statement released by her office just after midnight Saturday. "In Congress, no one should face sexual harassment in order to work in an office or in a campaign. The young woman's documented account is convincing, and I commend her for the courage it took to come forward," she said after this story was published. "In light of these upsetting allegations, Congressman Kihuen should resign."

Chase, the former campaign manager, said that he was "deeply disappointed and heartbroken by Ruben's actions."
"I believe Samantha and wish I had known her specific allegations when I confronted Ruben after she left the campaign or in time to stop what took place," he said.

On Feb. 6, 2016, Samantha says she accompanied Kihuen to a fundraiser — a normal function of her job as finance director. As she attempted to leave when the event wrapped up, she says Kihuen walked her to her car.
"He followed me to my car and said, 'You look really good, I'd like to take you out if you didn't work for me,'" she recalled.
Samantha said she quickly stated that she had a boyfriend, got in her car, and left. The advances became more frequent and more aggressive after that, asking if she had ever "cheated on her boyfriend" and repeating that he would take her out if she did not work for him.
On Feb. 19, Samantha says she accompanied Kihuen to a meeting with Rep. Tony Cárdenas at the Aria Hotel. Cárdenas was in town to support presidential candidate Hillary Clinton ahead of the Nevada caucuses. Cárdenas' office confirmed that he and his wife stayed in the hotel that weekend. In the elevator on the way to the meeting, Samantha said Kihuen told her, "We should get a hotel room here."
"I said 'no' very firmly and he just laughed at me. It was humiliating," she told BuzzFeed News.
Kihuen drove on the way back from the meeting to their campaign office, with Samantha in the passenger seat. Samantha said Kihuen again asked if she'd ever cheated on her boyfriend, and started touching her thigh. She told him to stop, and said she said "no" and began talking about her boyfriend.
A separate time, in March, Kihuen asked for help with something on the computer during "call time" — when a candidate makes fundraising calls — and Samantha alleges he grabbed the back of her thigh while she looked at the screen.
"I asked him what he was doing and he stopped." Samantha left the campaign soon after.
The DCCC requires all its staffers to take an "extensive and multi-hour" sexual harassment training — and did in 2016 as well — and they encourage campaigns to take any complaints very seriously. They do offer resources to help create codes of conduct and sexual harassment policies, but ultimately, every campaign makes its own rules. However, this cycle, the DCCC will require all campaigns and candidates they work with to establish a sexual harassment policy and take sexual harassment training if they want to receive financial and structural support from the committee.
Samantha's situation underscores a stark reality on the campaign trail: there is no real HR system in place on campaigns, and people are loath to report incidents that would make the party or the candidate look bad.
BuzzFeed News spoke with nearly two dozen women — Democrats and Republicans — who have worked on multiple campaigns over the years. All of them said the temporary, high-pressure nature of political campaigns and informal work environment, where professional and personal boundaries are often blurry, makes it so that any sort of human resources operation is the last thing anyone even thinks about.
That problem is multiplied in House and Senate races, which are typically much more strapped for resources than presidential campaigns. An employee handbook that only some campaigns keep some version of, and that former staffers confessed to never actually reading, is typically the most a campaign of that level offers in the form of any official discussion on workplace conduct.
"Often on a House campaign, especially before a primary, money is so tight and you're talking about a staff of four or five people," said one Democratic campaign veteran. "There's just no support to handle anything like that." Another longtime GOP campaign staffer described working on campaigns like going to camp for the summer. "You create hopefully positive bonds, but sometimes it doesn't happen that way," she said, adding that if it's the latter, there's "no structure to deal with it."
Some, like Samantha, have looked to the party committee for help, but how a harassment complaint is handled can depend almost entirely on how invested the official party is in the race. Typically, a committee only gets involved in the most competitive races and even then waits until the general election campaign.
Another longtime Democratic operative who has worked on multiple high-profile campaigns recalled an instance where a staffer made a serious allegation against a male in a senior role in their campaign. Because the Democratic Senatorial Campaign Committee was heavily invested in the race, an attorney was dispatched to investigate and the staffer in the senior role was fired. The operative declined to name the campaign and staffers involved.
"How much infrastructure there is to support workplace complaints depends entirely on the kind of campaign it is and how far along it is," the operative said. "A well-funded incumbent Senate campaign will have resources to deal with allegations, but a smaller House race won't — especially if the committees aren't involved."
Several women said verbal sexual misconduct — inappropriate jokes and comments about women's clothing and bodies — can be fairly routine on campaigns, with most saying it's unclear who they would file a complaint with if a problem came up, because there's "no adult in the room," as one former Democratic campaign staffer put it. Because the focus is ultimately on winning, several women said they've either ignored, laughed off, or tried to play along with comments that made them uncomfortable and focused on their work.
"Campaigns are breeding grounds for inappropriate humor. The culture is just more raunchy than the typical workplace," another former Democratic campaign staffer said. "There are a lot of people replaying prior experiences in their heads and wondering, 'Was there a line crossed?'"
Samantha texted a friend the details of the harassment she experienced on Kihuen's campaign about a month before she finally quit, telling the friend on March 10, 2016, that she was upset and Kihuen was saying "creepy things to me sometimes." The friend asked what that was and she responded that the then-candidate "put his hand on my thigh a couple of times. Asked me weird questions once like if I had ever cheated on my boyfriend. Said a couple of times he would take me out if I didnt work for him." The friend replied that Kihuen had "crossed way over the line in to law suit teratorye [sic]" and encouraged her to look for other work.
BuzzFeed News has seen and verified screenshots of those text message conversations, and additionally spoke with four people who said they had spoken with Samantha around the time she left the campaign, confirming she had shared details of the account in this story.
Inappropriate behavior on campaigns can travel and elevate abusive relationships to Washington, as candidates become members of Congress and campaign staffers move to Hill jobs, something campaign staffers who spoke with BuzzFeed News raised as a concern. As BuzzFeed News and other news organizations have recently revealed, allegations in the Capitol are settled by a secretive office using taxpayer funds.
Besides the DCCC, other congressional campaign committees of both parties say they have little authority over campaigns in dictating workplace culture but are encouraging them to seriously consider stricter guidelines.
"We take this issue very seriously," said Jesse Hunt, spokesman for the National Republican Campaign Committee. "We have policies in place so people feel safe and have always encouraged campaigns to adopt similar guidelines."
The NRCC has a handbook that explains its anti-harassment policy and complaint procedure.
Lauren Passalacqua, a spokeswoman for the DSCC, said the committee works "with campaigns to ensure they have robust HR guidelines in place, including policies for sexual or other types of harassment and inappropriate conduct in the workplace."
The National Republican Senatorial Committee did not respond for comment. ●
If you have information or tips, there are a number of ways to securely share information with BuzzFeed News, including SecureDrop and postal mail. You can also email us at tips@buzzfeed.com or send us an encrypted message over Signal at (646) 379-1975. The best tips include specific information and documentation in addition to names. You can learn more about how to reach us here.