Sens. Kirsten Gillibrand And Claire McCaskill Begin To Take On College Sexual Assault
The two recently battled over the way the military combats assault, but now they are teaming up to get Congress to commit more funding to fighting sexual assault on college campuses. "[T]he price of a college education should not include a 1 in 5 chance of being sexually assaulted," Gillibrand said.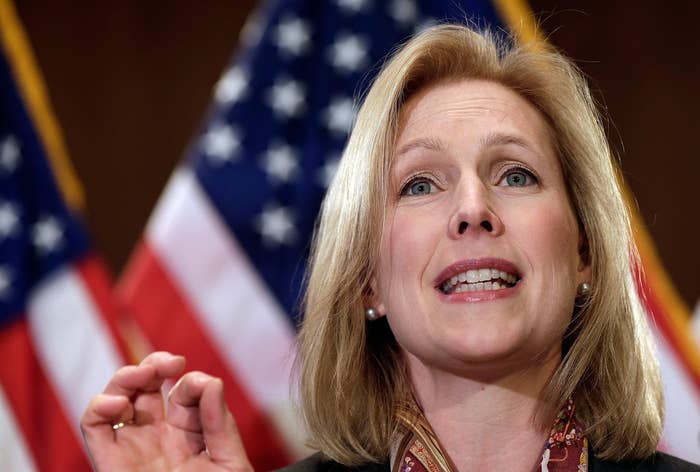 WASHINGTON — Sens. Kirsten Gillibrand and Claire McCaskill are spearheading an effort to increase funding to combat sexual assault on college campuses.
The two recently battled over competing bills to change the way the military handles sexual assault cases, but for now they've teamed up to request more money be spent on enforcing current law to fight and investigate campus sexual assault.
"[T]he price of a college education should not include a 1 in 5 chance of being sexually assaulted. America's colleges and universities are the best in the world," Gillibrand said in a statement. "But it is simply unacceptable that they become havens for rape and sexual assault. It is time to take this crisis head on and end the scourge of sexual assault on our college campuses, hold offenders accountable, and keep our students safe."
The effort is one of the first concrete steps the pair is taking as both have began to take up the cause of campus sexual assault. Earlier this week, McCaskill announced she would schedule meetings with the Departments of Justice and Education to talk about how colleges report sexual assaults. Gillibrand previously told Time magazine she was looking into writing legislation to help tackle the problem.
In a letter to appropriations subcommittee chairman Sen. Tom Harkin, Gillibrand and McCaskill wrote that enforcement of the Clery Act — a law requiring colleges to disclose on and off campus crime — and Title IX has been inadequate "for many reasons, including a lack of trained staff dedicated to the problem of addressing the scourge of sexual assault on college campuses." The senators note that several new regulations stemming from the Violence Against Women Act "will require additional staff and training to handle the expected workload."
According to Gillibrand's office, "the Clery Compliance Team has less than a dozen staff members to enforce the law at over 6,000 colleges and universities across the country, rendering the team unable to investigate the 63 percent of schools that failed to report crime statistics in the manner required by the Clery Act."
The pair, along with eight other Democratic senators, are requesting Harkin and appropriations ranking member Jerry Moran provide an additional $2 million so the compliance team at the Department of Education can hire additional staff, and they'd like to see another $102 million go to the DOE's Office for Civil Rights. Finally, the propose around $5 million go to the OCR to hire more staff to investigate and enforce provisions of Title IX relating to sexual assaults.
The other senators who signed the letter are Jack Reed, Jon Tester, Mazie Hirono, Richard Blumenthal, Chris Murphy, Jeanne Shaheen, Dick Durbin, and Amy Klobuchar.
"After being victimized by a crime as deeply traumatic and personal as a sexual assault, no young man or woman should be left to fend for themselves," McCaskill said. "I fear that, like the U.S. military, we're going to find systemic problems on our college campuses — including very low reporting due to lack of protections and resources."
Kate Nocera is the DC Bureau Chief for BuzzFeed News. Nocera is a recipient of the National Press Foundation's 2014 Dirksen Award for distinguished reporting on Congress.

Contact Kate Nocera at kate.nocera@buzzfeed.com.

Got a confidential tip? Submit it here.