Raúl Labrador Just Wants To Unite The Republican Party
Love him or hate him, the Idaho conservative has big plans for the House GOP. "People aren't indifferent to him," said one Republican congressman.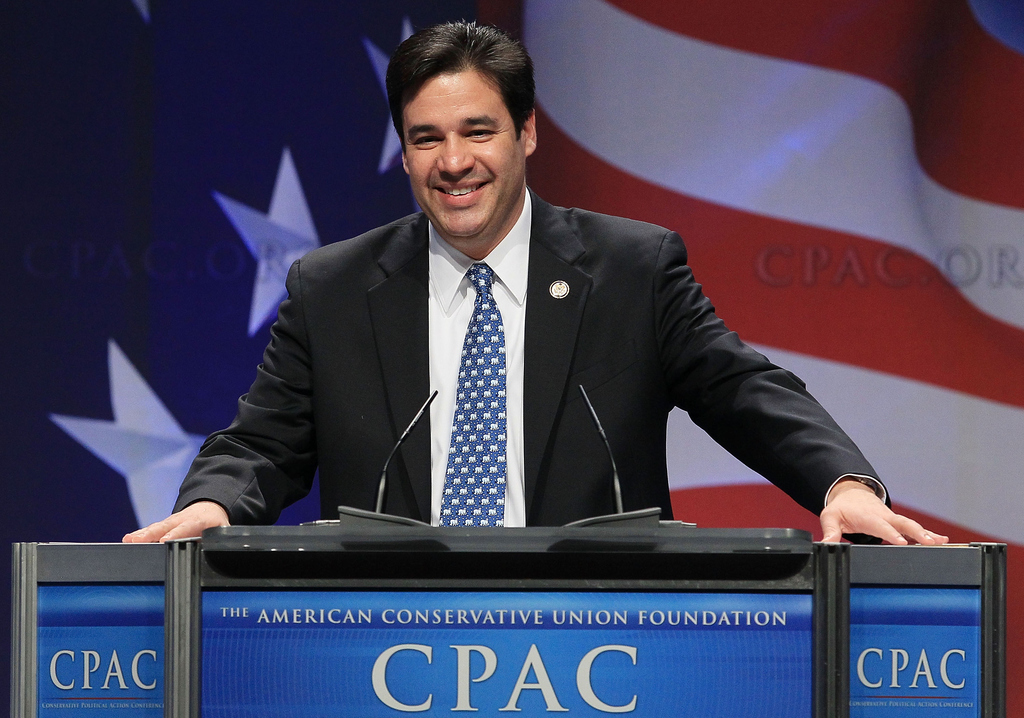 WASHINGTON — Every Republican in Washington has an opinion on Raúl Labrador, the second-term conservative from Idaho.
His allies love him. Labrador's the smartest guy in the room, they say. Opinionated, principled, trustworthy — a leader.
His detractors certainly don't. Those who bristle at the mention of his name contend he's misguided at best and self-serving at worst.
"People aren't indifferent to him," offered one Republican congressman. There's good reason: Since he was elected to office just three years ago, Labrador's built up a powerful base among conservatives and has never been shy about speaking his mind. On everything from immigration to the debt ceiling, the conservative wing of the party has tended to look to Labrador as a leader — and he clearly has big ambitions.
Does he want to be speaker someday?
"I don't think about it that often," Labrador replied in an interview with BuzzFeed.
He then elaborated: "I think a person who is in his second term in the House of Representatives is not qualified to be speaker of the House."
That doesn't mean that he doesn't have big plans for this year. Many in the GOP blame the new breed of staunchly conservative members like Labrador for much of the infighting over the last few years, but to hear Labrador tell it, all he's trying to do is unify the conference. While the legislative load for the rest of the 113th Congress looks light, Labrador says he and other conservatives will be pushing leadership to come up with "a bold agenda, putting things on the floor we are for — that unify the party."
If that means taking tough votes on things like entitlement and welfare reform in the middle of an election year — something members from more vulnerable districts would like to avoid — then so be it.
"That's why I go back to the shutdown. Most people, except for donors, actually thanked us for standing for something," Labrador said.
"It's coming up with a bold agenda," he said. "I think we will lose our opportunity at being the majority in the Senate and we will lose some seats [in the House] if we stand for nothing."
Labrador's commitment to that bold agenda — and his directness about it — has given him leverage and stature among conservatives in the Republican conference.
"I think he's been very open with his statements, he's always been that way," said Rep. Justin Amash, who voted for Labrador for speaker of House at the start of the 113th Congress. "He's a direct representative and people like that. I think he's the kind of guy who would make a good leader in our party. If there are two people that come to mind for leadership, it's Raúl Labrador and [South Carolina Rep.] Mick Mulvaney."
"Will I vote for him for speaker again for sure? I don't know the answer to that," Amash said. "Would I vote for him for speaker again? Yes, I would vote for him for speaker again."
When Labrador entered into the intense, bipartisan immigration deliberations last year, House conservatives gave him room to do so. The rationale: If Labrador agreed to an immigration deal, conservatives wouldn't get thrown under the bus. When he walked away from those talks, they took him at his word that a compromise simply couldn't be reached. He's now adamant that Republicans shouldn't touch immigration reform this year, telling reporters recently, "It's a mistake for us to have an internal battle in the Republican Party this year about immigration reform," and that it would "cost him his speakership" if Boehner were to put an immigration reform bill on the floor.
He's been an outspoken critic of the GOP leadership, most recently becoming one of the first conservative members to have floated the idea of bringing a "clean" debt ceiling to the floor and having it pass with a majority of Democratic votes. And when Boehner struggled to find any 218 votes on any plan he came up with, Labrador eventually got his way, much to the chagrin of many other rank and file Republicans.
The origins of Labrador's plan lay in the government shutdown and the fight over Obamacare that preceded it — a fight Labrador calls a noble one for the conference. When the rollout of the health care looked like a complete disaster, Labrador says that made the fight worth having.
"Most conservatives were actually pretty upbeat. We knew we had lost and we knew we didn't get what we wanted but at least we felt good about having had the fight," he said. "I felt good about that narrative, and then all of a sudden many people in our party started bellyaching about the shutdown and how bad it was and how bad it was for Republicans ... instead of capitalizing on the fact that the American people were really with us on an issue, we started shooting each other."
Labrador claims his clean debt ceiling idea was an effort to avoid Republicans pointing fingers at each other: He believed his party would eventually raise the debt ceiling without preconditions anyway, so they might as well not pretend to fight if they were going to capitulate in the end.
Of course, there are plenty of House Republicans who blame Labrador and his fellow conservatives for a lot of the divisiveness and bitterness among the conference in the last three years.
"The strategies themselves do not reflect a mature approach to governing," said one Republican who counts himself among Labrador's critics but did not want to be named. "Sometimes it's entertaining, sometimes it's annoying, but sometimes the approach appears to be so self-serving it not only hurts our conference — it hurts our country."
"If there's one thing you can admire, it's the willingness to be completely isolated from the majority of the conference," the congressman said.
When debate began over a debt ceiling strategy, other Republicans were stunned that Labrador and other conservatives would suggest bringing a clean debt ceiling to the floor with the understanding quite a few Republican members would be forced to vote for it.
"It's the 'vote no, hope yes' caucus," Rep. Adam Kinzinger said at the time.
For his part, Labrador is unapologetic. He says there are "30 or 40 members who will never fight for anything because they are afraid of what the media was going to say about them. The media is always going to blame us. If we could stand united that would never happen."
"To say we were just fighting for something and end up with a clean debt ceiling—I think that's just lying to the American people," he said of his debt limit solution. "It's OK to lose, but it's not OK to pull the wool over people's eyes."
"[Republicans] were blaming each other and my idea was, 'Let's just move on. It's going to divide our party.'"