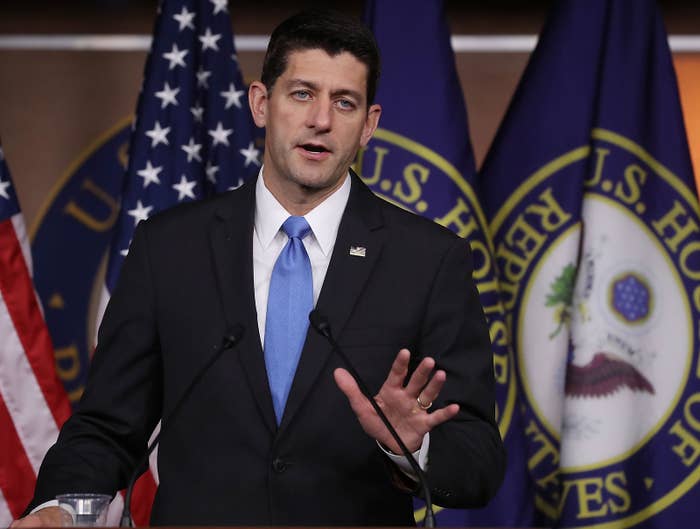 WASHINGTON — Paul Ryan says he can't and won't defend Donald Trump, and that House Republicans can do what's best for them in the remaining weeks of the election.
Ryan spoke to House members on a conference call Monday morning following an intense political weekend, in which many Republicans abandoned their party's nominee. Ryan also said that he would not campaign for or defend Trump in the weeks before the election.
A source on the call said that Rep. Greg Walden — the chair of the House campaign arm — gave a dire warning about polling, and that things were trending negative for House Republicans. They implored members to continue contributing to the NRCC and pay their dues if they wanted to keep the House.
While Ryan initially "didn't say anything about the endorsement," he later returned to the call to clarify that he was not unendorsing Trump. Several members pushed back on Ryan, furious with him and arguing that House Republicans should be supporting Trump and working to get a Republican in the White House. Several sources said one member charged that Republican leadership was acting "cowardly" though a Republican member on the call believed the comment was directed specifically at Ryan. A source on the call said those who expressed support for Trump were from deeply red states.
"The same people are always upset about everything," one member said.
Another source said Ryan told members that "the high principle here is to protect our majority so if Hillary Clinton wins the presidency, she doesn't have a blank check from Congress."
Members were left shellshocked after leaked audio emerged of Trump saying that he grabbed women "by the pussy" and kissed them against their will. Trump's remarks were almost universally condemned by Republicans, with multiple elected officials calling on him to drop out of the race. Ryan had said he was "sickened" by the remarks.
Trump's debate performance Sunday night "probably did enough to stop the free-fall with Republicans but not enough to expand his coalition enough to win the presidency," one Republican congressman explained.

Members worried about their conservative base will likely stick by Trump. Some members who had unendorsed him told BuzzFeed News they were already receiving angry calls from constituents asking why they weren't sticking by the nominee.
"We're upset Trump put us in this position," one member said. "We wish we were all on the same team united against Hillary."
Trump responded Monday afternoon telling Ryan to focus on the issues like the budget and jobs.