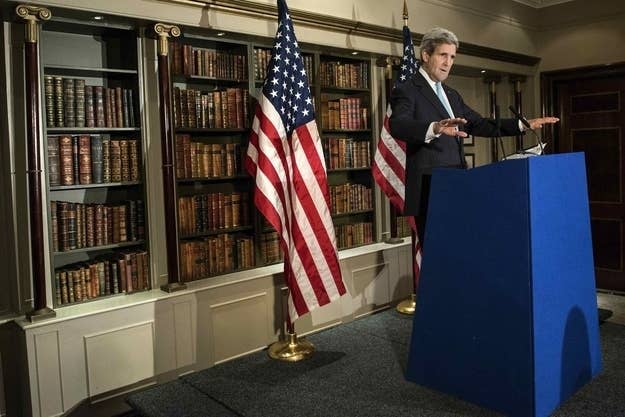 WASHINGTON — The United States will immediately take several key actions involving U.S. funding in response to Uganda's anti-gay law, multiple sources on and off of Capitol Hill told BuzzFeed.
Key members of Congress and leadership were briefed on the Obama administration's plans Sunday afternoon. The move comes as the administration and the State Department has been "reviewing" all U.S.-funded programs in the country after Ugandan President Yoweri Museveni signed legislation imposing up to a lifetime prison sentence for homosexuality.
The administration has settled on four steps to be taken immediately in response to Uganda's anti-gay law, sources who were briefed on the matter said. Following the publication of this story, National Security Council spokesman Jonathan Lalley confirmed the steps in an email and provided some additional details on the plans. He said that in addition to the immediate action, the U.S would continue "to look at additional steps we may take, to work to protect LGBT individuals from violence and discrimination, and to urge Uganda to repeal this abhorrent law."
"As we continue to consider the implications of President Museveni's decision to enact the Anti-Homosexuality Act, the United States has taken certain immediate steps to demonstrate our support for the LGBT community in Uganda, deter other countries from enacting similar laws, and reinforce our commitment to the promotion and defense of human rights for all people — including LGBT individuals — as a U.S. priority," Lalley said.
Money will be shifted away from the Inter-Religious Council of Uganda, a group that has publicly come out in support of the anti-gay law and has received millions of dollars in grants from the United States to help fight the HIV/AIDS epidemic. Some $2.3 million will continue to go to the IRCU to continue treatment for some 50,000 current patients, but an additional $6.4 million intended for the IRCU will go to other organizations.
Second, because the law makes "promoting homosexuality" illegal, a U.S. funded study to help identify populations at risk of contracting HIV/AIDS has been suspended. The study, which was going to be conducted by a Ugandan university and the Center for Disease Control, has been suspended out of fear that both staff and survey respondents could be put in danger.
Third, because any LGBT person or LGBT ally who now enters Uganda is at risk, money intended for tourism programs will be redirected.
"Therefore, approximately $3 million in funding designated for tourism and biodiversity promotion will be redirected to NGOs working on biodiversity protection," Lalley said.
And finally, the Department of Defense had several events scheduled in the country later this spring and those will be moved to other locations. "Certain near-term invitational travel" for Ugandan military and police personnel has also been suspended or canceled.
These are the most forceful steps the Obama administration has taken since it began reviewing U.S. aid to Uganda. Additionally, Secretary of State John Kerry said last week that the United States was sending a team of American "experts" to meet with President Museveni about homosexuality. Museveni had claimed he signed the law in part because he became convinced that no one is "born gay."
"I talked personally to President Museveni just a few weeks ago, and he committed to meet with some of our experts so that we could engage him in a dialogue as to why what he did could not be based on any kind of science or fact, which is what he was alleging," Kerry said.
Kerry also said that the review is broad and will include how to deal with the 80 countries that "have laws of one kind or another that discriminate."
The administration has come under pressure in the last month to move more swiftly in response to the Ugandan law and Capitol Hill has been kept mostly in the dark until now.
This post has been updated with comments and additional details from a National Security Council spokesman.