North Carolina Republicans: Don't Say Thom Tillis Isn't Conservative Enough
On the day of the senate primary, some in the GOP are scratching their heads at the idea that Thom Tillis isn't sufficiently conservative.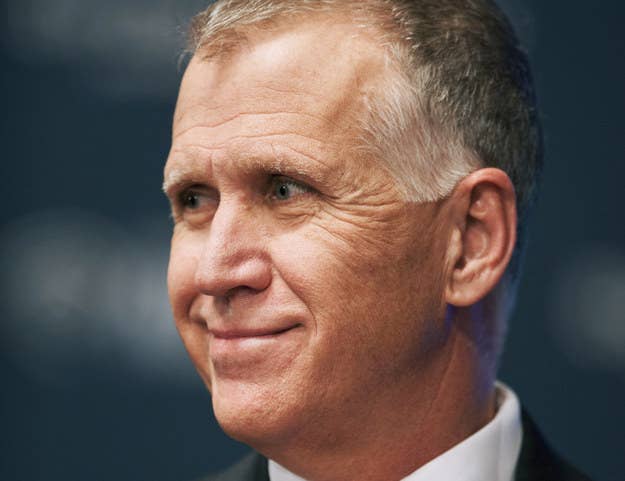 WASHINGTON — The Senate Republican primary in North Carolina tonight has been described as a test of the "Tea Party vs. Establishment" fight for the heart of the GOP.
But in North Carolina, state officials and long-time political strategists are pushing back against the idea that front-runner and state House Speaker Thom Tillis is really an "establishment" candidate and not sufficiently conservative enough.
"I think it's been a very convenient thing for journalists to write about," said North Carolina's Republican Sen. Richard Burr. "But the fact is Thom Tillis spans all different divisions within the Republican Party. From the polling I've seen he leads tea party voters, he leads conservative voters, and if anything this may be a narrative generated by others in the race. He is a practical legislator and maybe that's the difference."
Tillis, who has generally led in polling, has gotten enormous support from Karl Rove's group American Crossroads, the Chamber of Commerce, and Mitt Romney. The Tuesday primary will, however, lead to a July runoff election, if he fails to get to the magic 40% of the vote.
The notion that Tillis is just a part of the get-along establishment has baffled some in the state. When Tillis became speaker of the House, he passed sweeping conservative reforms to education, and blocked medication expansion in the state. He passed anti-abortion legislation and voting reforms that have enraged Democrats in the state, spurring large weekly protests known as "Moral Mondays."
"If it walks like a duck and quacks like a duck, it probably is a duck. He walks like a conservative, he's talked like a conservative, he is a conservative," said Dee Stewart, a longtime North Carolina Republican consultant. "No amount of hooting and hollering to the contrary can change the fact that he has the most consistently conservative voting record as anyone who has run for the Senate in a long time."
"They say he's part of the establishment, but what does that mean? It doesn't mean anything," he added, noting that Tillis "ran a conservative revolution in North Carolina."
The race pits him against Mark Harris, who has been endorsed by Gov. Mike Huckabee, and Greg Brannon, an obstetrician who has the backing of Sen. Rand Paul and several outside conservative groups. While Tea Party groups like FreedomWorks and the Tea Party Patriots have endorsed Brannon, state Republicans point to Tillis' work flipping the state legislature to Republican after more than a century of Democratic control.
Brannon, who has never run for elected office, has positioned himself as the true conservative in the race and Paul travelled to North Carolina on Monday to rally for Brannon calling him "a champion" and "a dragon slayer." Paul's basic argument for Brannon is that he's not a politician and someone who could come to Washington to shake things up.
"We've got enough of Democrat-lite up there. We've got enough people who don't stand for anything or won't change the system," Paul said. "The status quo is strong in Washington, Leviathan has grown too large. We cannot settle for any old politician anymore."
Brannon could and is still causing headaches for Republicans who see Tillis as their best shot at beating Democratic Sen. Kay Hagan in November. A recent poll shows Tillis right at the 40% threshold he'd need to avoid a costly runoff with Brannon, who's gaining momentum and came in at 28%. And it's unclear yet how much Paul's last minute pitch to voters will be able to move the needle. A spokesperson for Brannon did not return a request for comment.
In a moment of bipartisan agreement, Democrats agree that Tillis is deeply conservative. Of course, their argument is that he's far too conservative to win. The Democratic Senatorial Campaign Committee led a press release today with the headline "TILLIS HAS EMBRACED FRINGE AGENDA THAT WILL HURT HIM IN FALL" and linked to a lengthy Hagan campaign memo that argues Tillis will be "forced to defend his divisive and offensive remarks, his abysmal, anti-middle class record in Raleigh, his newest slew of fringe positions, and his heavy load of ethical baggage."
But as far as Republicans go, many say even if the narrative that Tillis isn't really a conservative is around right now, it can't be sustained.
"Tillis has been in touch with the grassroots for the last several years when he campaigned very hard for state house candidates in 2010 and helped a lot of conservative candidates get elected and ultimately won a super majority in the legislature that year," said Russell Peck, another GOP strategist in North Carolina. "He was a hard campaigner for a lot of these guys and worked with the grassroots and the party. That hard work he did during that time and kept in touch with after that time has really paid off."
"I just don't think that the momentum is there to say he's not a true conservative. It's hard for another candidate to try to say otherwise."
Kate Nocera is the DC Bureau Chief for BuzzFeed News. Nocera is a recipient of the National Press Foundation's 2014 Dirksen Award for distinguished reporting on Congress.

Contact Kate Nocera at kate.nocera@buzzfeed.com.

Got a confidential tip? Submit it here.