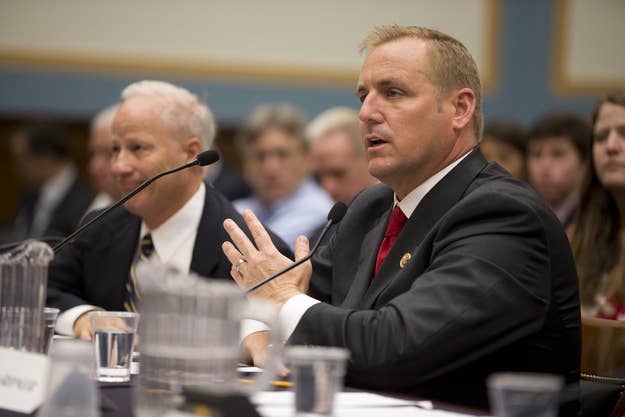 WASHINGTON — On a normal day it's hard to miss Jeff Denham on Capitol Hill. The California congressman towers over most other members at 6'5", and when he attempts to speak quietly to reporters in the Speaker's Lobby, even the most casual eavesdropper would have no trouble hearing his extraordinarily loud voice.
But after recently becoming the first Republican to sign on to an immigration bill sponsored by 185 Democrats, Denham is being heard well outside the halls of Congress. He can be found on television almost daily explaining why he broke with his party to support a bill — championed by Nancy Pelosi, no less — that would provide a pathway to citizenship for undocumented immigrants.
"I'm elected to be a leader. I needed to get out front on this issue and show not only my community but show the entire nation this is something that needs to get done," he said.
It's a calculated risk that could alienate him in the already polarized GOP conference, and one that could be seen as a blatant re-election move by his fellow Republicans. But there's at least one obvious reason Denham is breaking ranks with his party on this issue: Unlike most of his colleagues, he represents a significant number of Latino voters.
Denham is a rare breed in the House of Representatives, where the vast majority of Republicans have isolated themselves from the demographic sea change taking place in America by occupying carefully drawn, and overwhelmingly white districts. Forty percent of his district is Latino, and is he one of the only Republicans to occupy a district won by President Obama.
A perennial target of the Democratic Congressional Campaign Committee (DCCC), Denham is currently taking considerable heat back home for voting against the plan to reopen the government and raise the debt limit. His support for the immigration reform bill could help with his reelection, but he insists it has nothing to do with politics.
"I am not concerned about my re-election, I am concerned about doing the right thing," he said. "I think if you are a leader and you focus on solutions, people will re-elect you. I've taken some controversial positions and I've had to go back and explain to my district why I did that."
Rather, Denham points to his own family's experiences with immigration as the impetus to take up the cause of comprehensive reform: His wife is a first-generation Mexican-American and he helped his father-in-law become a citizen.
"This is something I've been working on for years. I've had life experiences that have helped me along," Denham said. "I served with a lot of immigrants who gained their citizenship through the military, but working with my father-in-law was a different perspective ... Seeing the process he went through was slow and cumbersome — as it should be — but it was very humbling to watch somebody that was in the later years of their lives and was proud to become a citizen struggling to take a citizenship test. I imagine there are members of Congress who would have a hard time taking a citizenship test."
Shortly after Denham signed on to the bill, Republicans Ileana Ros-Lehtinen and David Valadao joined him — giving immigration reform advocates new hope that the issue isn't quite dead yet. Denham's support earned a giant thank-you from America's Voice, a group pushing for comprehensive immigration reform, in the form of a banner flown over his hometown.
"It shows a lot of foresight and courage, and it's really appreciated," said Rep. Joe Garcia, a Florida Democrat who is the lead co-sponsor of the bill.
After the Senate passed its own version of comprehensive immigration reform back in June, the House approach has been to move very slowly, passing several piecemeal bills — none of which have made it to the floor. Congress has also been consumed by budget crises and a government shutdown that took much of the air out of a push for immigration reform.
"If one of those issues comes up that sucks up all of our attention, we need to not put this on the back burner," Denham said in an interview. "I want to elevate this issue as much as possible and make sure other members of Congress know this is something that needs to get done this year."
The DCCC has hammered Denham for some of his past statements on immigration, and they've argued his current support is nothing more than a conversion that's a result of his political vulnerability. A brutal web advertisement released in September charged that Denham "says he supports a pathway to citizenship but his extreme record says otherwise."
Among other things, they point to the fact that Denham had voted against California's version of the DREAM Act as a state senator and that he once said he "fully supported" Arizona's controversial immigration law.
In response to questions about his past positions, Denham said in an email that there has been "a patchwork of varying state laws put into effect because of Washington's failure to address immigration reform over the last three decades. The federal government has the responsibility of resolving our broken immigration system now."
Denham says that his goal now is to try to convince as many Republicans as he can to join him. He swears he has the word of House leadership that immigration will be taken up sometime before the end of the year, although House Speaker John Boehner has not committed to that publicly, saying only that he's "hopeful" the House will be able to do something.
And even if something were to come to the floor, it's unlikely that it would be a comprehensive bill like the one that Denham is pushing. A bloc of Republicans have said they'll oppose any bill that could lead the House to a conference with the Senate, and even more have said they won't consider any legalization without border security first.
That's not stopping Denham from trying to make his appeals, either publicly on television or privately during Republicans' weekly conference meetings.
"Right now we have a window," he said. "My concern is if it goes to January, we're going to have the CR and the debt ceiling and then it's going to be election season, and I think the American people deserve a full debate on this."
Denham for now seems optimistic that his message is not falling on deaf ears. He said there are members who are so deeply opposed to any kind of comprehensive immigration reform he "doesn't bother talking to them," but for the most part, people he's spoken to have at least kept an open mind.
"I have a friendly relationship with the majority of members of my caucus. A few people have ribbed me a little bit," he said. "I think most people understand not only why I've done this and how important it is to me, but it's opening up a much greater dialogue."