House GOP Leadership: No "Special Path" To Citizenship For Undocumented Immigrants, But Potential Legal Status
No special path to citizenship, but the draft principles state that the undocumented should eventually be able live here "legally and without fear." Support for the DREAMers.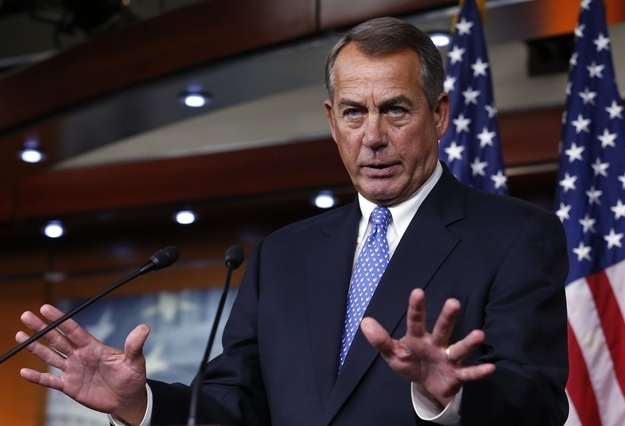 CAMBRIDGE, Md. — House Republicans introduced a set of immigration principles to their conference this afternoon that states there will be no "special path" to citizenship for undocumented immigrants, but addresses the possibility of legal status.
The principles also include support for citizenship and legal status for children "who were brought to this country as children through no fault of their own."
Immigration lawyer David Leopold posted the set of principles on his website, and a Republican Capitol Hill source confirmed the principles to BuzzFeed.
The principles stress that House Republicans remain opposed to a comprehensive immigration reform bill, like the one passed last year in the Senate. The principles states that there will be no "special path" to citizenship but people living in the country illegally will be able to do so "without fear."
"There will be no special path to citizenship for individuals who broke our nation's immigration laws – that would be unfair to those immigrants who have played by the rules and harmful to promoting the rule of law. Rather, these persons could live legally and without fear in the U.S., but only if they were willing to admit their culpability, pass rigorous background checks, pay significant fines and back taxes, develop proficiency in English and American civics, and be able to support themselves and their families (without access to public benefits)."
A majority of the Republican conference remains opposed to providing a pathway to citizenship for undocumented immigrants, but House Speaker John Boehner said earlier on Thursday that it's time for Congress to deal with the issue.
"This problem's been around for at least the last 15 years, it's been turned into a political football I think it's unfair," he said.
The GOP principles also state that border security must come first.
The timing of when, or even if Republicans will vote on immigration legislation is unclear.
Whether Congress will actually successfully take action on new immigration legislation — and when — remains unclear. Boehner pointed Thursday a significant difference in priorities between parties in the House.
"These standards are as far as we are willing to go," Boehner said Thursday, according to a source in the room. "Nancy Pelosi said yesterday that for her caucus, it is a special path to citizenship or nothing. If Democrats insist on that, then we are not going to get anywhere this year."
"Having said that, I believe these standards represent a fair, principled way for us to solve this issue, beginning with securing our borders and enforcing our laws," Boehner said.
The principles released Thursday are also a draft. Boehner told members Thursday, according to the source, "If you have good ideas for improving these standards, we want to hear it. The rest of the leaders and I want your feedback."
NRCC chairman Greg Walden predicted any vote wouldn't come for quite a few months.
"My hunch is it doesn't come up tomorrow. It's probably months out, I don't know. But the point would be most of the primaries would've faded by then, anyway. By the time you get to June, most of them are behind you," he told reporters Thursday.
New York Sen. Chuck Schumer was the first Democrat out with a statement on the principles.
"While these standards are certainly not everything we would agree with, they leave a real possibility that Democrats and Republicans, in both the House and Senate, can in some way come together and pass immigration reform that both sides can accept," Schumer said. "It is a long, hard road but the door is open."