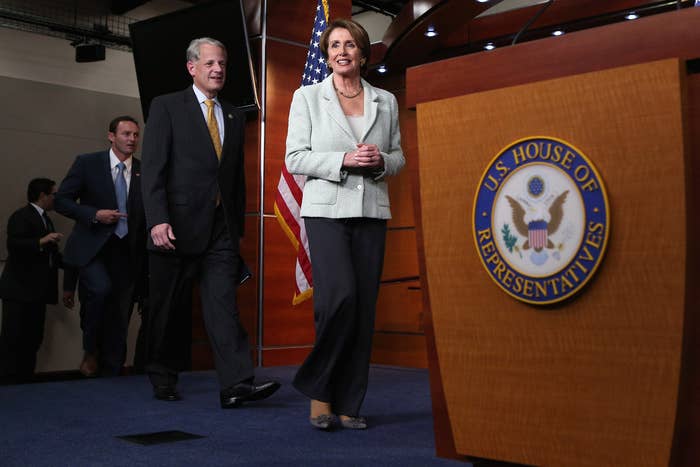 WASHINGTON — The Democratic campaign arm in the House may be having a good fundraising year, but that's not stopping them from trying to shake down their members for more contributions.
The Democratic Congressional Campaign Committee sent a full spreadsheet to every caucus member, forwarded to BuzzFeed by a source, detailing the amount of money — or dues — the committee expects each member to pay and how much they have actually paid. It also details the amount of fundraising each member is expected to do for the committee.
Several high-ranking Democrats on powerful committees fell well below their dues and fundraising goals. Rep. Henry Waxman, a ranking member of the Energy and Commerce Committee who has recently announced his retirement, has a dues goal of $500,000 for the cycle and has only given $10,000. Maxine Waters, who serves as ranking member on the Financial Services Committee, has given $35,000 of a $500,000 dues goal. Both members have fundraising targets of $1,000,000 but have only raised $45,000 and $69,000 respectively.
Two other ranking members, Peter DeFazio and Robert Brady fell well below their dues goals. DeFazio gave $32,500 and Brady has so far given $0.
According to the spreadsheet, 58 members have given less than $5,000 to the committee — 20 members have given nothing at all this cycle. Every vulnerable member of the caucus, identified by the committee as "frontline members" has given $2,000 or less.
Attached with the spreadsheet was a note from DCCC chairman Steve Israel and Minority Leader Nancy Pelosi touting the committee's fundraising prowess and participation from the caucus. A DCCC spokeswoman declined to comment.
"We out-raised the NRCC by $15 million in 2013, and raised more than any other Democratic party committee," they wrote. "You were a huge factor in our success. More than 89 percent of Caucus has contributed including 100 percent of our freshman, and this high level of participation shows that we stand united and that we are committed to our efforts to expanding our Caucus."
Pelosi raised more than $31 million for the committee this year and Israel raked in almost $12 million.
Dues goals range from $800,000 for members of the leadership team to $125,000 for rank and file members.
See the full document below.