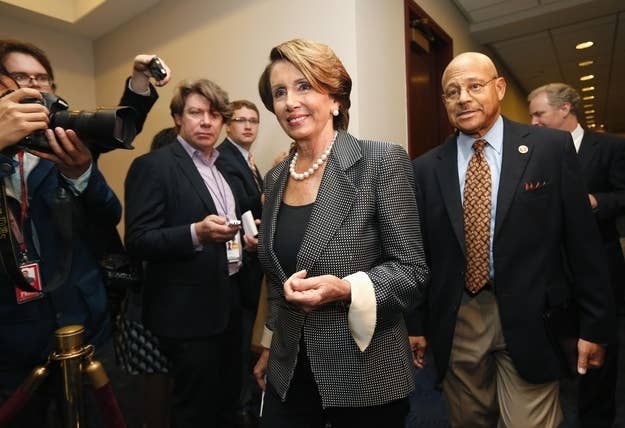 WASHINGTON — Frustrated with the deep problems that have plagued the rollout of Obamacare, House Democrats are for now standing by the administration and remain hopeful the White House can get the program up to speed in short order.
In a closed-door caucus meeting, Democrats were briefed by HHS officials hoping to assuage some of the concerns about the HealthCare.gov website, which has been riddled with problems for people trying to enroll in insurance since its launch on Oct. 1. Officials told Democrats they were working on fixing the technical issues as soon as possible, but did not give any specific deadline as to when that work would be completed.
"We've got technological problems. I wont even call them glitches, but we have a major team working on it. The administration recognizes the seriousness of it. We feel comfortable about fixing it," said Texas Rep. Sheila Jackson Lee. "The good news is that everyone in there was extremely upbeat."
Massachusetts Rep. Jim McGovern echoed those comments, saying that the meeting was "encouraging."
"They're working on the problems, people are enrolling, and that's a good thing," he said.
Republicans have pounced on the problems with the Obamacare rollout. Many have said that HHS Secretary Kathleen Sebelius should step down because of the problems, and Majority Leader Eric Cantor said on Wednesday the rollout had been "nothing short of a debacle."
Democrats have a lot riding on the successful implementation of the law, after spending years defending it against Republican attacks. Sen. Jeanne Shaheen, a New Hampshire Democrat, asked the White House on Wednesday to extend the open enrollment period for people because of the glitches in the website.
Minority Leader Nancy Pelosi rejected that idea, or the notion that a delay to the individual mandate would ultimately be necessary. Pelosi called the problems with the website "unacceptable" and "unfortunate" but was confident the law could get back on track.
"We did not work very hard, and many of us dedicate our — our public service to a website, it was to an initiative for affordable, quality health care for all Americans as a right, not a privilege, and that is what this initiative is about," she said. "The fact that the website has, I think, beyond glitches, but whatever you want to call them, is disappointing, but it does not take away from the fact that — that we're on a path."
Asked if someone should be held accountable for the problems with HealthCare.gov, Pelosi wouldn't answer except to say the issues needed to be fixed as soon as possible.
"Well, I think somebody should fix it … I'm a big believer — coming from where I do, in California, have great confidence in technology and its ability to bring fresh eyes to the subject and fix it so that we can go forward. Fix it. Just fix it," she said.
Pelosi said that none of her members asked about delaying the individual mandate.
Not everyone was so upbeat leaving the meeting. Rep. Patrick Murphy, who hails from a swing district in Florida, said that there were still a lot of questions that needed answering.
"This is something we need to look into to find out why and how this happened. Needless to say, it should have never gotten to this. People were obviously going to be going to the website. I don't know why it has ever gotten to this point," he said. "They were confident they can get it fixed, but everyone is still hesitant considering how much time they had to get it ready and it wasn't ready."