House Conservatives Look To Mount More Serious Leadership Challenge In November
Kevin McCarthy will likely win House majority leader tomorrow, to the frustration of House conservatives. They say they'll use the next couple months to get organized.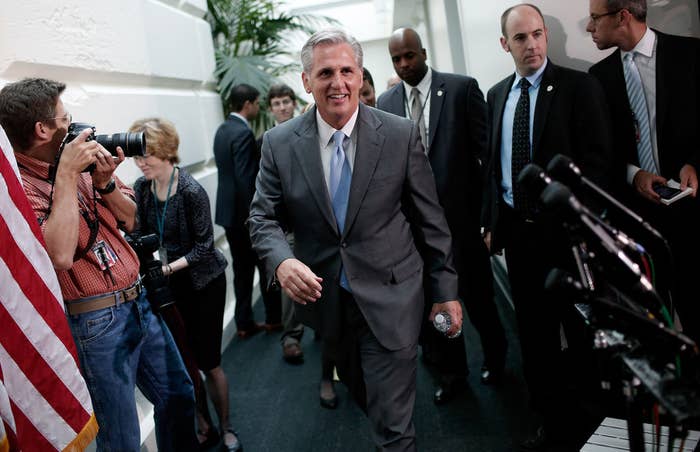 WASHINGTON — On Thursday, House Republicans will vote on leadership positions. In November, they'll do it again.
And House conservatives say next time around, they'll have a real challenge ready.
Conservatives looking for an opportunity to unseat the Republican leadership were dealt a surprise opportunity to ascend the party ranks after Eric Cantor's loss. But the hasty election left lawmakers with little time. Reps. Jim Jordan and Jeb Hensarling declined to run for majority leader, and Rep. Raúl Labrador, who stepped in as an alternative, struggled to shore up support. Californian Majority Whip Kevin McCarthy will likely sail to victory.
That won't be the case next time, several lawmakers told BuzzFeed, saying there would be more concerted effort over the next several months to challenge McCarthy in November's leadership election.
They argue there is enough time between now and November to properly sway members and convince someone else to step up and run.
"As quickly as they moved, it was hard for anybody outside of the Capitol to influence it," said Rep. Tim Huelskamp, a sharp critic of the current leadership team. "If the end result is just a promotion within the dynasty, that won't be good enough for the base of the Republican Party. Conservative groups won't be happy with that and it's as if we didn't listen at all."
"But it builds the case that we'll need new leadership in the fall. I don't think it solidifies anything for the fall, even if McCarthy gets his automatic promotion," he added. "Partly it's about time, but partly it's about understanding that race wasn't just about Eric Cantor, it was about the entire leadership team. The defeat of Eric, the insiders just don't get it."
Outside forces have largely stayed out of the leadership races. One exception is the conservative group FreedomWorks, which is backing Labrador for majority leader but has stayed out of the more contested whip race, telling BuzzFeed they were also looking towards November to plan for a shake-up then.
South Carolina Rep. Mark Sanford, who would not say who he was supporting in the leadership race, believes the unique circumstances of Thursday's leadership election would inspire conservatives to run a more serious challenge in a few months.
"Given the one week duration of this race, there's really not a credible way of mounting a really serious challenger campaign because you have to engage the outside forces and do all the other nuts and bolts of politics which is really difficult to do in a week," he said. "I'd say if conservatives are frustrated in November, I would argue there's a much greater shot of making a change at that point because you'd have time in which to do so."
But there are some perils in the November strategy: On the Hill, incumbency and power both matter — the leadership controls all-important committee assignments. And McCarthy would have both heading into the fall.
Other conservatives are more frustrated, calling the opening their best opportunity to put one of their own in the high-ranking spot.
"If people didn't want to step up for this leadership race, they're not going to step up then," said Rep. Justin Amash, who is supporting Labrador. "If you're a person that believes we need a new direction this was the best opportunity to run. [November] is a whole new ballgame and if we essentially stick to the same leadership team by re-electing them tomorrow then they hold all the cards in terms of persuading new members with promises of committee spots and chairmanships. This is the time when none of that is possible."
A second leadership election — the vote for the next whip — will also take place on Thursday, pitting current deputy whip Peter Roskam against Reps. Steve Scalise and Marlin Stutzman. The outcome of that race is less clear, and Scalise, the current chairman of the conservative Republican Study Committee, is making the pitch that the whip's race is the best opportunity to put a conservative at the leadership table.
Labrador only say that he was focused on Thursday's race but acknowledged to BuzzFeed that others were looking towards the November race as the next best opportunity to shake things up. However, he had previously told the Washington Post he too was frustrated that Hensarling or Jordan hadn't jumped in.
"That's been the most difficult thing. We had an opportunity, but everybody here plays it so safe. They're only willing to take a risk if victory is assured," he said. "I spent three days trying to get Jim and Jeb to run."
Kate Nocera is the DC Bureau Chief for BuzzFeed News. Nocera is a recipient of the National Press Foundation's 2014 Dirksen Award for distinguished reporting on Congress.

Contact Kate Nocera at kate.nocera@buzzfeed.com.

Got a confidential tip? Submit it here.