From Food Stamps To Milk Subsidies, Farm Bill Stretching The Limits Of Ideological Purity
Small government conservatives and social welfare liberals abandon their hardline positions when homestate interests are on the line.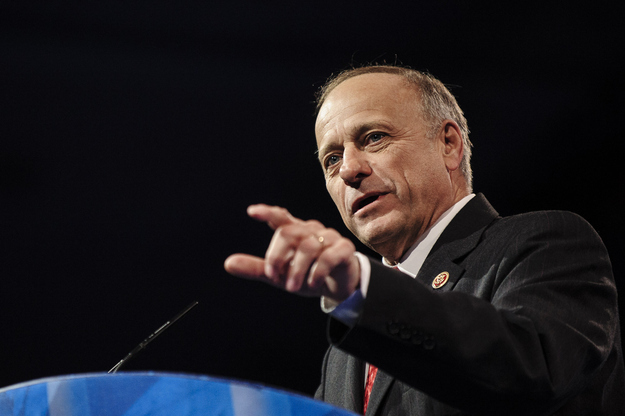 WASHINGTON — Most days, conservative Rep. Steve King is as ideologically rigid as they come: He hates Obamacare, frets over the "tyranny" of the IRS, and insists imposing massive spending cuts is the only way to preserve liberty.
But when it comes to the farm bill — the omnibus measure loathed by conservatives that funds everything from crop insurance to food stamps — King not only supports the multi-billion dollar legislation, he's actively helping round up conservative votes for it.
"I think doing nothing is worse than voting for it. Most conservatives I've spoken with have gone from a hard no to a lean no or looking for a way to get to yes," the Iowa Republican said this week. That flexibility is all the more remarkable since it comes from one of the most strident opponents to compromise on issues ranging from immigration to the debt ceiling.
King cites the $20.5 billion reduction in the Supplemental Nutrition Assistance Program as a major reason for his support.
"I want conservatives to know, and I want Democrats to know that if we are going to get reform, we have to pass something," King said. "This is a balance that has been pulled together by [Agriculture] Chairman Frank Lucas, whose judgment is excellent on this, he has been a maestro in working this through. If we don't succeed in passing a farm bill, then it will be a disaster, a debacle."
But King's decision to find the virtue in flexibility isn't just about food stamp cuts. King hails from Iowa's Fourth District, and a massive part of his state is dominated by the agricultural industry.
Farm bills have provided states with billions of dollars over the years in subsidies and King's Iowa ranks 2nd out of 50 states for such subsidies for 1995-2012 according to the Environmental Working Group. And King's district is considered very rural — even by Iowa standards.
So far, it's unclear how many votes King has been able to round up for the bill. Many House conservatives are holding their fire on the bill, waiting to see if any of the hundreds of amendments will change the bill in a way that can earn their support.
Members will try to add additional cuts or structural changes to the bill, but the fact that food stamps remain a large portion of the bill makes it nearly impossible for them to support.
"I told Frank [Lucas] I'd vote for just about anything in the farm bill if we got rid of the nutrition part of it. If we broke that unholy alliance between Ag and nutrition once and for all, then I could vote for just about every subsidy in the book they could think of if they could make some real structural long term changes," said South Carolina Rep. Mick Mulvaney.
"I don't know how a two percent reduction [in food stamps] is going to be cheered as an overwhelming success. I just don't get it. The price for me is just too high,' Mulvaney added.
But King is not the only member with a reputation for ideological purity that's suddenly not so pure.
On the Democratic side Rep. Peter Welch, a leading voice for progressives in the House Democratic conference, finds himself on the other side of Speaker Nancy Pelosi and other liberal members who are outraged by the cuts to food stamps.
Pelosi told Politico on Tuesday she was "not likely" to vote for the House bill because of the food stamp cuts.
"It's so unacceptable. It should not stand," she said.
Welch says he's outraged too, but the Congressman said that if the final bill manages to come through a long amendment process without further cuts or drastic changes to certain subsidy programs, he'd most likely support it and hoped that other members would as well, hoping that the "unacceptable" cuts would be restored by Democratic Senators during a conference committee.
"At the end of the day members are going to have to decide whether to put some faith in the Senate for food stamp funding," he said.
But like King, the food stamp fight isn't the only reason Welch is fighting for a bill many of his ideologically like-minded colleagues opposed.
For Welch, there's the issue of subsidies for the dairy industry, which is critical to his home state of Vermont.
"There's a lot of extremely important things in the that farm bill, dairy among them. There are bad things in it, but there's significant conservation, local agriculture, environmental, organic provisions ... all heading in the direction we should be going and we don't want to throw that overboard. I want to support it."
Asked if he felt that the bill was addressing only parochial concerns of farm-state members of congress, Welch said yes, but that was the point.
"That's the nature of the farm bill. The obligation of congress is to merge and unify and work out the regional and sectional conflicts. There's a lot of folks here who have no clue about dairy and don't need to, on the other hand dairy is important. There's a lot of folks who live in districts where food stamps aren't an issue, but food stamps are an issue for many Americans."