Fox News Involvement May Spark Republican Outrage Over Media Spying
"Maybe now that Fox is involved, more [Republicans] will pay attention," Graham said.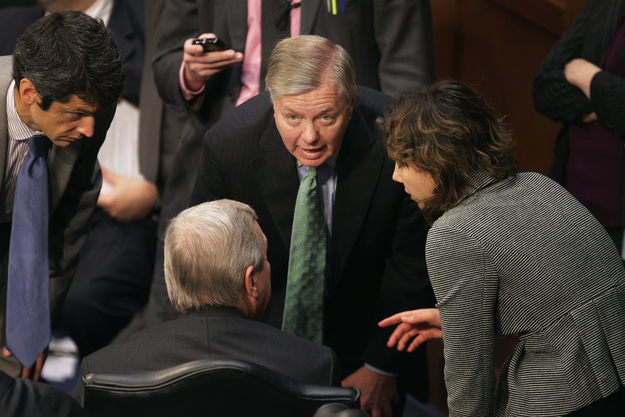 WASHINGTON — Sen. Lindsey Graham is hopeful revelations that the government spied on Fox News reporter James Rosen will finally draw Republicans into the fight with the Obama administration over its targeting of journalists as part of the White House's war against leaks, the South Carolina Republican told BuzzFeed Monday.
The Department of Justice has targeted at least two news organizations — Fox and the Associated Press — as part of Obama's crackdown on executive branch leaks. Although Senate Majority Leader Harry Reid and some Democrats have expressed outrage so far, Senate Republicans have been timid in their response.
"Maybe now that Fox is involved, more [Republicans] will pay attention, but it didn't make a difference to me," Graham said.
The affidavit against Rosen, reported on Monday by the Washington Post, stunned Graham, who is co-sponsoring a media shield law with Sen. Chuck Schumer in response to the DOJ's investigation into the AP.
Pointing to DOJ claims that Rosen was a "co-conspirator" in a crime for working to obtain classified documents, Graham said, "I was shocked — when I think of Rosen I don't think of a co-conspirator. From what I can tell, Jim was just gathering the news. This is getting out of hand."
"Our bill has a national security exception; I think it's just a little more scrutiny to protect people in your business ... The media shield law has more resonance now than ever," Graham added.
Graham may have his work cut out for him: There wasn't much anger over the case to be found on Capitol Hill Monday as lawmakers returned from the weekend. In fact, Sen. Marco Rubio published the only statement on the story as of Monday night, according to a Legistorm database. However, since the first day of the week is a travel day for lawmakers, increased attention could come soon.
"I am very concerned by reports the Obama administration targeted a FOX News reporter for possible criminal prosecution for doing what appears to be normal news-gathering protected by the First Amendment," Rubio said. "The sort of reporting by James Rosen detailed in the report is the same sort of reporting that helped Mr. Rosen aggressively pursue questions about the administration's handling of Benghazi."
Rubio has not taken a stance on the shield law legislation.
Many Senate Republicans, while suggesting that perhaps the DOJ was too broad in its probe of the AP, have stopped short of calling it a scandal. The fear in rushing to judgment, according to GOP members and aides, is that too many on their side of the aisle have called for investigations into leaks coming from the Obama administration.
Others have condemned the DOJ's actions but wouldn't support a new shield law.
"As a former newspaper man, I'm totally outraged," said Kansas Sen. Pat Roberts of the DOJ's affidavit against Rosen. "We don't need a shield law, the First Amendment is the shield law."
According to the 2009 affidavit, the DOJ tracked Rosen's comings and goings at the State Department, seized emails and phone records, and said that Rosen was "an aider and abettor and/or co-conspirator in the crime" for attempting to get classified documents from a source at the State Department. Rosen was never charged.
White House Spokesman Jay Carney told reporters that he would not comment on any specific case, but that the president was a "strong defender" of the First Amendment, though "we need to make sure that leaks are not tolerated." Carney has said the president would support the Graham-Schumer bill.
Meanwhile, the issue could be gaining some traction in the House, where conservatives and liberal Democrats are banding together: Rep. Mick Mulvaney, a South Carolina conservative, has introduced a bipartisan bill that would prevent federal agencies from seizing phone records without a court order. Republican Justin Amash along with Democrats Zoe Lofgren and Jared Polis co-sponsored the legislation.
"Everybody is satisfied that what the Justice Department did was legal, and therein lies the problem," he said. "Just because it's legal doesn't mean it's right. And to the extent that the law can be improved to grant additional protections, then we'll do that."