Eric Cantor Is Stepping Down As Majority Leader And Everything In D.C. Is A Huge Mess
Disruption and destruction. McCarthy will run for majority leader, Roskam will run for whip.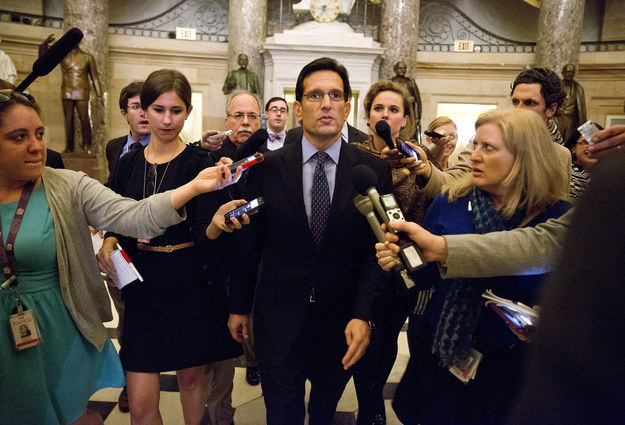 Following his stunning primary defeat Tuesday, Eric Cantor will step down as House majority leader at the end of July.
The resignation from his post as the second-ranking Republican in the House will trigger a race to replace him — in the middle of an election year. The race will come as Speaker John Boehner's hold over the Republican conference is improved over previous years but tenuous at best.
Majority Whip Kevin McCarthy is expected to run for the majority leader position, and others may enter the race as well. Rep. Peter Roskam will run for majority whip, per a source close to him.
Rep. Darrell Issa said Wednesday that he has "no doubt" Cantor will support McCarthy. "You can count on it," he said.
For his part McCarthy declined to comment on his status and Cantor's, repeating that there would be an announcement this afternoon.
The disruption of the Cantor loss and resignation is clear on Capitol Hill, though lawmakers leaving a meeting in Boehner's office insisted things would be fine.
"We'll get through this like we get through everything," Rep. Paul Ryan said. "I think it's unfortunate that he lost and very disappointed at the outcome and it's premature to speculate on anything else."
"We've been through a leadership change like this before when Tom Delay stepped down," said Rep. Randy Neugebauer. "What we learned is that Republicans have a deep bench and we'll have people that will step up. Our conference will select someone to fill that spot and we'll move on."
"The good news is we have a deep bench," he said.