Elizabeth Warren Was Mostly Absent In The Left's Fight Against Larry Summers
The liberal icon mostly stayed out of the fray over the potential nomination of Larry Summers for Fed chair. "She is evidenced based and thinks carefully about the policy. That's why she is such a star," said NOW president Terry O'Neill.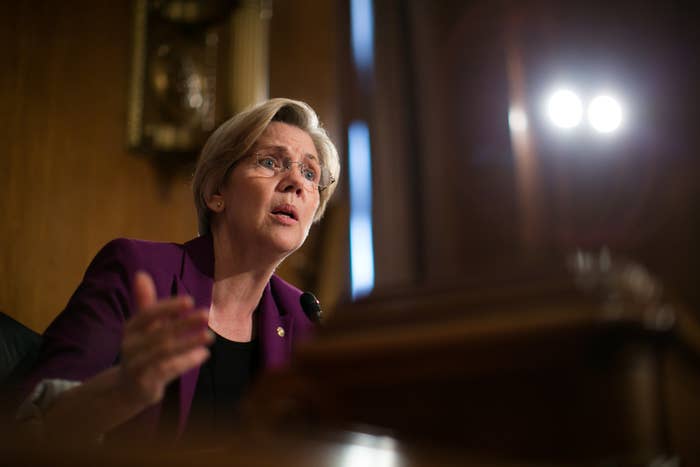 WASHINGTON — There are few senators who can fire up the liberal base more than Elizabeth Warren, a progressive icon who has happily assumed the mantle of the Senate's consumer champion and Wall Street watchdog.
So, when Larry Summers, a man many liberals view as far too cozy with the big banks, was floated as the potential successor to Federal Reserve Chairman Ben Bernanke this summer, many expected Warren to lead the charge against him. And when Summers eventually withdrew his name from consideration last week, Warren got credit at home with a triumphant Boston Herald headline: "Elizabeth Warren bounces Larry Summers as stock continues to rise."
But sources familiar with Summers' defeat — a development progressives celebrated as a major victory — said Warren had little to do with it. Far from leading the charge, the Democratic senator from Massachusetts hung back and let more senior members of the banking committee go out on a limb to campaign against the potential nominee.
Warren declined to publicly take a position on Summers, even as her colleagues began to openly oppose him. And while she was one of 20 senators who in July signed a letter urging President Obama to nominate Janet Yellen for Fed chair, she did so with little fanfare, and only after Ohio Sen. Sherrod Brown began circulating it. She stayed away from cable news, where one of her trademark liberal sermons could have galvanized the left, and she did very little behind-the-scenes arm-twisting. The closest she came to lobbying against Summers was reportedly telling the White House she had "serious concerns" about him.
That's not to say Warren didn't have any impact: Her spot on the banking committee ensured that she would have a key vote against Summers, as several other Democratic senators on the committee had already publicly signaled their opposition. But for a senator who has been cast as the left's favorite champion for the middle class in Washington, Warren's relatively subdued role in bringing down Summers was surprising.
After Summers begrudgingly withdrew his name for consideration, Warren didn't celebrate or gloat. While noting she likely would have opposed his nomination, she praised him as a "brilliant economist."
"I don't think it's any secret that Larry is not my first choice. He's a brilliant economist who has made terrific contributions to the field of economics. I have no doubt that he's going to continue to do that in the future," she said on MSNBC Monday.
That's a far cry from some of the statements that came from progressive groups — and some of Warren's biggest cheerleaders — after Summers withdrew. Progressive Change Campaign Committee co-founder Adam Green said Summers would have been "an awful Fed chair" who "accepted millions in payments from Wall Street." The National Organization for Women, who has forcefully pushed for Yellen's nomination, had previously said Summers "can't be trusted to understand the everyday economic problems women face."
"She's been really good at picking and choosing her spots and fight for increased oversight so it's a bit surprising she took such a low-key approach when it comes to the Summers nomination," said Democratic strategist Jim Manley. "It seemed like a natural fit for her."
But the quiet approach has been part of Warren's larger strategy since she arrived on the Hill eight months ago. She's careful to only weigh in on the issues that matter most to her, and she refuses to stop and field questions from reporters in the hallways of the Capitol. Warren's office did not respond to BuzzFeed's request for comment.
NOW President Terry O'Neill said that even Warren's quiet engagement on Summers — like signing the letter supporting Yellen — made a big impact. O'Neill said she was thrilled with Warren's work on the issue.
"I'm not an elected official, I don't have to compromise and I don't. But elected officials have a different role to play," O'Neill said in an interview. "[Warren] is really intent on achieving goals, it's not how you look while you are doing it but and what are the means of achieving a goal."
"I think she is incredibly well respected and part of the reason she is so well respected is that she is evidenced based and thinks carefully about the policy. That's why she is such a star," O'Neill added.
Warren told Bloomberg TV that letting senators think thoughtfully about who should or should not be the next chair of the fed was an important part of the process.
"I don't think this has been a circus. I think what this has been has been thinking through the importance of the federal reserve chair position and who best fits that," she said. "People have raised legitimate questions, had good and thoughtful conversations, and that's where it's gone and that's the right thing to do."
Kate Nocera is the DC Bureau Chief for BuzzFeed News. Nocera is a recipient of the National Press Foundation's 2014 Dirksen Award for distinguished reporting on Congress.

Contact Kate Nocera at kate.nocera@buzzfeed.com.

Got a confidential tip? Submit it here.