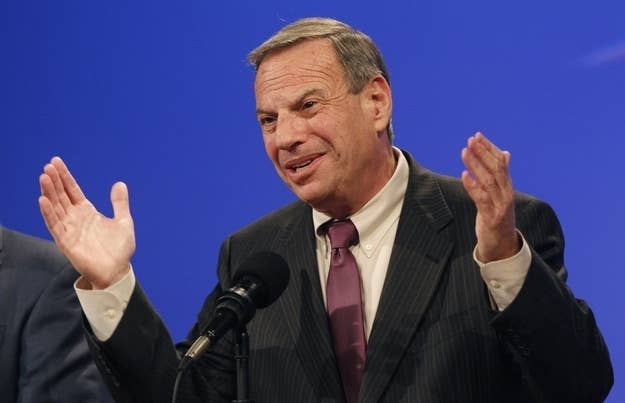 WASHINGTON — If you ask five Democratic women about San Diego Mayor Bob Filner, accused of multiple instances of sexual harassment, you'll get five different answers.
It's a stark contrast with how it sounds when an elected Republican says or does something offensive — then Democratic women speak as one.
The "war on women" has been a charge Democrats have been making against the GOP, as the Republican House and state legislatures have taken up bills restricting abortion rights, causing many Republican men to make some notable and cringe-worthy soundbites.
When talk show host Rush Limbaugh called Sandra Fluke a "slut" for her advocacy on no co-pay birth control, Democrats from President Obama on down roundly condemned him. Former Rep. Todd Akin's now infamous remark that pregnancies from "legitimate rape" were rare became a point of debate in elections across the country in 2012.
But a string of Democrats, like Filner, either finding themselves mired in controversies of their own or trying to rebuild political careers across the country, are not finding themselves under the same kinds of attacks that Republicans have in the past.
Democrats aren't rushing to the defense of Filner, who served with many of them during his almost 20 years in the House, but they have largely avoided talking about him all together.
"The people will take care of it and I just should stay out," Sen. Dianne Feinstein, D-Calif., said. "I think everybody knows the sensitivity around sexual harassment. It's very serious and I think men have to learn. He said he's asked for help. To the extent that he can get help and still be mayor, I don't know, I can't comment on that."
Filner has been accused of sexually harassing coworkers and constituents, including charges that he forcibly kissed at least two women and told a woman she would do a better job "without your panties on." Filner has denied harassment claims and said he will not resign but did apologize for having "failed to fully respect the women who work for me and with me, and that at times I have intimidated them." On Friday, the San Diego Democratic Party declined to ask Filner to step down.
Meanwhile across the country, disgraced Gov. Eliot Spitzer, who stepped down after news broke he frequented prostitutes, is attempting to launch a political comeback by running for New York City comptroller. And of course Anthony Weiner, who resigned from Congress after sending lewd messages to women on Twitter, has been doing remarkably well in the New York mayoral race.
But Democratic women from New York have likewise remained remarkably mum on the two candidacies.
New York Rep. Carolyn Maloney sarcastically said, "That's an excellent question, I'll get back to you," when asked if she thought Weiner and Spitzer hurt the Democrats' messaging with women.
"No seriously, excellent question," she said, rolling her eyes.
That's not to say they won't be throwing their political weight behind Spitzer and Weiner's opponents. Sen. Kirsten Gillibrand on Monday endorsed Spitzer's opponent Scott Stringer for the comptroller job.
"Scott will fight hard for middle class families and has the temperament and judgment to be extraordinarily successful," Gillibrand said in a statement. But Gillibrand made no mention — direct or otherwise — to Spitzer's past patronage of prostitutes.
A spokeswoman for Emily's List, a group that works to elect women supportive of abortion rights, argued the difference between Filner's — or Weiner's or Spitzer's for that matter — behavior and that of Republican gaffe-prone men has to do with the legislative priorities of the GOP.
"The difference is that Republicans' words and personal actions are backed up by an actual party legislative agenda that hurts women — this stuff goes from infuriating and outrageous to genuinely frightening when they're trying to back it up with real live laws that roll back the clock to a time when women were treated as second class citizens," Emily's List Communications Director Jess McIntosh said. "Akin only mattered because Republicans had already tried to redefine rape in legislation — the Republicans gaffing all over the place when it comes to women are not outliers. They are reflective of their party's actual agenda."
Top California Democratic women — from Sen. Barbara Boxer to Minority Leader Nancy Pelosi — have hedged on explicitly calling on Filner to step down but made their disapproval with his behavior clear.
Pelosi told a reporter on Thursday to not identify Filner "as my former colleague" and said at her weekly press conference, "What goes on in San Diego is up to the people of San Diego…my colleagues who do represent San Diego have made their statements on the subject."
Boxer, who led the charge in the Senate against Republican Sen. Bob Packwood in the 1990s when he was accused of repeated sexual harassment, told BuzzFeed that the accusations against Filner "shocked" her and said that resignation "certainly should be on his plate, and he ought to consider it."
"I've watched him support all of these pro-family, pro-women policies so I was totally shocked," she said.
Rep. Maxine Waters said she "couldn't believe" the news about Filner and said there was no indication to her he behaved that way in Congress.
"I don't want to comment further," she said. "From what I've read in the news, it's crazy but I don't know much more than that."
Sue Davis, the representative in the House from San Diego, has called on Filner to step down.
"His behavior, if not illegal, is reprehensible," she said in a statement.
Liz Mair, a Republican strategist, says the fact that more Democratic women haven't called for Filner's resignation is telling.
"The relative silence has certainly been informative and shows that for many liberal 'women's rights advocates' (I use the quotation marks deliberately to denote those whose behavior shows they only engage in such advocacy selectively), politics reign over principles," she said in an email. "If this were a Republican, a lot of people who are saying little would be screaming from the rooftops and using the allegations to trash not just him, but in fact an entire political party, as grade-A misogynist."
CORRECTION: An earlier version of this post misstated the amount of time Bob Filner served in the House of Representatives. He served for almost 20 years. (7/22/13)