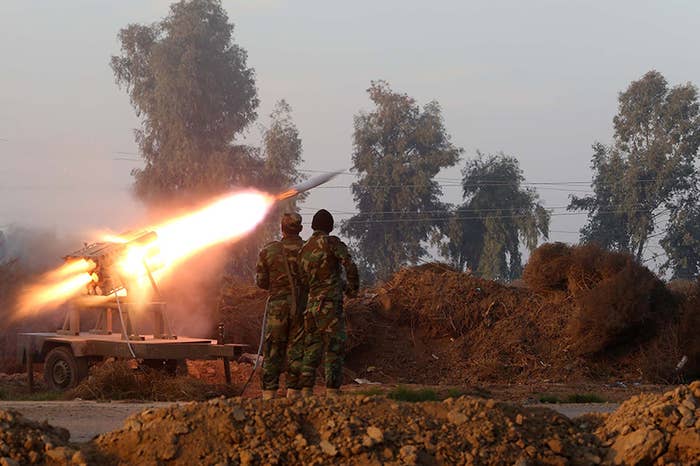 WASHINGTON — President Obama called on Congress to approve "a resolution to authorize the use of force against" ISIS in his State of the Union address — but what that will look like or even who will write the new authorization remains a mystery to most lawmakers.
Following the president's speech, lawmakers from both parties expressed disappointment and confusion that President Obama did not say Tuesday that his administration will take the lead on language approving the U.S. military mission.
"I am disappointed [Obama] did not signal an intention to send a draft to Congress for consideration," said Democratic Sen. Tim Kaine in a statement. "I was pleased the Senate Foreign Relations Committee acted last month. But Congress as a whole will be better prepared to act with specific guidance from the administration on the language of an AUMF. I hope that guidance is forthcoming soon."
Sen. Ron Johnson, a Republican who sits on the Foreign Relations committee, told BuzzFeed News that the AUMF mention left him "totally confused."
"The president needs to define what he means by 'defeat'…He has to lay out what he needs to accomplish defeat and then he has to lay out the strategy and send us some language," Johnson said. "We need some leadership out of the commander-in-chief and he's provided none."
Currently, the United States is fighting ISIS in Iraq and Syria without a new, specific use of force resolution; the administration has been relying on the AUMFs of 2001 and 2002. Republicans have called on the president to draft his own language for the mission and send it to Congress.
Democrats passed their own resolution out of the Senate Foreign Relations Committee in the last Congress but it never came to the floor.
Republican Sen. Bob Corker, the chairman of the Senate Foreign Relations Committee, and members of Republican leadership have said that they expected the White House to send language to Congress "in a few weeks" but lawmakers are still unclear if that is actually going to happen.
The administration has said they generally like the framework included in the draft AUMF written by Democratic Sen. Bob Menendez when he was chairman of the Foreign Relations Committee and they would like to have authorization but did not necessarily need it.
If members were hoping that the State of the Union speech would clear up confusion about what the president was asking for, they were mistaken.
"It was unclear in the speech," said Republican Sen. Rob Portman. "But I heard from my colleagues that he's planning on sending something which is important because we need to know what he wants."
White House aides said the president intends to thread the needle between lawmakers who aides say want Obama to deliver a fully-written AUMF to Congress and others who want input on what the language will be as its being drafted. The official White House readout of the president's meeting with Congressional leaders on Jan. 13 committed Obama "to working with members of both parties on text for an AUMF that Congress can pass to show the world America stands united against ISIL." On Tuesday, White House officials said that meant "potentially our own language" but also stressed that discussions with Congress will be ongoing while the AUMF is drafted.
"You should expect us to be proactive with the Congress in the coming weeks with our own concepts and our own language for the AUMF but we want to hold open the door to that being an ongoing consultative process," an official said.
Some Republicans were cautiously optimistic about the possibility of getting an AUMF done this Congress.
"I think it's something we can work with him on," said Rep. Patrick McHenry. "But he needs to send something down. That is traditionally what Democratic and Republican presidents have done. That is the hope. "
Evan McMorris-Santoro contributed reporting.