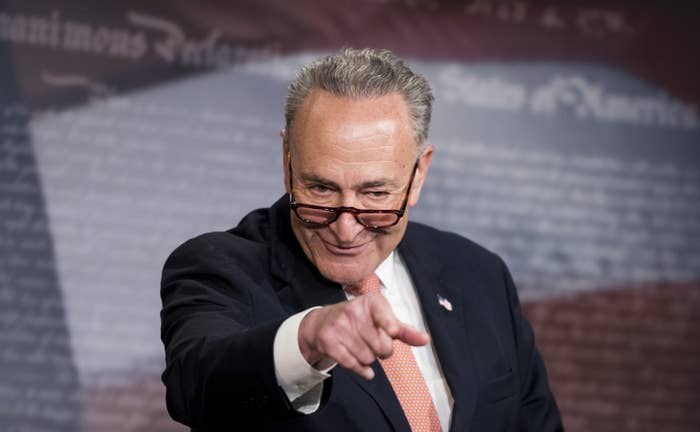 The mayor of New York should refuse to pay for Donald Trump's security, the top Democrat in Washington suggested in an interview on Friday.
"[Mayor Bill de Blasio] ought to tell the Congress if we don't pay for it, New York City cops aren't guarding it, and let the Feds put more people in," Senator Chuck Schumer said in an interview with BuzzFeed News. "That's what I think he should do."
It was a typically confrontational suggestion from the New York senator and Senate minority leader, who is ex officio the leader of the official resistance to Donald Trump.
Speaking in his ornate office in the Capitol building Friday as Washington assesses Trump's first 100 days, Schumer had nothing good to say about his former donor and constituent. The Trump Administration has been "a huge disappointment to most Americans" and demonstrated "sheer incompetence," he said.
To Trump's remark that he thought the presidency "would be easier" than his previous career, Schumer said: "Good morning! Mr. President, you're in the big leagues now. Of course it's going to take a lot of work, it's probably the hardest job in the world."
Despite the back-and-forth barbs — Trump was, for a time, referring to him as "fake tears Chuck Schumer" — the Democratic leader and the president are talking again. Still, it is not, Schumer said, a close relationship, nor are they speaking frequently. Trump does not call Schumer on his cellphone or even his office directly, but instead White House aides connect them by calling the Capitol switchboard.
"When I talk to him, I try to talk to him about serious issues and he just changes the subject."
"When I talk to him, I try to talk to him about serious issues and he just changes the subject," Schumer said. "I told him we want to work with him where we can work with him, we want to work with him on a big infrastructure bill — America needs to rebuild its infrastructure, haven't gotten anywhere with him. I told him on North Korea, the way to deal with North Korea is to get China to be much tougher and to get China to be tougher is for us to be tougher with China on trade. Nothing. He listens to what I have to say on the important subject of the day and then he talks about what he wants to talk about."
Schumer won't say what Trump wants to talk about — only that it's typically "small things." But the lines of communication are at least open for now.
The senator also seems fairly relaxed for a man recovering from a shocking election loss and who is overseeing a party in a purgatory of soul-searching and wound-licking.
Part of that can be attributed to Trump himself. The president has scored no real legislative victories in his first 100 days and remains historically unpopular. Republicans are struggling to muster support for their bill to repeal and replace Obamacare, and Trump dropped a demand that funding to build a border wall be included in a must-pass spending measure.
"I think we've been strong, we've been united," Schumer said, leaning back in a chair with his shoeless feet on a coffee table. "Who would have thought after the first hundred days Republicans would have been divided, angry, and on defense? And Democrats would be united, strong, and offense."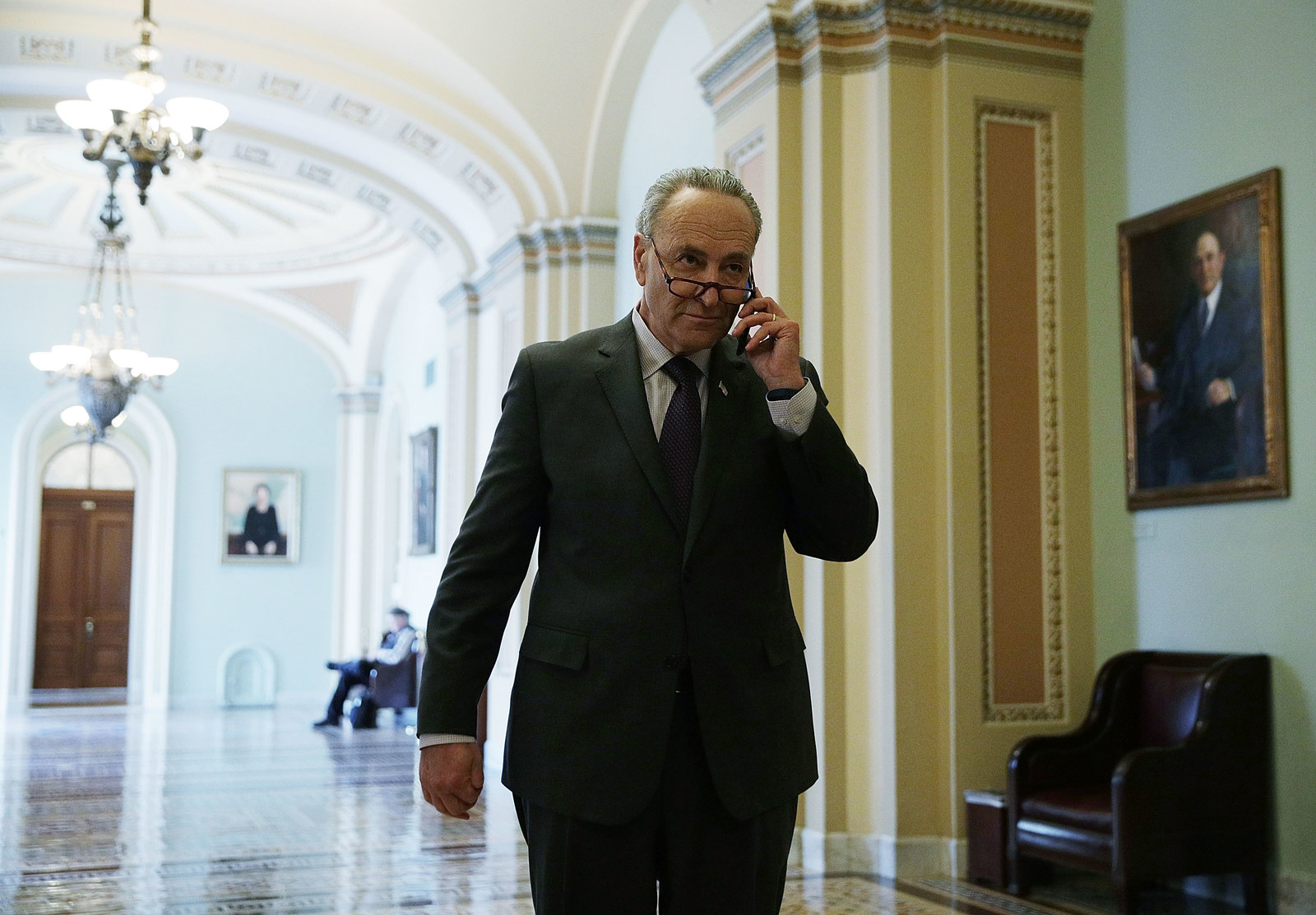 Democrats have, in fact, struggled with internal division lately, with bitter disputes over whether the party could support a candidate for Omaha mayor who had at one point voted against abortion rights.
"Democrats are a pro-choice party. I'm proudly pro-choice, but we don't have a checklist," Schumer said when asked about the Omaha candidate, Heath Mello. "We don't have a list of 28 things you need to check off to be a Democrat."
But would Schumer campaign for a candidate who didn't support abortion rights?
"I'm not going to talk in the abstract. I'm going to see who the candidates are and talk to them. Would it trouble me? Yes. I'd try to persuade them to be pro-choice, even if they were personally pro-life."
Intra-party fights aside, Schumer seems confident that even after years of losing at the congressional and state level, Democrats will be able to figure out a way to actually win. Shortly before the inauguration, he had told BuzzFeed News that "the onus was on us" to convince voters to come to their side. It can't all just be about opposing Trump, he says.
"Trump is helping us, but unless we are able to put together a strong platform, policies on what we believe I think the biggest mistake is that no one knew what we stood for. Hillary doesn't get all the blame, we all get the blame," he says. "But you've got to learn if you lose an election like this to a man that's only at 40% popularity, you have to look yourself in the eye and say, 'What did we do wrong?' Well, what we did wrong was not tell people what was going to make their lives better."
"If you lose an election like this to a man that's only at 40% popularity, you have to look yourself in the eye and say, 'What did we do wrong?'"
Schumer says that Democrats are readying an economic plan to be released this summer. But in the meantime the senator says he is happy to continue fighting Trump from his post as minority leader.
"I was totally down in the dumps for three days [after the election], as was my wife and my two daughters, particularly my daughter who had worked in the Hillary campaign. I taught them the old Shirelles song: Mama said there'd be days like this, there'd be days like this, mama said," Schumer recalled.
"But on the fourth day I had an epiphany, like a message from the heavens, and it went like this: 'Look, if Hillary had been president and you had been majority leader, the job would have been a lot more fun, a lot easier, and you'd get some good things done, which is why we're here,'" he said. "'With Trump as president and you as minority leader, your job is much more important. You are really the only backstop to Trump.' That has fueled me the whole way through."